Movie Review
Absolutely Fabulous: The Movie
It's a huge great bloody movie, sweetie!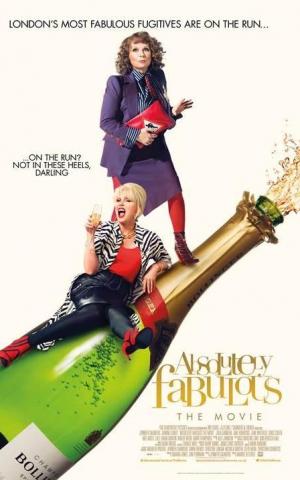 US Release Date: 07-22-2016
Directed by: Mandie Fletcher
Starring
▸
▾
Jennifer Saunders

,

as

Edina Monsoon
Joanna Lumley

,

as

Patsy Stone
Julia Sawalha

,

as

Saffy
Indeyarna Donaldson-Holness

,

as

Lola
Jane Horrocks

,

as

Bubble
Lulu

,

as

Lulu
June Whitfield

,

as

Mother
Mo Gaffney

,

as

Bo
Christopher Ryan

,

as

Marshall
Mark Gatiss

,

as

Joel
Graham Norton

,

as

Graham Norton
Nick Mohammed

,

as

Casper
Kathy Burke

,

as

Magda
Chris Colfer

,

as

Christopher
Stella McCartney

,

as

Stella McCartney
Kate Moss

,

as

Kate Moss
Jerry Hall

,

as

Jerry Hall
Emma Bunton

,

as

Emma Bunton
Janette Tough

,

as

Huki Muki
Jon Hamm

,

as

Jon Hamm
Dawn French

,

as

Interviewer
Rebel Wilson

,

as

Air Stewardess
Jean-Paul Gaultier

,

as

Jean-Paul Gaultier
Barry Humphries

,

as

Charlie / Dame Edna
Joan Collins

as

Joan Collins
Reviewed on:
July 23rd, 2016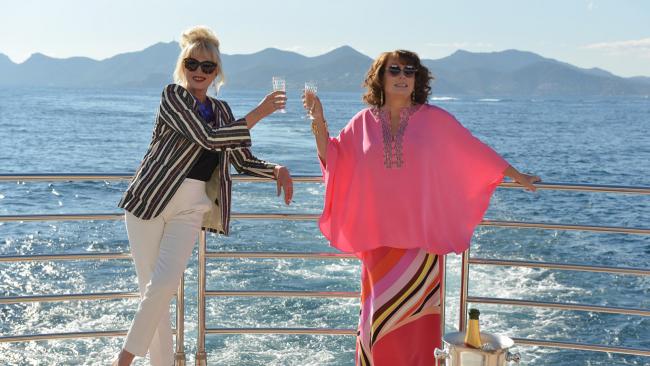 Joanna Lumley and Jennifer Saunders in Absolutely Fabulous: The Movie.
Twenty-four years after its debut on the BBC, and four years since we last saw Edina and Patsy, Absolutely Fabulous: The Movie finally hits the big screen. Now past 60, the girls are older but not wiser. They haven't mellowed a bit. They're both still jumping pathetically from fad to fad while desperately grasping at any means of staying young-ish even as they continue to party like it's 1969.
As the movie opens both Edina's and Patsy's fortunes are going from bad to worse. Edina's PR firm is failing as is Patsy's magazine (we finally learn its name – 'The A'). But after Edina accidentally knocks Kate Moss off a balcony and into the River Thames at a fashion party, where she's assumed dead, they soon find themselves literally sneaking out of the country and heading to the south of France until things cool down back in London. The zaniness builds to a climax that involves Lulu and Baby Spice and culminates in Edina's assistant Bubble's infinity pool at her secret mansion on the French Riviera.
All of the series regulars are back, albeit looking a bit older than the last time we saw them. June Whitfield, who plays Edina's mother, turned 90 while making this movie. Her wit is as quick as ever however. Joanna Lumley is 70 but she somehow still looks every inch the part of Patsy Stone and handles the physical comedy like a woman half her age. Jennifer Saunders' screenplay, as you might expect, is like a stretched out version of an Ab-Fab episode. It's silly and mildly offensive at times with lots of famous faces in cameos. Jon Hamm's scene is particularly funny.
As broadly painted as these characters are, however, they still manage to seem like real people we've known for a very long time. That's the real secret to Ab-Fab's longevity, besides the simple fact that it's funny of course. We keep returning to see what wacky diet fad or horrendous fashion trend that damn Edina will be in to this time around and what new drug or plastic surgery will Patsy be addicted to. We know Saffy will still be complaining about her mother and bickering with Patsy, and Edina's mother will make her entrance descending in her chair. Now there's a new generation in the form of Saffy's teenage daughter Lola.
Absolutely Fabulous: The Movie is featherweight entertainment that breaks no new ground. Longtime fans of the show will most likely enjoy it, although I'm not sure if it will win over any new converts. Jennifer Saunders has hinted that a sequel might follow if this movie spins enough box office gold. While I'll certainly be in line to see it, if a sequel doesn't happen and Absolutely Fabulous: The Movie turns out to be Patsy and Edina's swan song then that final scene that's an homage to the ending of Some Like It Hot isn't such a bad sendoff.
Photos © Copyright Fox Searchlight Pictures (2016)