Movie Review
Abbott and Costello Meet Frankenstein
Jeepers! the creepers are after somebody - and guess who!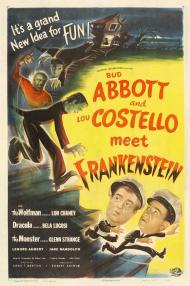 US Release Date: 06-15-1948
Directed by: Charles Barton
Starring
▸
▾
Bud Abbott

,

as

Chick Young
Lou Costello

,

as

Wilbur Grey
Lon Chaney Jr.

,

as

Larry Talbot / The Wolf Man
Bela Lugosi

,

as

Count Dracula
Glenn Strange

,

as

The Frankenstein Monster
Lenore Aubert

,

as

Dr. Sandra Mornay
Jane Randolph

,

as

Joan Raymond
Frank Ferguson

,

as

Mr. McDougal
Charles Bradstreet

,

as

Dr. Stevens
Vincent Price

as

The Invisible Man (voice)

Reviewed on:
April 16th, 2012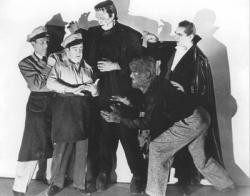 A popular publicity still for Abbott and Costello Meet Frankenstein.
Abbott and Costello Meet Frankenstein is a classic horror/comedy. It was made at the height of the comedy duo's fame. They had made their movie debut as a team eight years earlier (after a successful radio run) in 1940's One Night in the Tropics. They would continue making movies together well into the next decade and also had a successful television series which debuted in 1952. Their final film together was Dance with Me, Henry in 1956. Lou Costello died in 1959 at the age of 52. Bud Abbott (the best straight man in the business) passed away in 1974 at 78.
Not only is this considered to be the best of their many movies together it also stands as a fitting finale to the Golden Age of the classic Big Three Universal Horror characters, Count Dracula, the Wolf Man, and Frankenstein's Monster. This would mark the only other movie in which Bela Lugosi would portray the iconic vampire. Lon Chaney Jr. would likewise reprise his role as the original cinematic werewolf Larry Talbot, but Boris Karloff politely declined donning that monster costume again. Glenn Strange plays the titular monster instead.
The Invisible Man also makes a cameo in the final scene (although naturally you don't actually see him) voiced not by Claude Rains but by Vincent Price who had played the part in The Invisible Man Returns in 1940. In later movies Abbott and Costello would meet the Invisible Man again; as well as the Mummy, Dr. Jekyll and Mr. Hyde, and (the real) Boris Karloff himself as the Killer.
The silly plot is completely unimportant but suffice to say that Dracula has a sinister plan to put Costello's brain into Frankenstein's Monster. The Wolf Man warns the comic duo and tries to help prevent the dastardly plan from being carried out. The sets include a classic horror movie castle where much of the action takes place. There are two dames along for the ride. One is a doctor/scientist and part of the evil plan and the other is an insurance agent investigating the disappearance of Dracula and Frankenstein from a wax museum.
The style of shenanigans Abbott and Costello specialized in hasn't exactly improved with age. But what they did they did very well. It was a combination of mugging, slapstick and misunderstood repartee. Although they are mostly remembered today for their classic, "Who's On First?" Vaudeville routine this movie proves they made at least one lasting contribution to the art of screen comedy. Abbott and Costello Meet Frankenstein is ridiculous fun.

Reviewed on:
September 26th, 2012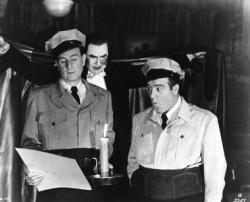 Bud Abbott, Bela Lugosi and Lou Costello in Abbott and Costello Meet Frankenstein
Abbott and Costello Meet Frankenstein is good clean "G" rated family fun. There are plenty of harmless laughs to be found.  They mostly occur with Lou Costello acting afraid, such as when he cannot scream or whistle because he is so scared by Dracula's coffin constantly opening whenever Lou Abbott steps away. I laughed hardest when Frankenstein's monster first sees and is afraid of Costello and Dracula tells him, "Don't be afraid. He won't hurt you."
Bud Abbott may have been a great straight man but Costello had the funniest lines. Just before the brain transplant surgery a very worried Costello says, "I've had this brain for thirty years. It hasn't done me any good!" When in the castle with the sun setting, a panicking Costello says to Abbott of Dracula, "He's gonna be wanting breakfast and I am fatter than you."
As Patrick wrote, the plot is none to important. It is just a series of excuses to put Costello in a situation where a monster can sneak up behind him and the audience can wait for his reaction when he discovers he is there. Abbott and Costello Meet Frankenstein was a huge hit when it first came out and remains to this day a great Halloween watch for children of all ages.
 
Reviewed on:
October 22nd, 2012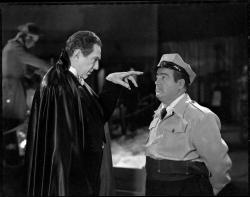 Bela Legosi and Lou Costello in Abbott and Costello Meet Frankenstein.
The key phrase used by either of my brothers is when Eric refers to this movie as, "good, clean, 'G', rated family fun." He also referred to it as a great watch for children of all ages, but really, the younger you are will definitely affect how great you find it. As Patrick wrote, not all of the classic comedy duo's schtick has aged particularly well.
Too many of the jokes rely, as Eric pointed out, on Costello's frightened reaction to the monsters, with Abbott always just missing seeing them. It's the kind of joke I chuckled at the first time, but was more apt to groan at as the story progressed and it was repeated. The best non-verbal moment comes near the end when Costello whips the table cloth out from under some candles. His reaction shows an expression such happy surprise, I couldn't help but laugh. It's also one of his more subtle reaction shots.
I laughed more at the verbal banter than I did at the physical hijinks, such as when Wilbur (Costello) tells Larry Talbot (Chaney), "I've got a date. In fact, I've got two dates." "But you and I have a date with destiny," Larry tells him. "Let Chick go with Destiny," Wilbur quips in reply. Although I think the line I laughed at most was when Larry tells Wilbur that at night he turns into a wolf and Wilbur replies with a nudge and a wink, "Oh pal, that's alright; I'm sort of a wolf myself."
It is a kick seeing Legosi and Chaney reprise their classic characters. It's a shame that Boris Karloff turned down the chance to play the Monster. Reportedly, he felt that the script was an insult to horror movies, but this is more of a comedic love letter to the old monsters than it is a spoof. The monsters themselves are never directly played for laughs in a truly demeaning way. It's all meant in the spirit of good natured fun.
This is a fairly brief, amusing little comedy. I was never bored, but I smiled and chuckled much more than I truly laughed.
Photos © Copyright Universal Pictures (1948)
Related Reviews