Movie Review
9th Company
They stood together while their country fell apart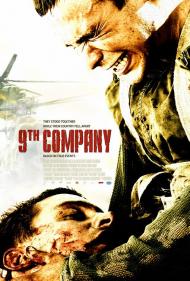 Russia Release Date: 09-29-2005
Directed by: Fyodor Bondarchuk
Starring
▸
▾
Artur Smolyaninov

,

as

Lyutyy
Aleksey Chadov

,

as

Vorobey
Konstantin Kryukov

,

as

Dzhokonda
Ivan Kokorin

,

as

Chugun
Mikhail Evlanov

,

as

Ryaba
Artyom Mikhalkov

,

as

Stas
Soslan Fidarov

,

as

Pinochet
Ivan Nikolaev

,

as

Seryy
Mikhail Porechenkov

,

as

Dygalo
Aleksey Serebryakov

as

Kapitan-razvedchik

Reviewed on:
March 29th, 2011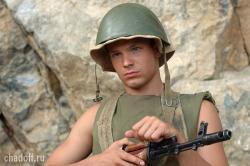 Alexei Chadov in 9 Rota.
If 9th Company (9 Rota) was American made I would write how unoriginal it is. It starts like Full Metal Jacket and ends like The Green Berets. 9th Company follows some young soldiers through basic training and into a war zone, and then to a big climactic battle. The most unique aspect of this film for me was that it was made in Russia.
Set just before the end of Russia's war in Afghanistan, which ran from 1979 to 1989, 9th Company tells the true story of a small group of Russian soldiers who in 1988 held off a large group of Afghan fighters. The battle is only the last part of a movie that lasts well over two hours. The survivors of that battle became national heroes and no doubt the film makers wanted to honor them by not making a quickie film, but some editing would not have hurt.
The movie depicts the soldiers as a predictable group of young men. There is the tough Siberian kid, the budding artist, a new father, the virgin, the newlywed. You know the line up. The only actor I recognized is Alexei Chadov. He is one of Russia's most popular young actors of the new century. He played Anton's "Other" neighbor in Night Watch and Day Watch.
At boot camp, they are trained by battle-scarred Dygalo and of course become a tight group of friends. This early part of the film has a hilarious moment. Sitting at desks, each soldier is given a brick of plastic explosives as an instructor rattles on about it. The artist in the group molds his brick into a penis. The instructor then walks by and grabs the dildo, not realizing what it is, and continues talking about how he can make what is in his hand explode. The guys of course are laughing out loud.
Another bonding moment comes when they sneak off to drink vodka, smoke weed and take turns having sex with a local girl, nicknamed Snow White because of her hair color, who seems to do every soldier who ever passes through the base. Later in Afghanistan, They talk to other soldiers who "knew" her as well. The scene where they all have sex with her brilliantly explains her easy ways. After they have all been satisfied, they call her Venus, bow around her and kiss her feet and ankles, as she stands naked smiling with utter joy. Snow white is not that attractive, but fucking all these horny soldiers makes her feel like a goddess.
The boys learn the harsh reality of war only minutes after arriving in Afghanistan. They are assigned to ninth company. They are warned by the veterans there, not to expect much good. The pace starts to escalate as they patrol a local town and deal with the locals Afghans who are indistinguishable from the enemy. This all leads to the final bloody confrontation that is based on actual events, and ends on a very frustrating, ironic note.
9th Company never becomes too political. At one point they are asked why they fight. In trained unison the soldiers respond, "To help the people resist imperialist aggression." As I write this, The United States is bogged down in it's own war in Afghanistan, and have been for many years. Perhaps this line from 9th Company should be considered, "In the entire history, no one ever managed to conquer Afghanistan." I know, we are not there to actually "conquer" but sometimes history repeats itself so blatantly that it is too obvious to even see.
Photos © Copyright Art Pictures Group (2005)