Movie Review
99 River Street
The Picture That Lays It On The Line!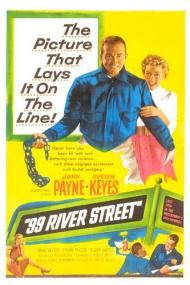 US Release Date: 10-03-1953
Directed by: Phil Karlson
Starring
▸
▾
John Payne

,

as

Ernie Driscoll
Evelyn Keyes

,

as

Linda James
Brad Dexter

,

as

Victor Rawlins
Frank Faylen

,

as

Stan Hogan
Peggie Castle

,

as

Pauline Driscoll
Jay Adler

,

as

Christopher
Jack Lambert

,

as

Mickey
Glenn Langan

,

as

Lloyd Morgan
Eddy Waller

as

Pop Durkee
Reviewed on:
February 1st, 2011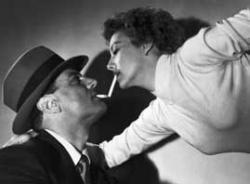 Evelyn Keyes gets a light off Brad Dexter.
Over the years a coworker of mine, also a fellow movie buff, has recommended several somewhat obscure film noirs for me to check out such as The Ghost Ship, Act of Violence, The Lineup and The Narrow Margin. I have enjoyed watching and reviewing them for this site. I can now add 99 River Street to this list.
This is a hardboiled taut story of the mean city streets. Ernie Driscoll is an ex-prize fighter turned taxi driver who finds out his malcontent wife is stepping out on him. He gets caught up helping an actress friend out of a possible murder charge before discovering his wife's corpse in the backseat of his cab. The entire movie takes place in the shadowy city over the course of one long night as Ernie tries to nail the real killer to escape the obvious frame-up attempt.
Its stars, John Payne and Evelyn Keyes, were both fairly successful actors in their day, but they will each be forever remembered for a single role in a beloved classic. He was Fred the nice young man that falls for Maureen O'Hara and her daughter Natalie Wood in the Christmas perennial Miracle on 34th Street and she played Scarlett O'Hara's younger sister Suellen in GWTW. The intervening years hadn't been particularly kind to either of their faces but this works just fine for the characters they are playing, both of whom have seen better days.
Another familiar face belongs to Frank Faylen. He plays the cab dispatcher for the company where Ernie works. If you got into a taxi in a movie in the late 1930's or the1940's there was a good chance that Frank Faylen was driving it. He played a cabbie in no less than ten movies during this period including Marked Woman (1937), The Palm Beach Story (1942), Andy Hardy's Blonde Trouble (1944) and most famously as Ernie Bishop in It's a Wonderful Life (1946).
99 River Street (hmm, I wonder if that address will come into play?) features all the classic elements of film noir. Shot in black & white, it has a tough guy hero and sultry heroine, ruthless gangsters, a double-crossing dame, crisp dialogue, sharp camera angles, a crackling pace and plenty of ominous shadows. So far Wayne you are batting a thousand.

Photos © Copyright United Artists (1953)