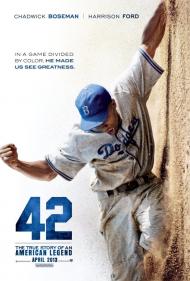 US Release Date: 04-12-2013
Directed by: Brian Helgeland
Starring
▸
▾
Chadwick Boseman

,

as

Jackie Robinson
Harrison Ford

,

as

Branch Rickey
Nicole Beharie

,

as

Rachel Robinson
Christopher Meloni

,

as

Leo Durocher
Ryan Merriman

,

as

Dixie Walker
Lucas Black

,

as

Pee Wee Reese
Andre Holland

,

as

Wendell Smith
Alan Tudyk

,

as

Ben Chapman
Hamish Linklater

,

as

Ralph Branca
T.R. Knight

,

as

Harold Parrott
John C. McGinley

,

as

Red Barber
Brett Cullen

,

as

Clay Hopper
Jesse Luken

as

Eddie Stanky

Reviewed on:
April 14th, 2013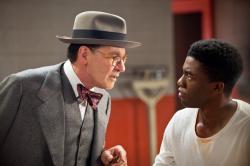 Harrison Ford as Branch Rickey and Chadwick Boseman as Jackie Robinson in 42.
As any baseball fan can tell you, 42 is the only number retired by all Major League teams. Only the Yankees' Mariano Rivera still wears it since he was the only active player using it at the time of the number's retirement and 2013 is Rivera's final year, after which it will never be worn again. 42, the movie, tells the story of Jackie Robinson, who wore that number when he became the first African American to play Major League Baseball when he started at first base for the Brooklyn Dodgers in 1947.
Written and directed by Brian Helgeland, this is an old fashioned biopic that treats its subject with respect, but without overly sanctifying him or going too far beneath the surface. It also doesn't hold back at showing the treatment of Jackie by certain groups or the language and abuse he was exposed to by various crowds, teammates and others.
The first movie to tell Jackie Robinson's story was released in 1950 and starred the real Jackie Robinson. This may have given the film some sense of authenticity, but Jackie was no actor. That's not a problem for Chadwick Boseman who does a good job in the lead role here. He handles the dramatic scenes well and manages to make the baseball scenes feel real.
It was Dodger's owner Branch Rickey who gave Jackie the chance to play baseball in the big leagues. Rickey was an outspoken and colorful showman of a baseball owner whose reasons for breaking the color barrier were based in both idealism and the desire to make money. He's brought to life brilliantly by Harrison Ford who buries himself in the part. With his gruff voice and overgrown eyebrows, he's a scene stealer with such lines as, "It's perfect. Jackie's a Methodist. I'm a Methodist and God's a Methodist." If this film is remembered come award's time, it would be nice to see Ford nominated for Supporting Actor.
The rest of the supporting cast is also quite good, including Christopher Meloni as Dodgers' manager Leo Durocher, Lucas Black as Pee Wee Reese, Alan Tudyk as Phillies manager Ben Chapman, and John C. McGinley who does a nice imitation of Dodgers longtime sportscaster Red Barber.
Although the film shows how Jackie's teammates and much of America was brought around to his side, the film does sometimes simplify the racism. Almost everyone in the film is either a raving racist or an open minded Jackie supporter. And the story itself is told in a very straightforward, chronological manner without any flourishes.
42 is an entertaining film, especially for fans of baseball and its long history. It may not break any new ground, but as a straightforward biography of a few pivotal years in a man's life, it's a solid film. It goes a long way to show why that number is treated with such respect throughout all of baseball.

Reviewed on:
April 16th, 2013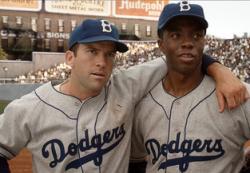 Lucas Black and Chadwick Boseman as Pee Wee Reese and Jackie Robinson in 42.
42 is now, along with The Natural, Bull Durham and Field of Dreams, one of my favorite baseball films of all time.
I agree with Scott that the script by Brian Helgeland mostly balances things nicely. The story only seemed to go a bit over board once. After Jackie scores a run, a stereotypical southern redneck lawman walks right up to him on the field and says he is going to arrest him. His crime was being a black man in a white man's game. Why would this lawman wait until the baseball game was started before acting like a dick to Jackie? Maybe that really happened as depicted, but it seemed so very very staged.
I have occasionally heard people use racism as an excuse for something not going their way. Those claims may be debatable but not in the case of Jackie Robinson. Jackie and his wife were college educated. He was as smart as any of the players, or smarter, and if that was not enough, his stats were better than most. To show any objection to him being there, or not accepting him as an equal, was a complete act of racial bigotry.
I will also echo Scott's opinion on Harrison Ford's performance. He has not been this good in years. Robinson was brave for what he did, but Rickey was as well. He was heavily criticized for his decision to recruit Robinson. As portrayed here, Rickey acted as a surrogate father for Robinson, or at least a mentor. This simple exchange explains so much. After meeting with Rickey, Robinson states, "You want a player who doesn't have the guts to fight back." But Rickey corrects him, "No. I want a player who's got the guts not to fight back."
One of the best examples of Robinson's impact is told in a short story by Rickey, who tells Robinson that he saw a white boy playing baseball, pretending to be Robinson. Before he played in the majors, was there any black man that a white child would have emulated in that way? He was truly the first black celebrity who crossed such racial barriers.
There are moments in this film that create empathy, inspire and make us cheer. One of the most moving is when Jackie is faced with a manager of another team bent on throwing him off his game by constantly calling him "nigger" during the game for all to hear. Robinson's response demonstrated that although he is quite human, he is a hero for the ages.
Reviewed on:
October 17th, 2013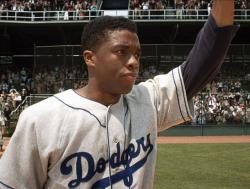 Chadwick Boseman as Jackie Robinson in 42.
42 is a good old-fashioned, sentimental baseball picture that also happens to be the true story of one man's role in a pivotal point in our nation's history. If Jackie Robinson hadn't been an actual person it would be almost impossible to believe that any man could stand up to so much negative scrutiny and schoolyard taunting without cracking or fighting back. He was a remarkable man as well as a great athlete. I can't think of a better example of the right man being in the right place at the right time.
I'm not the baseball fan either of my brothers are but I thoroughly enjoyed this movie. The cast, lead by Harrison Ford, is terrific. I will add my voice to the chorus praising Ford. His performance as
Branch Rickey is not only his best in years (FYI this is the first time in his long and storied career that Ford has ever played a real person) but 42 is easily the best movie he has appeared in thus far in this millennium. Chadwick Boseman bears an uncanny resemblance to the real Jackie Robinson and he really brings the legend to life. Although he did extensive training to pull off the baseball scenes a stunt double was used for some of them.
Visually the movie really takes you back to the 1940s, including a CGI recreated Ebbets Field. The lush-but-hazy cinematography is reminiscent of those other movies Eric mentioned such as The Natural and Field of Dreams. Baseball conjures nostalgia in some people like nothing else can and this movie takes full advantage of that fact.
In ways other than racism 42 demonstrates just how society has changed in the intervening decades. Dodgers manager Leo Durocher is suspended by commissioner Happy Chandler for his illicit affair with MGM contract player Laraine Day. Although in real life the reason cited was gambling allegations, either way it demonstrates how society held individuals to a higher moral code in 1947 than it does today.
In one scene Lucas Black, as Pee Wee Reese, says, "Maybe tomorrow, we'll all wear 42, so nobody could tell us apart." Although this line was actually spoken by Dodgers outfielder Gene Hermanski in 1951 it is no less prophetic. Every April 15th since 2004 has been declared "Jackie Robinson Day" in Major League Baseball. On this day every player wears number 42 to commemorate Robinson's first day in the Majors on that date in 1947. Not a bad way to honor his legacy and 42, the movie, is likewise not a bad tribute to this most extraordinary of men.
Photos © Copyright Warner Bros (2013)
Related Review