Movie Review
40 Days and 40 Nights
It's Easy to Say But Harder To Do!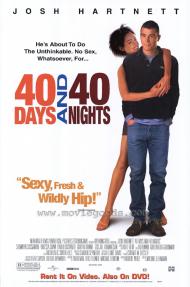 US Release Date: 03-01-2002
Directed by: Michael Lehmann
Starring
▸
▾
Josh Hartnett

,

as

Matt
Shannyn Sossamon

,

as

Erica Sutton
Paulo Costanzo

,

as

Ryan
Adam Trese

,

as

John
Emmanuelle Vaugier

,

as

Susie
Lorin Heath

,

as

Diana
Aaron Trainor

,

as

Waiter
Glenn Fitzgerald

,

as

Chris
Monet Mazur

as

Candy

Reviewed on:
March 18th, 2004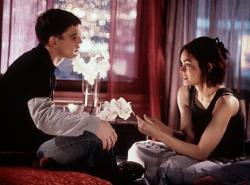 Josh Hartnett and Shannyn Sossamon in 40 Days and 40 Nights.
The writer's of 40 Days and 40 Nights understand the male sexuality very well, and are not shy about exploiting it. In the movie, and in real life, many men make jokes and comments on the amount of sex they do or do not get. The references and joking about masturbating is also true to life amongst men.
Where 40 Days and 40 Nights goes awry is with any of the female characters. Every single woman in this movie is present only for sexual purposes. Whether it is to tempt Matt or be part of a sex joke. Erica is supposed to be someone that Matt falls in love with, yet she gets mad that Matt can't have sex with her. Even Matt's mom, Mary Gross, is in one scene so she and Matt's father can make some sex jokes, with diagrams even.
The plot is so simple that it was better explored on the half hour sitcom Seinfeld. Matt takes a vow of celibacy that includes no masturbation, for the 40 days of lent. In the Seinfeld episode, George makes a similar vow. As a result George becomes a better, smarter more efficient person. He even is able to give Derek Jeter batting tips during this time. In 40 Days and 40 Nights, Matt just gets horny.
During his sexual sabbatical Matt meets and falls for Erica, the strikingly beautiful Shannyn Sossamon. He keeps his celibacy secret from her, to which she overreacts once she discovers it. When the dry spell is over she again overreacts when she learns that Matt had sex, raped actually, by his ex-girlfriend. She sees that he is handcuffed, but storms away for some reason.
This movie needed to spend less time concerned with seaman and erections and focus on some story arc. George Constanza went back to having sex on Seinfeld. However, he learned that he could be a very productive person when not distracted by sex. The only thing Matt learns is that his friends are far to fascinated by his sex life.
As a romantic comedy, this movie might be considered funny by teenage boys. Too many jokes are about men's libidos. So unoriginal is this movie that it throws in a Viagra joke. There is really no romance to speak of. Unless of course you consider the scene where Matt gives Erica an orgasm by blowing on her stomach and running a flower over her body romantic. I think a much better way to have ended this movie would have been after he survives the 40 days he realizes that he is madly in love with Erica only to discover that she is a born again Christian and is saving herself for marriage. That would have been a better punchline than anything you will actually see in this film.
40 Days and 40 Nights may be sexually offensive to some people due to it's talk of male ejaculation. Others may find it offensive in it's view of Catholicism. Matt catches his priest in training brother making out with a nun. After Matt announces to his brother he is giving up sex he has visions of a statue of Mary winking at him as a ray of heaven sent sunshine surrounds him.
There were several directions this movie could have gone in. It could have been a great romantic comedy filled with unrequited sexual tension. Matt could have become a more profound person after. Matt could have connected with a woman without sex being such a factor. The movie vaguely suggests this, but it is completely insincere. This movie takes the low road on every opportunity. It should have remembered to pack some jokes and at least one woman with a personality before leaving.
Photos © Copyright Miramax Films (2002)