Movie Review
3 Godfathers
A John Ford Legend of the Southwest!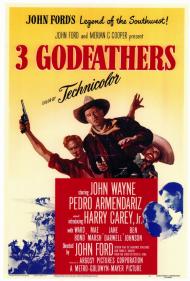 US Release Date: 12-01-1948
Directed by: John Ford
Starring
▸
▾
John Wayne

,

as

Robert Marmaduke Hightower
Pedro Armendariz

,

as

Pedro (Pete) Roca Fuerte
Harry Carey Jr.

,

as

William Kearney (The Abilene Kid)
Ward Bond

,

as

Perley (Buck) Sweet
Mae Marsh

,

as

Mrs. Perley Sweet
Mildred Natwick

,

as

The Mother
Jane Darwell

,

as

Miss Florie
Guy Kibbee

,

as

Judge
Ben Johnson

as

Posse Man #1

Reviewed on:
December 25th, 2010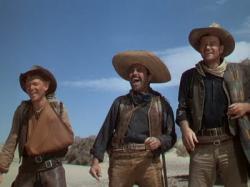 Harry Carey Jr., Pedro Armendariz and John Wayne are 3 Godfathers.
Biblical imagery abounds in this unusual Christmas movie set in the Old West. The story had already been filmed twice; a silent version in 1916 (starring Harry Carey Sr.) and a talking version in 1936. Director John Ford added Technicolor and John Wayne when he decided to remake 3 Godfathers in 1948 in honor of his friend Harry Carey who had just passed away. In tribute to him he cast Harry Carey Jr. in what was his first major screen role.
Three outlaws rob a bank in Arizona and make their escape through a desert. Near a dry water hole they come upon a wagon. Inside is a woman about to give birth. Pedro (Pedro Armendáriz), the only father of the trio, helps deliver the baby. The dying mother elicits a promise from the three outlaws to save her baby. Before she dies she names her son Robert William Pedro after his three godfathers.
Oh did I forget to mention that this takes place on Christmas Eve? After some lighthearted moments with the three outlaws figuring out how to care for a newborn infant, they must face the direness of their predicament. They have very little water and only a few cans of milk.
The Kid (Carey Jr.) points to a bright star in the sky and tells them they must go to New Jerusalem just like in the bible. So the three wise men (I mean outlaws) set out to cross the desert and deliver Robert William Pedro to safety even at the risk of their own lives and freedom.
Frequent John Wayne costar Ward Bond plays the sheriff leading the posse in pursuit. He also happens to be the infant's uncle. His wife is played by Mae Marsh a veteran actress of Hollywood whose career stretched all the way back to Griffith's Intolerance and even before. Mildred Natwick has the small but important role of Robert William Pedro's mother. Familiar faces Jane Darwell and Guy Kibbee round out the cast.
John Ford really knew how to tell a story. This one moves along quickly. It builds to a dramatic climax that packs an emotional punch. Despite the obvious religious symbolism Ford never gets preachy and the drama is well balanced with humor. Granted his range was limited but John Wayne was a much better actor than he was ever given credit for and 3 Godfathers is one of his best roles.
Reviewed on:
December 7th, 2011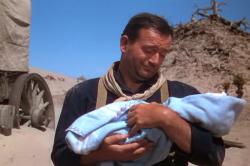 John Wayne in 3 Godfathers with little Robert William Pedro.
This sentimental western with religious overtones is twice over the type of movie they don't make anymore. When was the last time a major Hollywood movie star appeared in a story so blatantly and unironically Christian? Nowadays you'd probably be laughed out of a producer's office just for suggesting it. The old fashioned air this brings to 3 Godfathers just adds to its charm.
I agree with you Patrick that Wayne actually was a good actor. Too many times he played the same stock character, but every now and then he threw in a variation or two. Here, for instance, he's playing a criminal. Granted, he's a criminal with a heart of gold underneath it all, but it still puts his character in a shade of grey. He also works in some light comedy, most notably in the scene where the three men try to work out how to feed and bathe a baby, but also in his continued insistence that the baby be called by his full name.
One of my only problems with Wayne's performance is that he doesn't carry a baby very convincingly. There are plenty of times where the bundle in his or the other two men's arms is clearly not a real baby. On several occasions one of the men falls over while carrying the baby and it almost always look fake or as if the baby is dead because of how little it moves. I should hasten to add that this is a very minor quibble, but I did notice it.
This was prolific director John Ford's first Technicolor film and he makes the most of it. The camera sweeps across salt flats and sweeping desert vistas. Naturally there's a sandstorm, as there always seemed to be in these old westerns, but it's as well filmed as everything else in this beautifully shot western.
While this is the story of three men who who follow a star and find a baby, it's not a direct allegory for the story of the three wise men. Mary didn't die and leave Jesus to the Magi, although I'm pretty certain that if she had, they would have known how to feed him. It's more a story of redemption than it is a symbolic retelling of the bible story. It's also told with a good natured humor and a few more guns than you'll generally find in the bible.
As you said Patrick, the story mixes drama and humor nicely. Those looking for more obscure and religious themed holiday fare would do well to look no further than this old fashioned classic.

Reviewed on:
December 11th, 2011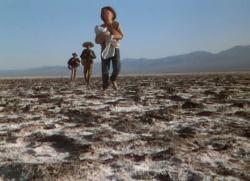 At least the wisemen had camels.
The description on the NETFLIX envelope calls 3 Godfathers allegorical. It never says what it is allegorical to. As Patrick wrote, it has some vague similarities to a very old religious story, but as Scott mentioned it also has plenty of differences. The allegory is so slim that you could erase it entirely just by changing the name of the town they take the baby to.
The religious mentioning and Biblical readings are mere distractions from a plot stretched very thin over a mere hour and a half. Patrick wrote in his second paragraph that three men rob a bank and then find a pregnant woman about to give birth. Although he gives an honest description, the three men do not find her until after a third of the way into the film. We then get to watch long stretches of these three men walking across the desert trying to get the newborn to a safe haven. I disagree with Patrick about one thing. Lots of scenes of three men walking through a hot desert is not fast paced.
I agree with Scott that Wayne's best scenes are when they first have to take care of the baby. When going through the dead mother's chest of baby stuff, Carey JR. pulls out a sleeper with a frilly collar and blue ribbons. Wayne snaps, "He's not wearing that!" When they finally get the baby some milk, Wayne observes. "He takes to it like a drunkard at a 4th of July barbeque."
My favorite moment in the film is whenever Wayne refers to the baby as "Robert". Carey JR. corrects him and says, "Robert William." Pedro then corrects them both, "Robert William Pedro." The film's best moments are between the three friends interaction. I would have liked to have known but the script never gives any back story on how these three different men met and became friends. More scenes of them verbally bouncing off each other would have added greatly.
Scott mentioned how it was clear that a doll was often used as a baby stand it. I would like to ad that this is one agreeable infant. He rarely cries. Most babies cry often, for any number of reasons. This child is wrapped in blankets in scorching heat, starved and falls to the ground three different times while in a different man's arms. We rarely hear a peep out of him. Can anyone explain why they were supposed to put grease on the baby?
3 Godfathers is more a story of redemption than of Christ's birth. These 3 men commit a criminal act, and then sacrifice to save a stranger's child. The irony of the story is that if they had not committed the crime they would have not gone on the lam and found the pregnant woman. Their crime, in a sense, saved the baby's life. The baby in return, saved their souls.
Photos © Copyright Metro-Goldwyn-Mayer (MGM) (1948)