Movie Review
21 & Over
Blackout the date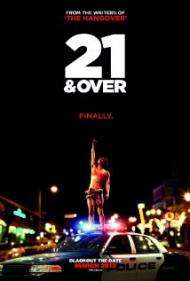 US Release Date: 03-01-2013
Directed by: Jon LucasScott Moore
Starring
▸
▾
Miles Teller

,

as

Miller
Skylar Astin

,

as

Casey
Justin Chon

,

as

Jeff Chang
Sarah Wright

,

as

Nicole
Jonathan Keltz

,

as

Randy
Francois Chau

,

as

Dr. Chang
Russell Hodgkinson

,

as

The Chief
Daniel Booko

as

Julian

Reviewed on:
September 8th, 2013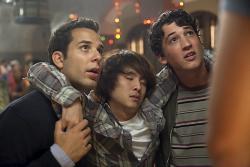 Skylar Astin, Justin Chon and Miles Teller in 21 & Over
Ever since the success of Superbad (2007), Hollywood has put out a steady stream of imitations, hoping for the same success. In such forgettable films as College (2008) and Project X (2012), young men go to parties, leer at girls and get drunk all as a form of bonding. With 21 & Over we have more of the same.
Med student Chang is a day away from an important interview arranged by his father. It is also his 21st birthday. His two best friends, Miller and Casey, show up and decide to take him out for a drink. Of course that one drink leads to a series of drinks, bars, parties, drinking games, getting thrown out of a window and lots of male nudity. By the end they each reveal some personal secret and all ends up well.
There is nothing, absolutely nothing original or in the least bit unique about this movie. With the previously mentioned films and the Hangover and Harold & Kumar movies, Hollywood has milked this cow bone dry. From the beginning you know exactly where the story is going and each of the friends is a stereotypical character.
As expected, 21 & Over has plenty of juvenile lines such as, "Get a desktop, bitch!" "No, let's get that little fucker home." "Hey, why is there a teddy bear glued to my penis?"
As mentioned, all three leads go bare ass for extended amounts of time. When I was young enough to enjoy this kind of immature humor, it was the girls who dropped their clothes, not so much the guys. Here, we get a couple of flashes of breasts but it is nothing compared to Miller and Casey facing a sorority wearing only a sock over their junk. They are then forced to kiss each other in a scene that Patrick would likely be offended by as the joke is two men kissing. Chang seems to constantly lose his clothes and the scene where Miller and Casey pull off the teddy bear, "We circumcised Chang!" was stolen from A Very Harold & Kumar 3D Christmas (2011).
If you are in high school, you may find this film funny. If you have any amount of maturity you will wonder why Miller and Casey just didn't wait to take Chang out after his interview.
Photos © Copyright Relativity MediaSky (2013)