Movie Review
20,000 Years in Sing Sing
Toughest Hell Hole in the World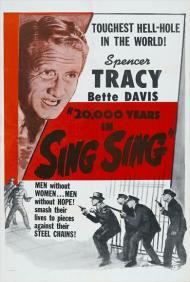 US Release Date: 12-24-1932
Directed by: Michael Curtiz
Starring
▸
▾
Spencer Tracy

,

as

Tommy Connors
Bette Davis

,

as

Fay Wilson
Arthur Byron

,

as

The Warden - Paul Long
Lyle Talbot

,

as

Bud Saunders
Warren Hymer

,

as

Hype
Louis Calhern

,

as

Joe Finn
Grant Mitchell

,

as

Tester of Convicts' IQs
Sheila Terry

as

Babe Saunders
Reviewed on:
March 14th, 2012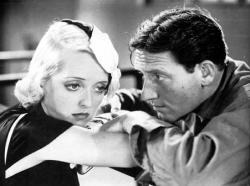 Bette Davis and Spencer Tracy in their only movie together, 20,000 Years in Sing Sing.
20,000 Years in Sing Sing is historically important because it was the only time movie legends Spencer Tracy and Bette Davis shared the screen. It was released early in both of their careers, several years before either of these two time Oscar winners would first take home the acting world's top prize. The title of the movie refers to the cumulative number of years all the inmates of Sing Sing were sentenced to.
This early prison picture was based on a book written by Lewis E. Lawes, a warden of the famous prison on the Hudson River in New York State. He was still serving as warden when this movie was being filmed and he gave Warner Brothers and director Michael Curtiz permission to shoot both exterior and interior scenes there. These include several mob scenes that would be recycled by the studio for their 1940 remake called Castle on the Hudson, starring John Garfield and Ann Sheridan.
The story concerns one big shot gangster named Tommy Connors (Tracy). Connors has a long rap sheet and adds to it when he gets sentenced to prison for armed robbery. Connors is belligerent and nearly causes a riot over the ill-fitting prison uniform he's assigned. He quickly learns, courtesy of the tough but fair-minded warden (Byron), that he can expect no special treatment while on the inside.
Bette Davis plays his loyal moll Fay Wilson. She comes to visit him in the joint and gets Tommy all hot and bothered. This pre-code movie makes it clear that this unmarried couple are having sex by the way Tommy greets her with a passionate kiss and says, "I'd give a million bucks to be alone with you for a little while honey." Bette has only a few scenes but she makes the most of them. 20,000 Years in Sing Sing marked the first - but certainly not last - time Davis would murder someone with a handgun on film.
When news that Fay Wilson is near death after a car accident, the warden allows the now better-behaved Tommy to visit her on the condition he gives his word of honor to return to prison. Fate intervenes and soon Tommy is being sought for the murder of a fellow mobster named Joe Finn (Calhern). Will Tommy keep his word and return to Sing Sing in time to save the warden's career even though it means he will get the chair?
The supporting cast also includes Lyle Talbot as a fellow prisoner that plans a break-out in order to be with his pregnant wife, and Warren Hymer as the not so bright stool pigeon that squeals to the guards about the impending break-out. Louis Calhern would go on to a long career as a character actor, making his final movie appearance as Uncle Willie in the 1956 musical remake of The Philadelphia Story called High Society.
Both Bette Davis and Spencer Tracy show off their considerable dramatic chops at the climax and prove to be a well-matched pair. Davis is underused but effective whenever she is on the screen. Tracy does a decent job making like James Cagney as the cocky gangster (the part was, in fact, originally meant for Cagney but he was in the middle of one of his numerous squabbles with the studio over the types of roles he was being offered so Warner's borrowed Tracy from Fox (this was before Tracy joined his long time movie home MGM)). Coincidentally, Tracy and Davis were both born on April 5th. He in 1900 and she in 1908. It really is a shame these two uniquely talented Aries never made another movie together but at least we have their few brief but powerful scenes together in 20,000 Years in Sing Sing to enjoy.
Photos © Copyright Warner Bros. Pictures (1932)