Movie Review
20 Feet from Stardom
Meet the unsung heroes behind the greatest music of our time.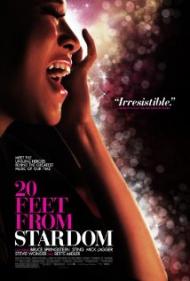 US Release Date: 11-28-2013
Directed by: Morgan Neville
Starring
▸
▾
Darlene Love

,

as

Herself
Merry Clayton

,

as

Herself
Judith Hill

,

as

Herself
Lisa Fischer

,

as

Herself
Tata Vega

,

as

Herself
Jo Lawry

,

as

Herself
Susaye Greene

,

as

Herself
Cissy Houston

,

as

Herself
Stevie Wonder

,

as

Himself
Mick Jagger

,

as

Himself
Bette Midler

,

as

Herself
Nia Peeples

,

as

Herself
Bruce Springsteen

,

as

Himself
Sting

,

as

Himself
The Waters Family

,

as

Themselves
Lou Adler

,

as

Himself
Patti Austin

,

as

Herself
Chris Botti

,

as

Himself
Sheryl Crow

as

Herself

Reviewed on:
January 17th, 2014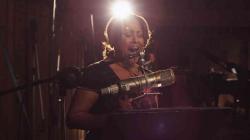 Darlene Love in 20 Feet from Stardom.
20 Feet from Stardom is both the title of this Oscar nominated documentary as well as a description of the world in which background singers dwell. Through interviews and archival footage the careers of several very talented but mostly unheralded singers are explored. You may not recognize the names but you have almost certainly heard the voices of these women.
Darlene Love (the most famous of the group, having been recently inducted into the Rock and Roll Hall of Fame) sang backup for such legendary acts as Sam Cooke, Dionne Warwick, The Beach Boys, Elvis Presley, Tom Jones, and Sonny and Cher. She actually sang the lead vocal on the hit song "He's a Rebel" although producer Phil Spector released it under the name of another of his acts, The Crystals. At one point Love was working as a housekeeper when she heard her classic Christmas recording of "Christmas (Baby Please Come Home)" on the radio and was inspired to give her career another go.
Merry Clayton worked with such diverse artists as Bobby Darin, Ray Charles, Pearl Bailey, and Neil Young. Her most famous vocal work appears on the classic Rolling Stones' track "Gimme Shelter" which she recorded in the middle of the night in just a few takes. Lisa Fischer has had some success as a solo artist, winning a Grammy for her R&B hit "How Can I Ease the Pain" in the early 90s. She is known for her soaring vocal range. She worked with Luther Vandross, and has sung with the Rolling Stones on every one of their tours since 1989.
The other singers interviewed for this movie are just as talented. So just what makes the difference between a backup singer and a star? According to these women there are several factors. Ego and ambition being the main ones. You have to want it badly enough that you're willing to play the game. You also need to find the right material with the right arrangement and the right producer. And then of course there is just plain luck. You never know what the fickle public will like and what they will reject out of hand. The music industry isn't for the faint of heart.
Along with these backup singers several legendary recording stars are interviewed as well. Bruce Springsteen, Stevie Wonder, Sting, Bette Midler, and Mick Jagger (among others) offer their two cents and remembrances. 20 Feet from Stardom gives these women, who have spent their careers standing and singing behind some of the biggest names in the industry, a chance to take center stage and relish the spotlight. I'm sure I speak for them all when I say, "It's about damn time."

Reviewed on:
April 7th, 2014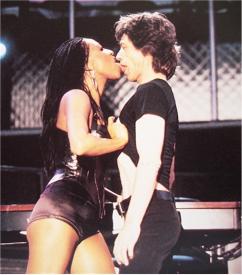 Lisa Fischer performing with Mick Jagger.
In a 2013 interview with The New York Times, Lisa Fischer stated, "When you start listening for us, honey, we're everywhere, Ev-ery-where!" That statement could not be any truer. It is the first thing we are hit with, in 20 Feet from Stardom. We hear several pop hits from the early 1960s and are reminded of just how important the backing vocals were, and are, to many hit songs.
Darlene Love is the grandmother of background singers. It is her vocals that we remember from so many pop classics. She has not always been given her due for helping to make some of those songs successful. As Patrick wrote, she recorded the vocals for the hit, "He's a Rebel" but Phil Spector gave credit for her singing to The Crystals. This was decades before Milli Vanilli took credit for the singing talents of Charles Shaw, John Davis, Brad Howell, and twin sisters Jodie and Linda Rocco.
Prior to seeing this film, I never knew who Lisa Fischer was, but after hearing her sing, she is easily one of the greatest singers I have ever heard. She can do things with her voice that are truly astonishing. She is by far a more amazing singer than nearly every singer who ever had a song on the charts. What makes her also unique is that she is content with her brief moment at center stage. She expresses here that she is completely content to support other singers. She does not sing for the money or fame but the euphoric experience it gives her.
One hilarious moment in the film has Nia Peebles mention how Lisa sang back up for her. The fact that this Maestro vocalist sang back up for a girl who qualified to record a song simply because she was cute, is a joke. It is like setting a marble in a platinum ring.
You may have dismissed background singers as interchangeable before but after seeing 20 Feet from Stardom, you will see them as individuals. Darlene Love was robbed of fame. Lisa Fischer does not seek it out. Jo Lawry wants it so bad she can taste it but seems to only get work as a backup singer. When she speaks about Michael Jackson's death, she seems more bothered by the missed tour than his passing.
I agree it's about damn time these women get their due. A backup singer is like a good brassiere. The breasts are the star attraction but the bra can enhance the view.
Photos © Copyright Gil Friesen ProductionsTremolo Productions (2013)