Movie Review
17 Again
Who says you're only young once?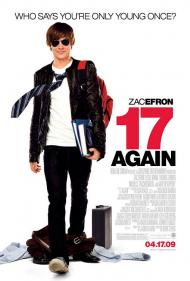 US Release Date: 04-17-2009
Directed by: Burr Steers
Starring
▸
▾
Zac Efron

,

as

Mike ODonnell (Teen)
Leslie Mann

,

as

Scarlett ODonnell (Adult)
Thomas Lennon

,

as

Ned Gold
Sterling Knight

,

as

Alex ODonnell
Michelle Trachtenberg

,

as

Maggie ODonnell
Melora Hardin

,

as

Principal Jane Masterson
Nicole Sullivan

,

as

Naomi
Jim Gaffigan

,

as

Coach Murphy
Margaret Cho

as

Mrs. Dell


Reviewed on:
April 20th, 2009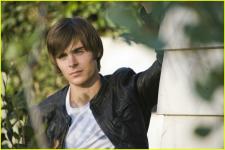 Zac Efron in 17 Again.
I had little expectation for 17 Again. The gimmick of a teenage actor playing a teenage character with the life experience of an adult has been done to death. Kirk Cameron switched bodies with his dad, Dudley Moore, in Like Father Like Son (1990). Corey Feldman and Jason Robards had already done this routine in Dream a Little Dream (1989). Fred Savage did the same thing with Judge Reinhold in Vice Versa (1988). If that is not enough, George Burns soul goes into his 18 year old grandson, Charlie Schlatter in 18 Again in 1988. Zac Efron's fan base was not even alive, or at best babies, when those movie came out, so 17 Again will at least likely seem original to them.
17 Again opens with popular high school senior Mike about to play in the big basketball game that will change his life forever. He is the star player, and a college scout is in the audience. His girlfriend however, decides to share her pregnancy news just before the game, and thus his life takes a different turn. 17 years later Mike and his wife are separated as he blames her for all of his failures. He still loves her but is in that middleage "what if" mood.
A pointless event turns him 17 again. He goes back to highschool and is soon the big jock on campus again. He also gets to know his children in ways he never did as their dad. With similarities to Back to the Future (1985), Mike befriends his family members and helps them with their problems.
Mikes rich best friend, Ned, poses as his father. Thomas Lennon steals every scene he is in as the nerdy Ned. He falls in love with the highschool principal, but has no clue how to court a woman so all of his attempts serve only to annoy the hell out of her.
Some of Efron's best moments are when he finds himself in typical teenage situations, but reacts as a middleage father. In Sex Ed, he gives a lecture on abstinence as his daughter has just been handed a condom by a condescending teacher. At a party he tries to tell some slutty girls to respect themselves to no avail. Efron also handles the drama fairly well. The court room letter scene was quite moving.
Although completely unoriginal, 17 Again is a funny film that has a nice message about the decisions we make. It is a reoccurring theme throughout the movie. Mike must make a decision and then live with it. It is a pretty good message to send to young people, as well as old.
Reviewed on:
August 24th, 2009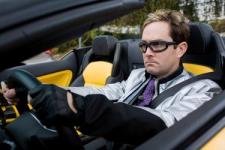 Thomas Lennon is hilarious in 17 Again.
I had probably even less expectations than you Eric, but like you, I was pleasantly surprised. As you say, this plot has been done to death, but somehow the filmmakers managed to breathe some life into the old story after all, helped in large part by a likeable cast and a script that provides some real laughs.
Thomas Lennon is great as Ned. I didn't quite buy the fantasy-loving Principal, but their scenes together were some of the funniest in the movie.
Not being a teen-age girl, I've never really seen the attraction of Zac Efron, but I do have to say he does a good job in this part. He is convincing as the older man in the body of a high-schooler and I could actually believe that he and Mathew Perry were the same person. Why a comb-over haircut on a teenager is a considered fashionable though, is a mystery lost on me by a couple of generations.
Getting a do-over in life is a fairly common fantasy, which clearly is why this story gets remade so many times. In fact, it's become so common that in this movie no one seems really shocked when it happens. Ned and Mike accept it pretty easily and don't seem too concerned about it and the audience is expected to as well. Why Mike is given this chance or the identity of the old janitor (God?), is never revealed.
By rights this movie shouldn't succeed, and yet somehow, almost despite myself, I found myself enjoying it anyway.
Reviewed on:
February 19th, 2010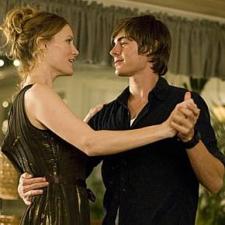 Is this moment romantic or awkward?
This movie sucked ass. It was totally stupid and boring. Psych! Sorry, just acting 17 again. Actually I'm going to parrot my brothers' reviews in saying that I was pleasantly surprised by this movie. I just thought it would be fun to start off with an opposing point of view.
Scott, like you I am not a teenage girl but I totally get Zac Efron's charms. He is an attractive guy; and as he proves here also a talented actor, handling the comedy and serious moments with equal aplomb. He does make you believe he is a middle-aged man trapped in a teenage body.
The high-comedy fantasy romance between Ned and the principal was hilarious and in the context of this fantastical story makes perfect sense. "You can plunder my dungeon anytime." "I'll bring my longbow."
The cheerleader dance moves at the beginning of the movie took me back to my clubbing days in the late '80's and early '90's. I used to do the running man, the snake and that Kid N Play dance from House Party. Can that really be 20 years ago?
I don't have children myself but wouldn't any parent love the chance to spend some time in their kids' world as a peer and be able to help them over life's rough spots? And at the risk of sounding over 40, I can only imagine how exhilarating it would be to look and feel like I did when I was 17, if only for a moment. Yes this is a lightweight, unoriginal idea with a feel-good Hollywood ending. When it's done this well I can enjoy a schmaltzy romantic comedy as much as the next movie buff.
Photos © Copyright New Line Cinema (2009)