Movie Review
13 Rue Madeleine
Tough Guy Cagney Battles the Nazis in this Riveting Spy Movie!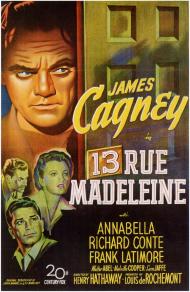 US Release Date: 01-15-1947
Directed by: Henry Hathaway
Starring
▸
▾
James Cagney

,

as

Bob Sharkey
Annabella

,

as

Suzanne de Beaumont
Richard Conte

,

as

Bill O'Connell
Frank Latimore

,

as

Jeff Lassiter
Walter Abel

,

as

Charles Gibson
Melville Cooper

,

as

Pappy Simpson
Sam Jaffe

,

as

Mayor Galimard
Karl Malden

,

as

Jump Master
E.G. Marshall

,

as

Emile
Red Buttons

as

Second Jump Master

Reviewed on:
August 23rd, 2003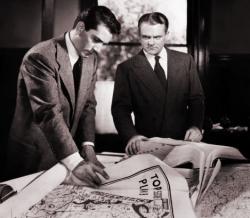 Bill O'Connell and James Cagney in 13 Rue Madeleine.
James Cagney slowed down the frantic pace of his movie making after the mega success of 1942's Yankee Doodle Dandy. Between that Oscar winning role and 1949's comeback gangster role in White Heat he appeared in only four films. 13 Rue Madeleine is probably the most memorable one from that time. Shot in a mock documentary style this movie takes a serious look at a group of agents being trained for undercover missions against the Nazis during WWII.
Cagney is Bob Sharkey, business man turned government agent, who speaks several languages. It is his job to train a new group of recruits. Much like the recent movie The Recruit he is told before hand that there is a 'mole' in the group. And it is his mission to discover the identity of the Nazi double agent.
Once the spy's identity is known they form a plan to leak false information about the forthcoming Allied invasion, so that he will return to Germany with incorrect data. Meanwhile the other agents will be in France on a secret mission. All goes well until the spy realizes his secret has been compromised and he returns to the Motherland with too much sensitive information. The only way to save the mission is for Sharkey to go in after him. This leads up to the movies brutally heroic conclusion.
The ending is too important and powerfully filmed to give it away here. But trust me when I say it packs a punch. This is definitely one of the most realistic and interesting World War II movies I have seen. I'm surprised it didn't do better at the box-office. Mainly I think the public wanted to see their favorite tough-guy playing a gangster instead of the hero.
Though he was middle-aged and developing a paunch by this time in his career, Cagney maintained his uniquely charismatic energy on screen. This is a must see for his fans and a fascinating movie for anyone interested in the time period.

Reviewed on:
May 31st, 2006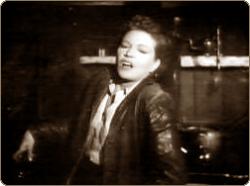 Suzanne de Beaumont in 13 Rue Madeleine.
I am very interested in that time period as well as a fan of Cagney's. I do not tribute the lack of box office success to Cagney playing outside his normal gangster character. Yankee Doodle Dandy proved that audiences could accept him in other roles. I think that this is a very realistic war movie in that so many of the main characters die and thus it is a bit of a downer.
13 Rue Madeleine is a great war/spy movie. The tension is unfeigned. I gasped at the parachute scene into Holland. I hoped Suzanne would get out of the house before the Nazi's found her sending a message. Sharkey's safety is always in question.
The reason for so much tension is because the film is set up for the audience to like and empathize with the characters. Suzanne is desperate to hear about her husband. Jeff finds out his friend is a traitor. Meanwhile, Sharkey and the powers that be are trying to keep the secret of the allied invasion out of Nazi hands.
13 Rue Madeleine does not pull any punches or utilize any last minute heroic plot devices to whisk the heroes away to fame and glory. This is a movie about the ultimate sacrifice so many made and make for the sake of their country in time of war. That makes this movie suspenseful but it eliminates the cheer factor that you want after seeing heroes go through so much. A happier ending may have felt better but it would have betrayed the point of the film.
Reviewed on:
March 29th, 2012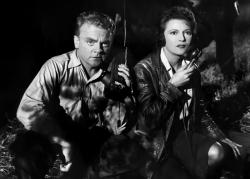 James Cagney and Annabella in 13 Rue Madeleine.
After watching several over-the-top patriotic, feel good, John Wayne World War II movies recently, this one came as something of a relief. Those films are fine as they are, but this movie has a little more depth and even some shades of grey. As Cagney's character says, "Fair Play? That's out. Years of decency and honest living? Forget all about them." And he's talking about the good guys.
Not that Cagney as spymaster Sharkey and his team aren't patriotic citizens willing to lay down their lives for their country, but their attitude and the pervading attitude of the script is that they've got a dirty job to do in a dirty war and they're going to do it no matter what it takes. And the ending is as dark as they came in that era of the Production Code. There's no last minute cavalry charge to save the day. John Wayne doesn't bust in with the marines.
In part because of the ending, there's a more modern feel to the story. Cagney saying that they would throw out fair play actually reminded me of a line from John Le Carre's The Spy Who Came in from the Cold, written some 15 years later. In that story, Control tells Leamas that "You can't be less ruthless than the opposition simply because your government's policy is benevolent."
The character of Suzanne also adds to the modern feeling. She's a woman, but her sex is almost inconsequential to the plot. She goes through the training with the men without complaint. She's the first one to jump out of the plane and she handles a gun with aplomb. She's no mere window dressing. And being a member of the fairer sex doesn't alter her fate.
Cagney was middle aged and overweight. His pants are so high that his belt seems to be around his chest in an effort to keep his gut in check. Despite that though, he still shows surprising energy and dexterity. During the training sequence at the beginning of the story he does a couple of somersaults and then later he leaps over the hotel desk quite easily. He's very good in the part and the ending carries the impact that it does because we care about his character.
If I have any complaint with this excellent film it would be the rather cheesy narration that begins the movie. As Patrick mentioned, the story begins as a sort of mock documentary, but this adds nothing except to the running time. They could just as easily have gotten on with things and jumped right into the story. This is a minor quibble though and does little to diminish this highly entertaining espionage thriller.
Photos © Copyright 20th Century Fox (1947)
Related Review