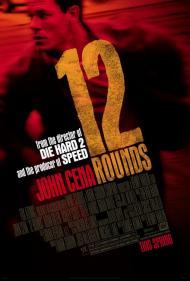 US Release Date: 03-27-2009
Directed by: Renny Harlin
Starring
▸
▾
John Cena

,

as

Det. Danny Fisher
Aidan Gillen

,

as

Miles Jackson
Ashley Scott

,

as

Molly Porter
Steve Harris

,

as

Special Agent George Aiken
Brian J. White

,

as

Det. Hank Carver
Gonzalo Menendez

as

Special Agent Ray Santiago

Reviewed on:
April 1st, 2009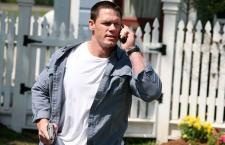 John Cena in 12 Rounds
For those who may confuse 12 Rounds with The Marine, let me clear that up. In The Marine, John Cena played a ex-Marine who has to save his abducted wife. In 12 Rounds, he plays a policeman who has to save his abducted girlfriend. You see? They are two completely different movies.
Although the plots sound very similar, 12 Rounds is a better film. You can chalk it up to a better director, or Cena acting more comfortable in front of the screen, or maybe even a slightly better script. Cena plays a New Orleans cop who happens into a FBI sting operation and ends up capturing an international terrorists. I know, you are picturing a middle eastern, Muslim terrorist, as they have been responsible for nearly every terrorist attack of the past twenty years, but this is Hollywood. They have yet to read a newspaper, so the terrorist is of course Irish.
A year after his capture, the terrorist escapes and abducts Cena's girlfriend. He contacts Cena by blowing up his house, and informing him that he must play 12 rounds of a scavenger hunt or his girlfriend is toast. Cena plays and people die. The plot moves along briskly, yet predictably. A small plot twist near the end helps, but does not erase all of the coincidences that would have to had occurred to make this plot remotely realistic.
My thirteen year old is a huge WWE fan and would have loved to have heard Cena say his trade mark line, "You can't see me." He does not use it in his movies, but we did leave the theater quoting a supporting actors line, "You got a little something-right there." It is one of those things you have to see to enjoy.
Cena seems to be getting better as an actor. Of course that is not saying a whole lot considering these are action movies that demand little more than what he does in the WWE ring. Cena is attempting to be the next Dwayne Johnson, and go from a wrestling superstar to a movie star. He may pull it off. He has the build of a super hero but the steroids are affecting his looks. He has the forehead of a caveman. After a little search on the internet I found this report by a Michelle Tsai, "In an adult, very large doses of HGH can cause the skull to thicken and the forehead and eyebrow ridge to become especially prominent." Although he has yet to admit using them, the evidence that he has is written on his face.
Photos © Copyright WWE Films (2009)