Movie Review
The 100-Year-Old Man Who Climbed Out the Window and Disappeared
Things are what they are, and whatever will be will be.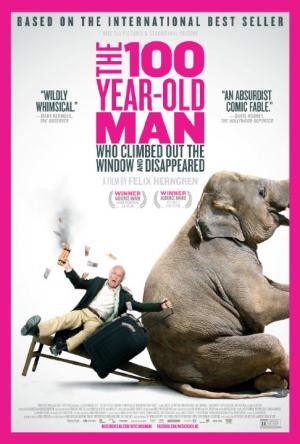 US Release Date: 05-08-2015
Directed by: Felix Herngren
Starring
▸
▾
Robert Gustafsson

,

as

Allan Karlsson
Mia Skäringer

,

as

Gunilla
Iwar Wiklander

,

as

Julius
David Wiberg

,

as

Benny
Jens Hultén

,

as

Gäddan
David Shackleton

,

as

Herbert Einstein
Algirdas Paulavicius

,

as

Josef Stalin
Sigitas Rackys

,

as

Gorbachev
Nikita Ivanov

,

as

Oleg 10 Years Old
Lateef Lovejoy

,

as

Douglas Freeman
Keith Chanter

,

as

Ronald Reagan
Philip Rosch

,

as

Robert Oppenheimer
Sibylle Bernardin

,

as

Amanda Einstein
Kerry Shale

,

as

Harry S Truman
Ralph Carlsson

,

as

Chief Inspector Aronsson
Georg Nikoloff

,

as

Popov
Alan Ford

,

as

Pim
Simon Säppenen

,

as

Bulten
Sven Lönn

,

as

Hinken
Cory Peterson

,

as

CIA Ryan Hutton
Sonja

,

as

Sonja the Elephant
Sergej Merkusjev

,

as

Oleg
Manuel Dubra

,

as

Esteban
Miglen Mirtchev

,

as

Vladimir
Alfred Svensson

,

as

Ung mackexpedit
Oliwer Carpman

,

as

Allan 13 Years Old
Alvin Thudin

as

Allan 9 Years Old

Reviewed on:
February 10th, 2016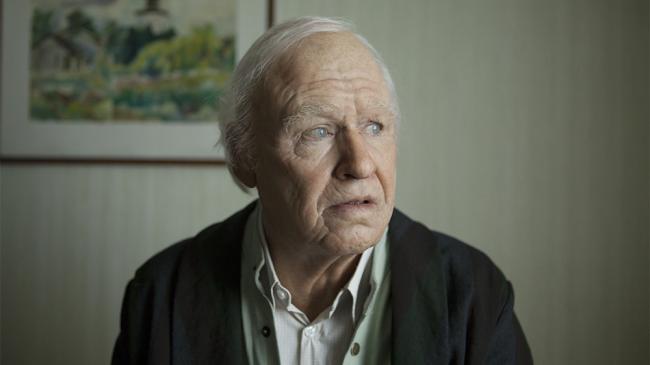 Robert Gustafsson in The 100-Year-Old Man Who Climbed Out the Window and Disappeared.
Every year I try to watch every Oscar nominated film, which inevitably means plowing through plenty of pretentious and overly dramatic films. That's why it's always such a wonderful surprise to stumble upon a nominee like this film (Best Makeup and Hair), which is just a pure delight from start to finish. It's a surreal comedy of almost Pythonic proportions with a plot that plays out like a Swedish Forrest Gump only with more laughs.
The film stars 48 year old Robert Gustafsson as Allan Karlsson, but he spends much of the film made-up to look like the 100-year-old man of the title. It begins on his 100th birthday in an old folks' home (where he ended up after using dynamite to blow up the fox who killed his beloved cat), but instead of celebrating with the staff and the local media, he slips out the window and heads to the bus station where he buys a ticket to wherever his pocket change will take him. When he innocently agrees to mind a fellow passenger's suitcase, his adventure really begins. It turns out that the suitcase is packed with money, and after Allan wanders off with it, he meets up with a colorful cast of characters while at the same time being pursued by a motorcycle gang and the police.
In between these misadventures, Allan reminiscences about his long life, which turns out to have been storied and rich. An attraction to blowing things up lead him first to an insane asylum, then to the Spanish Civil War (where he saved the life of Franco), and then eventually to working on the Manhattan Project, where he becomes drinking buddies with Harry S. Truman. And the rest of his life is even more colorful. He meets Stalin, befriends Albert Einstein's lesser known-and lesser intelligent brother-Herbert, becomes a spy, meets Ronald Reagan, and is almost solely responsible for the dismantling of the Berlin Wall. No matter what happens to him though, or who he meets, Allan remains completely unflappable. His simple minded, sweet nature carries him through every situation.
The comedy is both silly and dark. More than one person dies and most of their deaths are played for laughs. Allan is the center of the story and the humor, but the supporting cast provides plenty of the humor as well. The disinterested and dimwitted police detective trying to track Allan down and the even more dimwitted Herbert Einstein both manage to steal a few scenes from a cast of scene stealers.
Perhaps the most wonderful thing about this odd little movie is that it always surprises you. Most movies, no matter how good, are pretty predictable. This one though, will keep you guessing right up until the end. Those who like their comedy just a little bit twisted and silly will find plenty to love about this one. And for the record, although it's unlikely to win going up against The Revenant, the Makeup Oscar nomination is well deserved.


Reviewed on:
February 13th, 2016
David Wiberg, Irwin Wiklander and Robert Gustafsson in The 100-Year-Old Man Who Climbed Out the Window and Disappeared.
Although The 100-Year-Old Man Who Climbed Out the Window and Disappeared is a bit twisted and silly, it is also a surprisingly heartfelt comedy. Allan has stumbled through his life, having both horrible and great things happen to him. Through it all, he remains, as Scott wrote, unflappable.
He narrates how his mother even gave him the advice to not think about things. It is advice this simpleton takes to heart. He takes in stride such things as being sterilized and sent to a gulag. The story illustrates the benefits of not overthinking things throughout. Allan joins the Spanish revolution with a man who thinks and talks constantly of it. His fate proved that a pointless endeavor.

Only when Allan thinks about something does he get into trouble. Note that it was his decision to take out the fox that resulted in him being put in the old folks home. After escaping from it, Allan begins collecting friends, and enemies, along the way. One of my favorite, and the one that most illustrates the message of this movie, is Benny. He is a man scared to make a decision about his life, so he remains a college student even though he is middle aged. He explains that he cannot decide what to do with the rest of his life. Allan endears himself to him by telling him that it is good to keep your options open.

Sure, this is a fantasy and most of us will never find a bunch of money or mingle with famous people, but it does teach an important lesson. Life can be scary and bad things can happen but if we hide behind a locked door or avoid it by not moving on we will never know the simple beauty that life is. What's more, to dwell on or worry about things truly accomplishes so little and can even stunt us.

The 100-Year-Old Man Who Climbed Out the Window and Disappeared is more than just a feel good movie, it is a lesson to us all that life is too short, even if you live to 100, to spend so much of it stressed over issues you have so little control over. As the film ended I expected to hear Bobby McFerrin's "Don't Worry, Be Happy" to start playing. That may sound corny but sometimes we need to re-learn some of the most basic of life's lessons.
As far as the Academy Award for best makeup goes, Robert Gustafsson is very convincing playing someone twice his actual age. However, a different actor should have played him as a young man. At 48 he cannot pull off being a guy just of legal age. But it is a meager complaint about a film that offers so much and is a delight to watch.

Reviewed on:
February 17th, 2016
Robert Gustafsson and Iwar Wiklander in The 100-Year-Old Man Who Climbed Out the Window and Disappeared.
Agreeing with both my brothers, The 100-Year-Old Man Who Climbed Out the Window and Disappeared is a delight from start to finish as it keeps throwing curve ball after curve ball at the audience. It's a pure movie fantasy wherein no matter how much lack of thought our dimwitted hero puts into his actions, every situation he finds himself in turns out somehow to bring him good-fortune. This is true of everything in his past life as well as the events of his hundredth birthday that unfold over the course of the movie.
Few comedies combine humor with heart in perfectly measured amounts. This one does. Despite the absurdity of some of the situations Allan finds himself in, this colorful cast of characters become friends we invest in emotionally. The script -based on the bestselling novel by Jonas Jonasson- is clever and funny. The plot is a jigsaw puzzle where every piece fits together precisely, revealing the bigger picture.
The cast is wonderful. Robert Gustafsson in particular mines comedy gold and spins heartfelt sentiment as Allan Karlsson. He's now one of my all-time favorite movie characters. His entire life was one great adventure after another – topped off with one hell of a 100th birthday!
The fates of the various motorcycle gang members are hilarious. The spy montage is also a comic highlight in a movie filled with funny moments. I honestly cannot come up with a flaw in this completely entertaining romp. The 100-Year-Old Man Who Climbed Out the Window and Disappeared is a whimsical farce that will put a smile on the face of anyone lucky enough to see it.
Photos © Copyright StudioCanal (2015)
Related Reviews