Movie Review
100 Rifles
All they need is . . . 100 RIFLES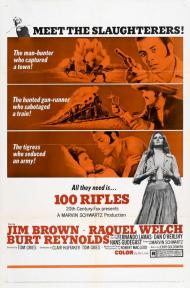 US Release Date: 03-26-1969
Directed by: Tom Gries
Starring
▸
▾
Jim Brown

,

as

Lyedecker
Raquel Welch

,

as

Sarita
Burt Reynolds

,

as

Yaqui Joe Herrera
Fernando Lamas

,

as

General Verdugo
Dan O'Herlihy

,

as

Steven Grimes
Eric Braeden

as

Lt. Franz Von Klemme

Reviewed on:
September 28th, 2011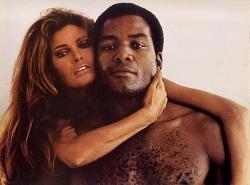 Raquel Welch and Jim Brown in a pubilicty still for 100 Rifles
In 1968 Raquel Welch made Bandolero and then another western the following year, 100 Rifles. Bandolero starred such rickety actors as James Stewart and Dean Martin. It's approach to sex and violence was fairly tame. Although only made a year later, 100 Rifles was not only not old fashioned, it was down right socially ground breaking.
Jim Brown stars as Arizona lawman Lyedecker. He is in Mexico trying to bring half white/half Indian bank robber Joe (Reynolds) back to Arizona. He catches up to Joe in a small Mexican town. Reynold's first scene features him in bed with a naked actress in a rare nude scene for 1969. While trying to take Joe into custody, Lyedecker gets caught up in an Indian revolt. Welch plays a revolutionary who has been waiting for Joe to bring her people rifles, the stolen money bought. The three end up joining forces and fight for the Indians. Lyedecker eventually even becomes the revolutionary leader.
100 Rifles is loaded with gun fights and chases on horse back. There are plenty of battles that leave lots of Mexicans and Indians dead. One of the best is when the rebels ambush a train. Welch distracts the soldiers on the train by taking a shower at a water tower along the tracks. She is wearing a shirt that tantalizingly clings to her. Her hands wash over her breast and the scene is quite sexy.
The director, Gries, tried hard to convince Welch to do the shower scene naked, but she refused. Although he could not talk her out of her clothes, Gries was able to pull a decent performance out of her. Her auburn hair and shiny white teeth look nothing like an Indian in 1912, but she still gives a convincing performance. She rides a horse, shoots a gun and makes love to Jim Brown. This is one of her sexiest roles.
In 1969 an interracial love scene was almost unheard of. In 1957 Island in the Sun gently explored two interracial relationships, with a white actor kissing Dorothy Dandridge, while Harry Bellafonte and Joan Fontaine settled for romantic looks. In 1967, white actress Katharine Houghton brought home Sidney Poitier for dinner. Although they are engaged, Guess Who's Coming to Dinner made a point to state that they have yet to have sex. The following year television viewers were shocked on November 22, 1968 when William Shatner kissed Nichele Nichols in the Star Trek episode "Plato's Stepchildren."
100 Rifles was one of the first films to feature an interracial sex scene. A shirtless Brown and Welch are alone in a hotel. As she starts to undress, he pushes her up against a wall and starts kissing her. She protests that she does not want it rough. He obliges, slows down and they move to the bed. She makes ecstasy faces and sounds as he works the magic. Not only was this groundbreaking, but sex scenes between whites and blacks are still fairly rare more than 40 years later, and when one is featured it is usually in a film about interracial issues. Here it is just a couple in a horny moment, having nothing to do with skin color.
The lack of race as an issue is very refreshing for a film starring an African American. 100 Rifles stole an idea from The Defiant Ones, in which a black man and a white man are chained together prisoners. Here Brown is the racist calling Joe a "half breed!" In another scene Brown is eating in an Indian village being stared at by the children, Welch explains in broken English, "It's the first time they've seen a black man before." Although they do not entirely ignore his skin color, 100 Rifles starred a black man in a role that any actor of any skin color could have played. Along with Night of the Living Dead, made the previous year, movies became very racially progressive.
Photos © Copyright Twentieth Century Fox Film Corporation (1969)
Related Reviews