Movie Review
10
A temptingly tasteful comedy for adults who can count.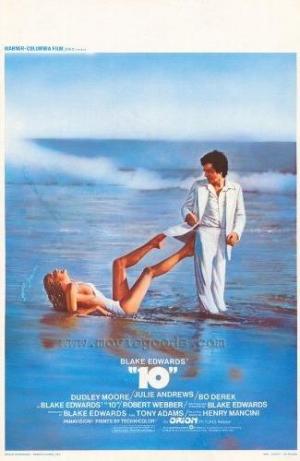 US Release Date: 10-05-1979
Directed by: Blake Edwards
Starring
▸
▾
Dudley Moore

,

as

George Webber
Julie Andrews

,

as

Samantha Taylor
Bo Derek

,

as

Jenny Hanley
Robert Webber

,

as

Hugh
Dee Wallace

,

as

Mary Lewis
Sam J. Jones

,

as

David Hanley
Brian Dennehy

,

as

Donald
Max Showalter

,

as

Reverend
Rad Daly

,

as

Josh Taylor
Nedra Volz

,

as

Mrs. Kissell
James Noble

as

Dr. Miles

Reviewed on:
August 26th, 2014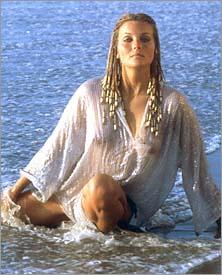 Bo Derek in a publicity still for 10
With a small memorable role in Foul Play (1978), British comedian Dudley Moore began a brief reign as Hollywood's go to sad sack. His career peaked and, for the most part, ended after 1981's Arthur. In 1979, Moore was cast in Blake Edwards 10, playing a man going through a mid-life crisis. Moore is in nearly every scene, yet it is Bo Derek, whose 20-30 minutes of screen time are most remembered.
Moore plays George Webber, a Hollywood song writer who is in a relationship with singer Samantha Taylor, played by Blake Edwards' wife Julie Andrews. George lives in a nice home in the Hollywood hills where he often spies on his neighbor, who seems to live the life of a porn star, having sex with random women and throwing nude parties. George is in his 40s and feels like he is missing out on some indescribable passion. That passion shows up in the form of Bo Derek, driven past George on her way to be married. George follows her to the church and stares at her longingly.
After a debate with Samantha, over the definition and usage of the word "broad," George seeks out the priest and then the father of the bride, to find out that the brides name is Jenny and where in Mexico she has gone on her honeymoon. George flies down to see her. He watches her, with her husband, in a bar and on a beach. He fantasizes about her, providing the movie with its most famous scene of Bo Derek running on the beach. Eventually they talk, go on a date and end up in bed together.
10 is slow paced and runs 30 minutes too long but it has some funny moments. While visiting with the Reverend, a very old lady brings them tea and farts. It sends a dog running off. The Reverend then remarks to George, "Whenever Mrs. Kissel breaks wind, we beat the dog." Although the joke is dragged out, the funniest part of the whole film is after George visits the dentist and is under the influence of strong prescription drugs. It causes problems with Samantha, the police and plays a role in him going to Mexico. As Arthur proved, Moore is best when acting intoxicated. A Police Officer warns him, "Be careful sir, you shouldn't mix drugs and alcohol." A laughing George responds, "You could have fooled me."
10 almost works better as a drama. George learns to appreciate what he has with Samantha through the relationships of those he encounters. George's writing partner Hugh is a gay man who's live-in boyfriend is much younger than him. George observes, "Doesn't he do anything except swim and jog on the beach?" Hugh answers, "Oh yes! He makes me happy. So I let him swim and jog on the beach." Later we see that Hugh is very insecure about his relationship with the younger man. George also learns from Jenny, whom he has put on a goddess pedestal as some symbol of purity and love. Once he finds that she and her husband have an open marriage, she becomes much less in his eyes.
All the jokes and drama mean nothing in the long run. 10 is only remembered for the nudity, provided by the neighbor and mostly Bo Derek. Once every decade a role literally makes a sex symbols career. We had Rita Hayworth stripping in Gilda (1946), Marilyn Monroe's skirt rising in The Seven Year Itch (1955) and Raquel Welch's fur bikini in One Million Years B.C. (1966). Here we have Bo Derek running on the beach in a tight, flesh colored bathing suit that shows her curves up north and down south. With her high cheek bones and bouncing breast, she made the world forget about Farrah Fawcett's nipple poster.
Near the end of the movie, Bo has an extended nude scene. It is what she based much of the rest of her career on. She would go on to do several Playboy layouts and under the direction of her husband, John Derek, make several God awful films in which the highlight of them all being Bo sans clothes. Granted there are many worse things to do than watching a naked Bo Derek, it is not enough to base an entire film on.
Photos © Copyright Orion Pictures (1979)