Article
Pola Negri
Written by Eric
First Posted: January 15th, 2014
A Paramount publicity still of Pola Negri
The polish born Pola Negri was a star in Europe before coming to Hollywood. She began her career on the stage. One of her successes was Sumurun, which she would later make into a movie under the direction of Ernst Lubitsch. They made a series of films that featured her in varied and exotic roles. Their collaboration on Madame DuBarry (1919) was retitled Passions and released in the United States. By 1922 both Lubitsch and Negri were given Hollywood contracts.
She made over a dozen silent pictures in the United States but it was her personal life as tabloid fodder that remained her legacy. She had a short lived affair with Charlie Chaplin. He liked his women docile, while Pola was anything but.
She and Gloria Swanson were rivals as both worked at Paramount Studios. Both married royalty with Swanson winning that round as she did it first. According to "The Movies", 1957, by Richard Griffith and Arthur Mayer, "Pola lost the feud, not through any lack of ingenuity in pursuing it but because that infallible umpire, the boxoffice, decided against her."
Pola was friends/enemies with Mae Murray. They talked trash about each other in the press. Murray was supposedly upset when Negri married Murray's brother in-law. Murray's husband was a prince and supposedly did not like the idea that Negri would also have a title. Negri was Murray's maid of honor at her wedding. The best man was Rudolph Valentino, who Negri claimed was engaged to her when he died.
Valentino died in New York while Negri was filming in California. She grabbed her most chic black dress, her agent and her publicist and took the next train to New York. There she attended Valentino's service being dramatically held up by her entourage. A Pathe News reel clip shows her arrival with the caption, "Pola Negri, reported to be Valentino's fiancee, is amoung the mourners." There was never any proof, announcement or ring, that they were actually engaged.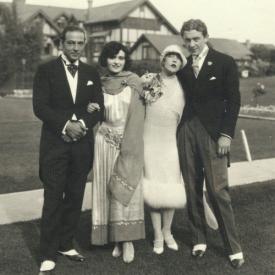 Rudolph Valentino, Pola Negri, Mae Murray and Prince Mdivani on their wedding day.
Negri escorted Valentino's body back to Hollywood by train. At every stop she made a dramatic public appearance where she would faint for the crowd at the stations. At the funeral she had delivered a huge flower arrangement with "POLA" written on it in flowers. The climactic moment came during the Hollywood funeral service, when she literally threw herself onto the casket weeping. The news reported on all of this and there was a back lash. The public may have been caught up in the moment but they knew a ham when they smelled it cooking.
This ridiculous publicity stunt did not help her struggling career. The final nail in her coffin came with sound. Her Polish accent was not considered attractive and she soon moved to Germany. In a 1936 interview, a journalist asked if the rumors of a relationship between her and Adolf Hitler were true. She responded, "Why not; after all there have been many important men in my life-Valentino for example."
Negri eventually returned to the United States and made her final film The Moon-Spinners for Walt Disney in 1964. She died in 1987 at the age of 90. She outlived Gloria Swanson by four years. I guess she won the final round.