Article
Movie Making Mutts
Written by Eric
First Posted: July 31st, 2014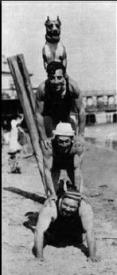 Luke, Buster Keaton, Al St. John and Fatty Arbuckle
W.C. Fields is credited as saying, "Never work with children or animals." because they steal every scene they appear in. There is something innately comforting and genuine about a child and a dog. They are easy to sympathize with as they are so often cute and can easily show unconditional love. Whereas children have the advantage of being able to recite lines, dogs have to sell a scene simply through their actions.
When we were kids, our parents took us to see Benji (1974). I recall crying during a scene where Benji is running and thinking of how his female dog friend was kicked by a bad guy. My son loved Lassie (1994) when he was young. He cheered for Lassie the entire film and became emotional when Lassie was thought dead in the river. Hollywood has featured so many dogs over the years in movies that every generation can recall one particular dog that stands out.
Dogs first appeared in movies pretty much at the dawn of films. Roscoe (Fatty) Arbuckle often put his ex-wife's dog Luke in many of his shorts. The English Pit-bull chased the likes of Mabel Normand, Buster Keaton and Al St. John on film from 1914 to 1920. He had his own contract earning $159 a week to make his human co-stars look good.
The most famous dog of the silent era was Rin Tin Tin. He was part of a litter of pups found in a French bombed out dog shelter during World War I, by Corporal Lee Duncan in 1918. The entire litter was taken by Duncan's battalion but only Rin Tin Tin survived the war to go with Duncan back to his home in Los Angeles. In 1922, Duncan had Rin Tin Tin show off his jumping prowess at a LA dog show. Movie producer Darryl Zanuck was in attendance and paid Duncan $350 to film his dog in action. Rin Tin Tin made his film debut in The Man from Hell's River (1922) with Wallace Beery. Rinty made more than two dozen films before he died in 1932. His body was returned and interred at his birthplace in Lorraine, France. Other dogs, called Rin Tin Tin would continue to make movies through the 1950s.
Another famous dog of the time was an American Pit Bull Terrier named "Pal the Wonder Dog". One of his first films was a small part with Harold Lloyd in The Freshman (1925). He would do a series of silent shorts about a character named Buster that starred an actor named Arthur Trimble, not Keaton. Pal became most famous when he became Petey in Our Gang. After Pal died in 1930, one of Pal's offspring became Pete in The Little Rascals.
One of the most loved dogs of movie goers of the 1930s was Asta, made famous in The Thin Man films, co-starring William Powell and Myrna Loy. Asta made terriers a popular breed for family dogs. William Powell even asked to buy him from his owners, who refused. Asta also appeared in such films as The Awful Truth (1937) and caused all kinds of frustration for Katharine Hepburn and Cary Grant in Bringing up Baby (1938).
One of the most memorable movie dogs from the time period, and perhaps all time, is a little Scottish terrier named Terry whose career spanned more than a dozen films from 1934 to 1945. One of her first films was Bright Eyes (1934) with Shirley Temple. Of all Terry's movies, it is only one that she is remembered for, that of the part of Toto in The Wizard of Oz (1939). Terry even had a biography written about her that describes how she was scared of the giant fans on set and even broke one of her legs during filming. She suffered for her art.
In 1943 a new breed of dog became world famous. That breed, a collie, the dog, Lassie. Actually, the dog that starred in Lassie Come Home with Roddy McDowall and Elizabeth Taylor was played by a dog named Pal who also starred in the sequels and began the television series before he died in 1958. Pal's/Lassie's descendants have starred in many but not all of the other Lassie roles. Both Lassie and Rin Tin Tin have stars on the Hollywood Walk of Fame.
With television becoming a staple in American family life, dogs found plenty of work on the small screen but Hollywood continued to make movies about man's best friend. 1957 saw the debut of the quintessential boy and his dog film, Old Yeller. It broke ground for such movies as Big Red (1962), Sounder (1972) and Where the Red Fern Grows (1974).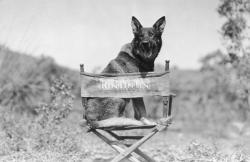 Rin Tin Tin
The star of my favorite childhood dog film Benji was a veteran of television work, having already appeared in many episodes of Petticoat Junction. Benji, played by Higgins the Dog, died the year after Benji was released and so appeared in no other Benji film. Dog movies briefly took a dark turn with such movies as The Doberman Gang (1972) and Cujo (1983) which featured dogs that attacked humans.
Thankfully, friendly dogs continued to make screen appearances in such films as Shiloh (1996), My Dog Skip (2000) and Marley & Me (2008). There were however, only a few making movie series. Beethoven (1992) about a Saint Bernard, spawned half a dozen sequels but most went directly to DVD.
Americans, for the most part, love their dogs and it has shown in our films. They have made us laugh, cry and saved the day. They have come in different sizes, colors and breeds but always fascinated us no matter what their look. They never speak lines of dialogue but we always know what they want or mean. Over the years they have stolen the spotlight from some of Hollywood's biggest stars as easily as they have stolen so many of our hearts.