Article
Attack of the Penis
Written by Eric
First Posted: March 12th, 2009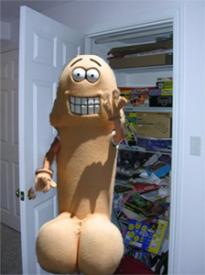 The penis is coming out of the Hollywood closet.
For many, many years in Hollywood the penis was considered one of the strongest taboos. Lately though, they have been popping up where we least expect them and at long last, the male member is becoming a member of the Hollywood elite. That's right, the penis is finally coming out of the Hollywood closet.
At one time it was rare for a male actor to show his penis in a Hollywood movie. Most male stars stop at a butt shot. However, some stars like Richard Gere, Bruce Willis and Harvey Keitel have had their penis exsposing movie moments.   Robert Deniro and Gerard Depardieu got a double hand job from a hooker in a scene often cut from versions of 1900 (1976).
Foreign actors seem a bit less shy about it. Ewan McGregor and Gillian Murphy have both put their willies in front of a camera. German actor David Kross let it all hang out as Kate Winslet washed him in The Reader (2008).  European films have long blurred the line between legitimate film and porn.  Italian porn legend Rocco Siffredi does the full mounty, as does the lead actress, and sports an erection in the french made Anatomy of Hell (2004).  Lately however, it seems more American producers are putting a penis in a picture.
Jason Segel did two full frontal nudes scenes in last years Forgetting Sarah Marshall. It gained him more attention than anything he has done up till that point in his career. He recounted a story to US Magazine on March 11. 2009, about Brad Pitt and Angelina Jolie, "I ran into them on the red carpet, and Brangelina tapped me on the shoulder, and I turn around and Brad said, 'Hey, the penis seen 'round the world!'"
In Walk Hard: The Dewey Cox Story (2007), John C. Reilly sat naked on a floor as a penis was next to his face. Writer Judd Apatow, on Hollywood.com, December 17, 2007 is quoted as saying, "I'm gonna get a penis in every movie I do from now on. When this writers strike ends, that is my dream. It really makes me laugh in this day and age, with how psychotic our world is, that anyone is troubled by seeing any part of the human body; that is amusing to me."
Will the box office earn more money if they are showing a film with male nudity? Jason Mewes lets it all hang out in Zack and Miri Make a Porno (2008). The movie did not rake in the dough, but Robert Wilonsky noted in his review for The Village Voice, "...the biggest titters at a recent preview screening came during a scene in which Mewes shows off his dick—as though, at last!"
In Watchmen, Dr. Manhattan, for some unexplained reason, walks about naked quite often. His blue penis is on the screen more times than Billy Crudup's original face. Crudup plays the role, but the body is obviously computer animated. On The Dailey Show with John Stewart, Crudup held his finger and thumb a few inches apart, and joked that he was only that much of the animated Dr. Manhattan. Take that any way you want.
So are penises now the thing of the future of movies? Will actors be asked to drop their pants before getting a role? How long before an erection is shown in an "R" rated Hollywood film? Can actors handle scrutiny about their most private parts? Probably not, and they may not have to worry about it.  Make up artists can do work on all parts of the body.  Mark Walhberg pulled out a fake, huge schlong in Boogie Nights (1997).  In the french made Sex is Comedy (2002), about the making of a sex scene, the actor proudly shows off his prosthetic penis.  It was the biggest one they had. 
So the next time you see an actors willy, it may be less real than an actresses breast implants.  Women have long claimed Hollywood has set an unrealistic goal for them to live up to, now men may be feeling the same insecurities as Hollywood exposes unrealistic male members.  The penis has finally come out of the Hollywood closet.  Or has it?