Movie Review
You Can't Take It with You
You'll love them all for giving you the swellest time you've ever had!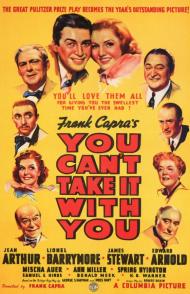 US Release Date: 08-23-1938
Directed by: Frank Capra
Starring
▸
▾
Jean Arthur

,

as

Alice Sycamore
Lionel Barrymore

,

as

Grandpa Martin Vanderhof
James Stewart

,

as

Tony Kirby
Edward Arnold

,

as

Anthony P. Kirby
Mischa Auer

,

as

Boris Kolenkhov
Ann Miller

,

as

Essie Carmichael
Spring Byington

,

as

Penny Sycamore
Samuel S. Hinds

,

as

Paul Sycamore
Donald Meek

,

as

Poppins
H.B. Warner

,

as

Ramsey
Dub Taylor

,

as

Ed Carmichael
Mary Forbes

,

as

Mrs. Anthony P. Kirby
Lillian Yarbo

,

as

Rheba
Eddie (Rochester) Anderson

,

as

Donald
Charles Lane

,

as

Wilbur G. Henderson, IRS agent
Harry Davenport

,

as

the Night Court Judge
Ward Bond

as

detective
Reviewed on:
October 25th, 2012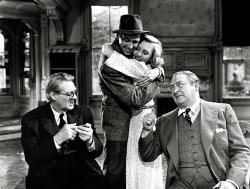 Lionel Barrymore, James Stewart, Jean Arthur, and Edward Arnold in You Can't Take It with You.
You Can't Take It with You was a huge success in its day. Based on the Pulitzer Prize winning play by George S. Kaufman and Moss Hart it was transferred to the screen by Frank Capra. It earned him his third Best Director Oscar in just five years (following It Happened One Night and Mr. Deeds Goes to Town). It also accomplished the rare feat of winning the Best Picture Academy Award as well as being the highest grossing movie of 1938.
With such an impressive list of accolades I was expecting to enjoy it more than I did. Although considered a comedy (it utilizes many tropes of the screwball genre) it is in reality more of a dramedy (long before that term was coined).
The plot concerns an eccentric extended family living in a quaint old house in the city. Headed by Grandpa Vanderhof (Lionel Barrymore) who lives by the motto, "Don't do anything that you're not going to enjoy doing." He lives with his daughter, her husband, his two granddaughters, one grandson-in-law, their maid, her boyfriend, and various others, such as the iceman, who stopped in for a chat nine years ago and never left. Everyone in the house spends their time indulging in some sort of frivolous hobby.
Except for Alice (Jean Arthur). She's the "normal" one. She works as a stenographer at a bank and is in love with the boss's son Tony (James Stewart). Coincidentally the banker (Edward Arnold) is trying to buy the house they call home in order to build a big new factory. He has already bought up eleven other homes on the block and Grandpa is the lone holdout.
The main gist of the plot concerns Tony bringing his stuffy parents over for dinner to meet Alice's family. Unfortunately they arrive on the wrong night and things don't go exactly as planned. In fact the evening ends with everyone in the house (including the rich banker and his wife) getting arrested and winding up in night court (see what I mean about those screwball comedy tropes?) Scandal ensues and just when everything seems hopeless there is the prerequisite Capra happy ending with the entire cast singing "Polly Wolly Doodle" while Grandpa and Mr. Kirby play harmonicas.
My brother Eric has often complained about Hollywood's harsh treatment of the rich. He will most likely hate this movie. It shows Grandpa to be wise in his liberal dreamer viewpoints while Mr. Kirby is a greedy, power hungry man who is also a terrible father. One whom Grandpa must show the error of his ways. Grandpa gives several uplifting speeches such as when he says to Mr. Kirby in reference to all his wealth, "You can't take it with you, Mr. Kirby. So what good is it? As near as I can see, the only thing you can take with you is the love of your friends."
The cast includes many Capra regulars (see cast list at left). A fifteen year old Ann Miller plays a married woman. She makes candy to sell and dreams of being a ballerina. Lionel Barrymore also plays Jean Arthur's grandfather even though he was only 22 years her senior in real life. This was the last movie in which Barrymore can be seen walking, albeit on crutches. His arthritis had reached the crippling stage and he would complete the remainder of his venerable movie career in a wheelchair.
I think my disappointment stemmed from the fact that the eccentric behavior of the family doesn't seem all that eccentric today. Much of its charm has worn away over the passing decades. And the script isn't as funny as I was expecting. There were no really memorable zingers. While I enjoyed the story I didn't guffaw once during it. Of course to Depression era audiences it makes sense that this story resonated so deeply. Some movies grow in stature over time, You Can't Take It with You isn't one of them.
Photos © Copyright Columbia Pictures (1938)