Movie Review
Woman on Top
"It's Gonna Be One Hot Summer."
(0)
Reviewed on:
September 23rd, 2000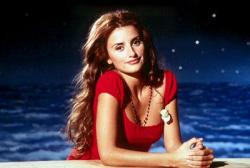 Penelope Cruz in Woman on Top.
How is it possible for a movie about two hot Latin lovers and spicy South American food, to be so bland? You wouldn't think it would be easy to achieve, yet Woman on Top somehow manages it.
All through this dismal love story, I kept waiting for something to happen that would catch my attention or generate that spark which all great movies possess. An hour after the movie ended, and I'm still waiting.
It's not that I hated this movie. It's simple story of a young Brazilian girl with magical cooking powers, who leaves her cheating husband to come to San Francisco and ends up starring on her own sexy cooking show, was fairly entertaining. And there were some funny lines and comic situations, but it just wasn't entertaining enough.
Only two things make this movie redeemable at all, Penelope Cruz's easy on the eyes, exotic sexiness, and Harold Perrineau Jr.'s humorous portrayal of best friend, Monica. He gets all the funniest lines and steals most of the scenes in which he appears.
I had hoped this movie would go one of two ways. Either sweet and romantic, as an entertaining love story. Or hot and sexy with nudity and rampant sex. Instead the movie ends up somewhere in between. Lukewarm and not overly romantic.
Did you enjoy Scott's review?
+
2
-
1
You may only thumbs up or thumbs down a review once.
Reviewed on:
September 27th, 2000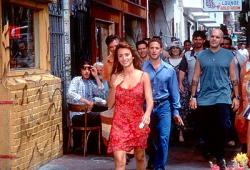 Penelope Cruz in Woman on Top.
While I agree with Scott that this movie was not nearly as funny as it could have been, I think he has painted the picture a little too black. It is a pleasant, whimsical little movie that is quite beautiful to look at. The cast does a good job and the atmosphere and setting are all very romantic. I don't think they did anything wrong, except hold back on the belly laughs.
Unlike Scott, I found the love story aspect to be very endearing. The leads are all properly attractive and the dynamics of the characters are believable. Penelope Cruz is completely charming as the innocent chef with magical culinary skills. In fact I think her show Passion Food would be a real hit television show.
The setting and atmosphere costar in this movie. The director has made good use of both the exotic Brazilian seaside and the streets of San Francisco. The only thing that keeps Woman On Top from being a classic romantic comedy is that it is simply not funny enough. Still, this is an enjoyable enough movie if ones expectations are not too high. I think the perfect time to watch it would be a quiet wintry afternoon. And to quote the movie you should share it with someone you love.
Did you enjoy Patrick's review?
+
2
-
1
You may only thumbs up or thumbs down a review once.
Reviewed on:
September 29th, 2000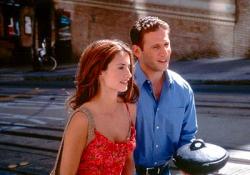 Penelope Cruz and Mark Feuerstein in Woman on Top.
Woman On Top is a great rough draft for a movie. There is this hot Brazilian chick who falls in love with and marries this Latin Russell Crowe. She gets motion sickness a lot. She catches her hubby cheating so she moves to San Francisco to live with her drag queen friend. Before any one can call immigration she's got the hottest new cooking show this side of Julia Child. Husband pursues, makes like Frank Sinatra, serenading her every chance he gets. THAT'S ALL THAT HAPPENS!
Okay there are a few jokes, but so much is made of her having motion sickness that you would expect more jokes about it. The drag queen, playing the role of, what else, comic relief, is fairly tame as well. 'Holy Mary and Rhoda!' is the best line out of this Queens mouth. The only thing worth watching in this movie is Penelope Cruz.
Cruz is one savory dish. I could spend all day eating at her buffet. She is a spicy, hot pepper that could burn my mouth any time. She is one full basket of fresh, juicy, mouth watering fruit. Hey, the movie is about food.
American women as sex symbols seem to always be playing a character. The big breasted, dumb, blonde; Marilyn Monroe, Suzanne Summers or Pamela Anderson. The big breasted warrior; Raquel Welch, Linda Carter, or Famke Jansen. The girl next door; Annette Funicello, Julia Roberts, or Brittany Spears. Latin sex symbols always seem to be more comfortable with their sexuality, just look at Sophia Loren in any of her films. Cruz has that same casual sexiness. She knows that she's hot and doesn't need to do the hair shake, or the exaggerated smile to get attention. She's comfortable with her looks, and it makes her all the more attractive.
Did you enjoy Eric's review?
+
2
-
2
You may only thumbs up or thumbs down a review once.
Photos © Copyright 20th Century Fox (2000)