Movie Review
Without Love
"The story of a KISSLESS BRIDE...and the man who WALKED IN HIS SLEEP!"
(3)
Reviewed on:
August 1st, 2012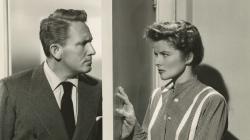 Spencer Tracy and Katharine Hepburn in Without Love
Without Love is based on a Broadway play that Katharine Hepburn starred in a few years earlier. It teams her with her favorite film co-star Spencer Tracy. Like so many of their films together, it is about a slightly unconventional relationship.
Tracy plays Pat, a scientist working on a secret oxygen and altitude experiment for the war department. As the film starts, he arrives in Washington DC but cannot find a place to stay. He meets a drunk who often stays in a big townhouse owned by his widowed socialite cousin Jamie, played by Hepburn. She allows Pat to stay on and work on his project in her basement.
They start to have eyes for each other right away. After commenting that Jamie should never keep wine locked away, Pat adds, "...but you seem to be a girl whose kept allot of precious things locked up for a great many precious years." wink wink, nudge nudge. Despite an attraction for each other, they both share a late night conversation where they both express why neither wants to fall in love again. Pat had his heart broken by a flirtatious girl, while Jamie lost her loving husband to an accident. As Hepburn states to Tracy, "You never want love in your life again and I never want it in mine. But our reasons are as different as the sun is from the moon. You don't want it because you've had all the worst of it. I don't want it because I've had all the best."
Hepburn proposes that she and Pat get married as they would make great partners, with her helping him with his experiments. They would have companionship and never be alone. Hepburn has most of the dialogue in this scene as the camera never leaves her. She had some real lines to remember, but since she was trained for the theater it was probably not as hard for her as it seems. They agree to have, "A good and happy marriage without love." They get around the sex question with Hepburn saying shyly, "There is one thing though." To which Tracy quickly responds, "Madam you would never have to give that a thought."
Things seem to move along smoothly with the two acting like best friends working together. Then a man shows up that turns Jamie on. They share a kiss and Jamie starts to remember what it feels like to be a woman with desires. Pat on the other hand has to deal with the reappearance of his old flame Lila.
Without Love is a predictable romantic comedy, but then all of them are. Where it really succeeds is in the casting of two of the greatest actors of their generation. Hepburn and Tracy loved like no one else. They always played couples who learned to respect each other before they desired each other.
Without Love also provides some genuine laughs. Pat is a sleep walker and Jamies reaction to finding him in her bed is priceless. The supporting cast also helps out greatly. Keenan Wynn is a hilarious drunk. Lucille Ball was quite a dish here playing a socially active girl, but has little to do.
We know how this will all play out, but it is about the journey and not the destination, and with Tracy and Hepburn as your traveling companions the trip can be as routine as it wants.
Did you enjoy Eric's review?
+
3
-
0
You may only thumbs up or thumbs down a review once.
Photos © Copyright Metro-Goldwyn-Mayer (MGM) (1945)