Movie Review
The Three Musketeers
"One for All and All for Fun! "
(0)
Reviewed on:
August 26th, 2010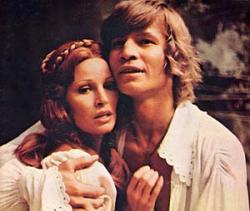 Michael York and Raquel Welch
I love that Richard Lester uses location shots so well. The Three Musketeers and it's sequel, The Four Musketeers, were both filmed in Spain, substituting for France and England. It must have been a favorite locale for him as Spain also stood in for Rome in A Funny Thing Happened on the Way to the Forum. All of these films have a very authentic look to them, and most importantly, The Three Musketeers does not look dated in the least.
A young French swordsman, D'Artagnan, leaves his parents country home for Paris, with dreams of becoming a member of the king's musketeers. He accidentally ticks off three musketeers separately, Athos, Porthos, and Aramis. They each challenge him to a duel, but when D'Artagnan helps them fight the Cardinal's soldiers he becomes their friend.
D'Artagnan gets a man servant and takes up residence in a disgusting little apartment because he finds himself attracted to the landlord's clumsy wife, Constance. She is a confidant of the Queen, who is having an affair with a British Lord, with whom France is at war with. Cardinal Richelieu knows of the affair and tries to make a power move by outing the Queen's disloyalty. He hires the evil Lady de Winter to steal two of the gems that were given to the Duke by the Queen, thus proving her infidelity. Through Constance, D'Artagnan learns of the situation and with the help of the three musketeers, they race to England to retrieve the gems to save the Queen's reputation.
I find it humorous that so many people in this film are having affairs. The Queen is having an affair on her husband, with the Duke of Buckingham, who has an affair on the Queen with the Lady deWinter. Constance has an affair on her husband with D'Artagnan. The musketeers steal money and food at random. This is not a morally upstanding group.
The Three Musketeers has an amazingly quick pace with lots of action scenes. The sword fights and the acrobatics are as good as they come. Although the action is all taken seriously, it contains plenty of humor as well. To get to England, D'Artagnan steals a pass to get on a ship. He is stopped at the gangplank by a guard, "This pass is for one person." He says gesturing toward D'Artagnan's man servant. "I am only one person. He is a servant." D'Artagnan responds. They are allowed on board.
The ever drinking Athos offers this advice, "You will find, young man, that the future looks rosiest through the bottom of a glass."
The Three Musketeers is a completely fun film. Like Raiders of the Lost Ark and A Knight's Tale, it combines action/adventure with comedy without sacrificing either. It does not have depth or hidden messages. It is simply the epitome of movie entertainment.
Did you enjoy Eric's review?
+
3
-
0
You may only thumbs up or thumbs down a review once.
Photos © Copyright Twentieth Century Fox Film Corporation (1974)