Movie Review
Thelma & Louise
"Somebody said get a life... so they did."
(2)
Reviewed on:
February 24th, 2011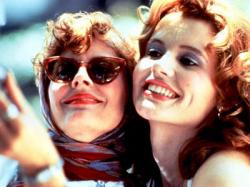 Susan Sarandon as Louise and Geena Davis as Thelma.
The years just keep on cruising by. This May marks the 20th anniversary of the release of Thelma & Louise. I hadn't watched it in years and figured this was as good a time as any for a revisit. My opinion of it hasn't changed much in two decades. It still features two amazing central performances, some hot cinematography, riveting action scenes and memorable dialogue. Questionable character motivation remains the one fault of the story.
I realize that Director Ridley Scott and screenwriter Callie Khouri have to get Thelma and Louise and that iconic 66 Thunderbird to the point of no return at the edge of that cliff overlooking the Grand Canyon. But Louise's motivations for not going to the police right from the beginning, after saving Thelma from being raped, never ring completely true.
Sure some vaguely horrific event happened to her in her past in Texas, but it is never fully explained. So their crimes just keep on escalating as they attempt to flee to Mexico from Oklahoma City without passing through Texas. It's a bit convoluted but it gets us to that climactic moment at the Grand Canyon.
If you can get past this one fact then Thelma & Louise is a fast-paced, beautifully acted outlaw buddy movie starring women instead of men. Geena Davis and Susan Sarandon were both up for Best Actress (they lost to Jodi Foster in Silence of the Lambs). Scott lost the Best Director Award to Lambs' Jonathan Demme but Khouri did take home the prize for Original Screenplay.
As good as Sarandon is though, it is Davis as Thelma that steals the show.
Thelma undergoes the biggest change over the course of the movie. At the beginning she is a meek little put upon housewife obeying her husband as if she's a little girl and he's her father. By the end she has let her hair down all right. She learns what great sex is all about (courtesy of Brad Pitt in his star making role as smooth talking outlaw J.D.) and discovers she has a knack for armed robbery. She takes what she learned from J.D. - "Well, I've always believed that if done properly, armed robbery doesn't have to be an unpleasant experience." - and puts it into practice.
My favorite moment is when they have managed to elude the police for the final time and find themselves all alone on a remote stretch of highway. Louise repeats a question she asked Thelma earlier in the movie. "How you like the vacation so far?" The irony and sarcasm cuts the tension like a knife and they both burst out laughing at the absurdity of their situation.
SPOILER ALERT: The symbolic ending is one you either love or hate. Are Thelma & Louise finally free or merely dead? It all depends on your point of view. As for me, when Thelma Dickerson nods towards the cliff and tells Louise Sawyer, "Let's keep going." I shed a tear every time at these women and their brave final fuck-you to the cops.

Did you enjoy Patrick's review?
+
7
You may only thumbs up or thumbs down a review once.
Photos © Copyright MGM (1991)