Movie Review
That Thing You Do
In every life there comes a time when that dream you dream becomes that thing you do.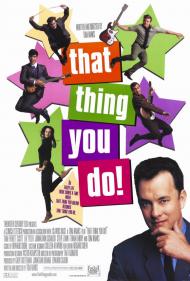 US Release Date: 10-04-1996
Directed by: Tom Hanks
Starring
▸
▾
Tom Everett Scott

,

as

Guy Patterson
Liv Tyler

,

as

Faye Dolan
Johnathon Schaech

,

as

Jimmy Mattingly
Steve Zahn

,

as

Lenny Haise
Ethan Embry

,

as

T. B. Player
Tom Hanks

,

as

Mr. White
Charlize Theron

,

as

Tina
Obba Babatunde

,

as

Lamarr
Giovanni Ribisi

,

as

Chad
Chris Ellis

,

as

Phil Horace
Alex Rocco

,

as

Sol Siler
Bill Cobbs

,

as

Del Paxton
Peter Scolari

,

as

Troy Chesterfield
Rita Wilson

,

as

Marguerite
Chris Isaak

,

as

Uncle Bob
Kevin Pollak

,

as

Victor 'Boss Vic Koss' Kosslovich
Clint Howard

,

as

KJZZ Disk Jockey
Jonathan Demme

,

as

Major Motion Picture Director
Bryan Cranston

as

Virgil 'Gus' Grissom

Reviewed on:
July 8th, 2010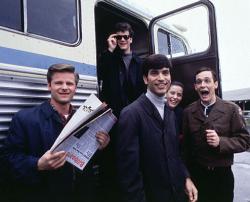 Steve Zahn, Tom Everett Scott, Johnathan Schaech, Liv Tyler and Ethan Embry in That Thing You do.
That Thing You Do was Tom Hanks' directorial debut about a band from Erie, Pennsylvania in 1964 who became one hit wonders. It's a light and funny little movie, featuring a good cast and an incredibly catchy title song that will be stuck in your head for days afterwards. Although it received good reviews, it somehow failed to connect with audiences and earned less than $30 million on its initial release.
Also written by Hanks, the story starts when Guy (Everett Scott) is asked to stand-in for an injured drummer with a new band calling itself the Oneders (pronounced Wonders) for a local talent contest. During the contest, Guy speeds up the tempo of the song and suddenly everyone loves it. They start performing it locally, then get an agent who subsequently sells their contract to Play-Tone Records who puts them on tour and before they know it the band (now spelled The Wonders to avoid confusion) is appearing on television and in a movie. Keeping a band together though, especially with a diva as the lead singer, doesn't prove as easy as having a hit record.
Tom Everett Scott does a decent job as the drummer who starts everything in motion and Liv Tyler looks good as the female lead, but often it is the supporting cast that steals the show. Steve Zahn in particular gets some of the movie's funniest lines. His character, Lenny, is the member of the band who seems to be having the most fun. He's enjoying the ride while it lasts. ("Are you crazy? A man in a really nice camper wants to put our song on the radio! Gimme a pen, I'm signin'! You're signin'! We're all signin'!" )
Guy's parents, especially his father, provide some funny moments as well. When Guy tells his father that he's leaving the family appliance store, his father tells their daughter, "Darlene, you just got promoted." To which she replies, "You mean you're gonna start paying me?" And he replies, "I didn't say that."
It is definitely in the lighter moments that Hanks excels. His writing, direction and acting are all best when he's being funny. There are only a couple of mildly dramatic moments and they're not the movie's strongest scenes, although at least one of them is marred more by Tyler's acting ability (which isn't as strong as her looks) than the script or direction.
The title song, which is played nine different times throughout the movie is infectious and happy. It's easy to believe that it would be a hit (and in fact was when the movie was released, even nominated for an Oscar). Several other songs are also sprinkled throughout. They're not quite as catchy, but are still pretty decent.
You also have to give credit to the art direction and set designers. They really capture the brightly colored early 1960s during that transitional period between the sunnier 1950s and the darker late 60s. The costumes, the hair, the cars and the music all add to the ambience.
Along with writing and directing, Hanks also stars as Mr. White, the band's Play-Tone manager. With his inherent likability, Hanks brings personality to the part. He has a few funny moments with Lenny. In scenes cut from the film it is hinted that White is gay, which was intended to be another parallel (the story is sprinkled with them) between The Wonders and The Beatles (whose manager was also gay). It's not important to the story, but it adds depth to his part.
I don't know if it's because the movie didn't fare well at the box-office or if Hanks just decided that directing wasn't for him, but it would be 15 years until he directed his next movie; 2011's Larry Crowne. It's a shame really because based on That Thing You Do, it could have been that thing he does.
Reviewed on:
October 17th, 2012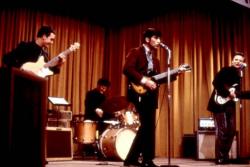 The Wonders performing That Thing You Do.
Tom Hanks' affection for the music and the time era depicted here is evident in all the carefully thought out details he put into every scene. As Scott said, it is a wonderful recreation of the mid-60s. It really feels as if you are watching a movie from that time. I especially enjoyed the movie within the movie when The Wonders make an appearance in a "Major Motion Picture" that is clearly spoofing those Frankie and Annette beach musicals.
Hanks also impresses as a song writer. He wrote or co-wrote nine songs for the movie including the track that plays over the opening credits called "Lovin' You Lots and Lots", which was written in the then popular style of artists like Ray Conniff and Mitch Miller, as well as Guy's drum solo called "I am Spartacus". The music really captures the sound of the era and I agree with my brother about the title track. It is highly infectious bubblegum pop that truly sounds as if it was a hit during the summer of 1964.
The movie is filled with cameos by famous friends and family members of the director. Check out the cast list at left. He even found a part for his old Bosom Buddies cast mate Peter Scolari. This is also one of the first movie roles for a young Charlize Theron, as Guy's girlfriend who falls in love with her dentist.
I laughed at the mispronunciation of their name as "oh-need-ers" before the spelling is simplified. It definitely works as a comedy but it has more depth than that. It's a music fable about instant fame and success that disappears as quickly as it explodes into life. It also touches briefly upon the conflict between popular music and art.
As Scott wrote, there are many parallels between The Wonders and The Beatles. Here are a just a few of them: Both bands' first hit song was a sped up version of a ballad; during the Beatles first U.S. television appearance (on Ed Sullivan) a caption appeared during a shot of John Lennon that read, "Sorry Girls, He's Married." in That Thing You Do the words, "Careful Girls, He's Engaged" accompanies a shot of the lead singer during their first television performance; both bands lost their original bass player; both bands changed their drummer before making it big. No doubt many Beatles aficionados can spot many other similarities.
The extended version on the DVD includes those extra scenes Scott mentioned. Specifically those that show Tom Hanks' character to be gay. The only hint of this in the theatrical version is the overt interest he shows in the band's look. There is a repeated line where he tells them they look good in different colored suits before they take to the stage.
That Thing You Do is a highly entertaining and authentic musical look back at a more innocent time.

Reviewed on:
October 21st, 2012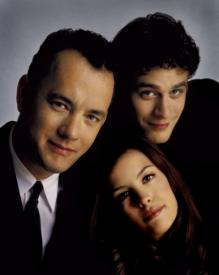 Tom Hanks, Tom Everett Scott and Liv Tyler.
That Thing You Do comes so close to being a great film, but just comes up short. As my brothers wrote, the theme song is catchy as hell. I watched this film yesterday and I have been singing the song in my head continuously for the past 24 hours. The cast of band mates just manages to become three dimensional characters. What it lacks is that emotional climax that completes all that has come before.
Ethan Embry plays the bass player. He is not even given an actual name. He smiles his way through most of the film, never really concerning himself with anything going on. His heart is already set on going into the military, and is merely passing the time with the band until his enlistment begins.
Steve Zahn as Lenny is the member of the band who, as Scott wrote, seems to be having the most fun. He spends his time how we imagine all rock stars do. He dates a Playboy Playmate and parties in Las Vegas. He never stresses about anything artistic or what comes next for the band.
Johnathon Schaech as Jimmy is, as Tom Hanks says in the film, "the talent." He writes their songs and worries about when they can record their next one. He concerns himself with no one but himself. This is supposed to lead to the big dramatic scene where Jimmy breaks up with Faye. The problem with that plot device was that we never invested much into their relationship to begin with.
Tom Everett Scott as Guy is the main character. We learn the most about his history, meeting his family and finding out that he was in the army. He goes on and on about what a jazz fan he is, telling his musical idol he loves, "good jazz." (Opposed to people who like bad jazz.) However, I never understood what motivated him. What was I supposed to root for him to accomplish? Also, the last minute romance with Faye lacks any real emotional resonance.
That Thing You Do moves along at a quick, entertaining pace. Everything is kept light and enjoyable. Agreeing with Patrick, Hanks directs with a good eye for the time period, making this an interesting glimpse into one fateful summer in the lives of four young men.
Photos © Copyright 20th Century Fox (1996)