Movie Review
Sweet Home Alabama
Sometimes What You're Looking For Is Right Where You Left It.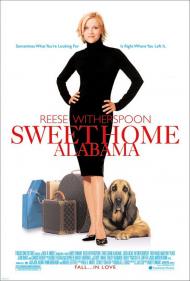 US Release Date: 09-27-2002
Directed by: Andy Tennant
Starring
▸
▾
Reese Witherspoon

,

as

Melanie Carmichael
Josh Lucas

,

as

Jake Perry
Patrick Dempsey

,

as

Andrew Hennings
Candice Bergen

,

as

Mayor Kate Hennings
Fred Ward

,

as

Earl Smooter
Jean Smart

,

as

Stella Kay
Mary Kay Place

,

as

Pearl Smooter
Ethan Embry

,

as

Bobby Ray
Nathan Lee Graham

,

as

Frederick Montana
Kevin Sussman

,

as

Barry Lowenstein
Mary Lynn Rajskub

,

as

Dorothea
Courtney Gains

,

as

Sheriff Wade
Melanie Lynskey

,

as

Lurlynn
Dakota Fanning

as

Young Melanie

Reviewed on:
September 29th, 2002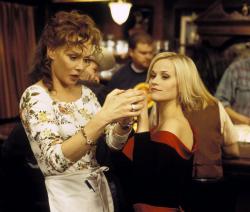 Jean Smart and Reese Witherspoon in Sweet Home Alabama.
I have a theory that when Hollywood realized that Meg Ryan was getting too old to be America's Blonde Sweetheart, they took a bit of her DNA and re-incarnated her as Reese Witherspoon. Because surely, in the form of this girl-next-door actress, we have found a worthy successor to that other famous blonde. And like Meg Ryan, Reese Witherspoon is making a tidy living by appearing in light-hearted romantic comedies like this one; Sweet Home Alabama.
However, while Reese Witherspoon is as sweet and as likable in this movie as always, the movie itself is only mediocre at best. It tells the story of a rising young fashion designer living in New York City, engaged to the son of the Mayor of New York City. Spoiling this otherwise ideal situation is the fact that she is still married to a man back in her home town in Alabama. And so back home she must go to get her husband to sign the divorce papers he has refused to sign so far.
This is where the movie starts to fall apart. It falls prey to stereo-types, clichés, and tired, predictable, plot devices. Everyone from New York is a bitchy snob, and everyone from this small, seemingly idyllic small town is perfect. Even when one of their members confesses to being gay, this entire small southern town, which doesn't even have an ATM yet, opens their arms in acceptance to him.
The only saving grace to this whole disappointing film is the presence of Reese Witherspoon. She has grace, charm, beauty, and is just so damn likable that she lights up the screen enough that you don't notice the movie's weaknesses while she is on screen. But even her mega-watt smile can't illuminate entirely the dark and shabby corners lurking on the edges of this movie.

Reviewed on:
October 2nd, 2002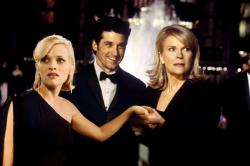 Reese Witherspoon, Patrick Dempsey and Candice Bergen in Sweet Home Alabama.
Scott wrote that this movie is predictable. All love stories are predictable. That is the fun of them. It's not the catch that is so entertaining but the chase. Of course you know who will end up with who early on. So what? The humor is in how the couple gets to that point.
Scott also wrote this movie stereotypes. One example he gives is... "Even when one of their members confesses to being gay, this entire small southern town, which doesn't even have an ATM yet, opens their arms in acceptance to him." Scott, are you suggesting that just because these people are from a small southern town that they wouldn't open their arms in acceptance? What an awful stereotype you are perpetuating.
I do agree with Scott on Reese Witherspoon. She is a charming delight on screen. Her character is the only fleshed out one in the movie. Everyone else is one dimensional.
The big surprise for me in this movie was Candace Bergen's mayor. She is stuck up and phoney. Much to my surprise her character is a democrat. I may have to rethink some of my right wing thoughts on Hollywood's left wing bias. Naah, what fun would that be?
Reviewed on:
March 18th, 2015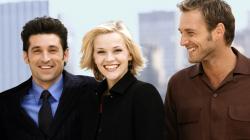 Poor Reese Witherspoon must choose between Patrick Dempsey and Josh Lucas in Sweet Home Alabama.
Sweet Home Alabama is the biggest woman's fantasy picture since Pretty Woman. It opens with an homage to another classic chick flick, Breakfast at Tiffany's, with transplanted New Yorker (shades of Holly Golightly) -and rising fashion designer- Melanie Carmichael, receiving an ultra-romantic marriage proposal from the incredibly handsome son of the mayor, inside that iconic Fifth Avenue jewelry store. Not bad for a girl that grew up in a double-wide in Pigeon Creek, Alabama. And, also like Holly Golightly, she's hiding a secret past.
Unlike Miss Golightly, this is the story of a small-town girl who ran away to the big city only to discover that she left her heart back home with the equally handsome country boy she's loved since childhood. I mean this really is a tragedy. She's cute as a button, obviously talented at what she does, and has two gorgeous men vying for her affections. The poor girl.
The plot is as routine as they come. From the opening scene with young Melanie (played by Dakota Fanning) and young Jake on the beach, we learn not only who she'll end up with but also where it will take place and even the words they'll exchange. As a classic romantic comedy trope I don't think giving that away qualifies as a spoiler. Besides, as Eric pointed out, it's the journey between the two scenes that matters. Originality isn't the point of a rom-com. All they need are jokes and romance in the right balance, and a bit of chemistry between the leads never hurts. All of those things this movie is only partially successful at doing.
Sweet Home Alabama really only works because Reese-homespun-Witherspoon is just so damn likable. In 2002 she was at her peak level of adorableness, her star wattage at full magnitude. I agree with Scott that a young Witherspoon is very reminiscent of a young Meg Ryan, only from the South and not the Midwest. She's charismatic yet easy to relate to and she's capable of being sassy as well as vulnerable. Roger Ebert, in his review for this movie, compared her favorably to Doris Day.
The men are merely decorative. Josh Lucas as Jake spends the movie pining for Melanie with tear-rimmed eyes. He's far too flawless to be real. Likewise is the Patrick Dempsey character, who remains a perfect gentleman even after being jilted at the alter. They are lucky just to get one decent line of dialogue apiece. Lucas, as Jake, tells Melanie, "You can't have roots and wings." Dempsey's comes when Melanie (right before her first fashion show) worries, "Oh God honey, what if they hate me?" He reassures her by saying, "No, they're critics Mel. They hate themselves."
As for the stereotypes at play, I think they did a decent job of spreading things around. Although the fact that the villain in the story is a liberal female goes against the grain of most Hollywood romantic comedies. Mayor Kate Hennings is a memorable character in the hands of Candice Bergen. She's one tough broad, a real ball-breaker. This is a woman who, upon arriving in rural Alabama, squashes a mosquito on her neck and states, "One down, seven million to go."
Sweet Home Alabama is a star vehicle and as such it's a nice showcase for Reese Witherspoon. As a movie, however, it's nowhere near as special as it treats its main character. Yeah, this is pure fantasy. Although it does hold the historical distinction of being the first movie to film in New York City after 9/11.
Photos © Copyright Touchstone Pictures (2002)