Movie Review
Superman IV: The Quest for Peace
"Nuclear Power. In the best hands, it is dangerous. In the hands of Lex Luthor, it is pure evil. This is Superman's greatest battle. And it is for all of us."
(0)
Reviewed on:
August 24th, 2011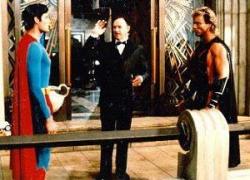 Christopher Reeves, Gene Hackman and Mark Pillow in Superman: The Quest for Peace
Although the second Superman movie made some major mistakes in Superman lore, it was not until the third movie that the series completely went off the rail. After four years away from the series, Christopher Reeves agreed to come back for one last go in the tights and cape if Golan and Globus financed the movie, Street Smart. The story was his, but Superman IV: The Quest for Peace was doomed before it was ever released.
In 1987, the Cold War was still going on and in response Superman decides to end the threat of nuclear war once and for all by collecting every nuclear weapon and sending them hurling into the sun. That in and of itself is ripe for a political thriller. However, instead of having renegade governments trying to hide nuclear warheads from Superman, the script has a new owner of the Daily Planet flirting with Clark. What could have been a serious film is played for laughs.
Adding to the nonsense is Lex Luther who makes a supervillian out of Superman's DNA called Nuclear Man. Gone are his initial stupid sidekicks and replaced by Jon Cryer's "dude." Lex Luther can never be taken seriously when he himself does not take himself seriously.
Originally the film had a decent budget and was slated to run longer. At first there were two Nuclear Men, one made from the first one that fails. The money ran out quickly forcing producers Golan and Globus to cut serious corners. They cut out plenty of planned scenes, even some that were already filmed. In the released film, Nuclear Man searches for Lacy Warfield for no apparent reason. In scenes cut from the released version the first Nuclear Man met and fell for her, causing the new one to still have a memory of her.
Many of the special effects crew quit when they were offered less pay. The results are obvious as the special effects are bad, even for 1987. One particular scene of Superman flying was reused several times to save money in filming new ones.
I am not sure what the film would have looked like had it an unlimited budget, but what was released is a disaster. It steals an old plot device from the second film when Superman once again uses his magic forget me kiss on Lois after letting her know who he really is. He has other fantastic new powers, such as when he rebuilds a damaged Great Wall of China with his rebuild a wall vision.
Watching this film today it is interesting to note Jon Cryer, who is now known as Alan on Two and a Half Men. He and Luther add some decent levity to the proceedings. Hackman says to him, "Lenny, I've always considered you the Dutch Elm disease in my family tree." At one point Lenny says to Supes, " The Dude of Steel! Boy are you gonna get it!" When stealing one of Superman's hairs, Lex Luthor asks, "You know what I can do with a single strand of Superman's hair?" Lenny answers, "You can make a toupee that flies."
Those lines are worth a chuckle but are odd being in the same film with scenes where Superman says to Lex, "You'd risk world wide nuclear war for your own personal financial gain?" and Luthor responds, "Nobody wants war. I just want to keep the threat alive." Superman even gives this dramatic speech, "And there will be peace. There will be peace when the people of the world, want it so badly, that their governments will have no choice but to give it to them. I just wish you could all see the Earth the way that I see it. Because when you really look at it, it's just one world."
Superman IV: The Quest for Peace is a mess. It forgot that the original succeeded because the makers took it seriously. Humor has a place in all films but it cannot be so prevalent that it changes the entire tone of the film. The writers were clearly not up to the task of the subject matter. By the end of the film nothing has changed and nothing was accomplished. While being dropped back off in prison, Lex asks Superman, "Is the world gonna be vaporized?" Superman replies, "No. It's the same as it's always been, Luthor. On the brink. With good fighting evil. See you in twenty." Why did they even bother to make this film?
Did you enjoy Eric's review?
+
2
-
0
You may only thumbs up or thumbs down a review once.
Photos © Copyright Warner Bros. Pictures (1987)