Movie Review
Superman II
"The Man of Steel meets his match!"
(2)
Reviewed on:
March 11th, 2011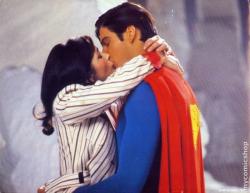 Lois Lane and Superman get it on.
I always remember Superman II being a good sequel, but then I watched it again and found my memory has a really thick pair of rose colored glasses. Although it does have many great moments and a good premise, Superman II did not live up to my first viewing of it.
The movie opens with Lois in Paris trying to get a story on some terrorists who have a nuclear bomb at the Eiffel Tower. In true Lois form she over states the obvious by yelling, "That could destroy the whole city!" in a crowd of onlookers and reporters. Being so feisty and clever, she tricks a French guard with a translation book and sneaks unseen up the tower stairs. Of course she finds herself about to be killed and Superman shows up to save her and send the bomb flying into outer space.
The bomb's explosion destroys a giant glass panel (gateway to the phantom zone) that releases three criminals, Zod, Ursa and Non, who were sentenced by Superman's father Jor-El in the first movie. The three now have the same powers as Superman and decide to fly to Earth, with a brief layover on the moon.
Clark Kent and Lois Lane are now on some idiotic assignment in Niagara Falls. This is the best part of the entire film. After Superman saves a boy who falls over a rail, Lois figures out that, the suddenly no where to be seen, Clark is really the man of steel. In a very humorous scene, Clark convinces her otherwise only to have the truth come out later in their hotel. "We'd better talk." Clark says to Lois who blurts out the line she has been waiting to say for so long, "I'm in love with you." Which causes Superman to revise his line, "We'd really better talk."
They fly to his fortress of solitude and decide to do the deed. Superman finds out that for some reason he cannot have sex with Lois until he loses his powers. Maybe he is just too super in the sack for any human woman to handle. After all is said and done in a silver hammock, Lois and Clark, some how, travel away from the north pole in a car. Maybe they borrowed it from Santa's work shop. They stop at a diner where Clark gets his ass kicked and they discover while they have been mooning over each other the world has been conquered by three evil Kryptonians. Clark walks back to the north pole to get his powers while Lois returns to Metropolis.
The rest of the film is Superman doing battle with General Zod and his companions. It is a long fight with plenty of destruction and special effects that do not stand the test of time. This movie gives Superman powers he never before had. Suddenly he has a power beam that he shoots from his finger and can levitate people. The worst change is that he also has a memory loss kiss. If you have not seen it, do not ask.
General Zod and company get far too much screen time. Lex Luther and friends show up for no real reason, until a scene near the end when Luther plays a key role in defeating Zod. One of the first scenes is of Luther and Otis trying to escape a prison by air balloon. Yeah it is as stupid as it sounds and could only work in a film it was a silent starring Buster Keaton.
Superman II is too often campy and cartoonish. Luther and friends should have been cut entirely. When the boy falls over the railing he should have died three times over, by the time Superman changes clothes and flies to his rescue.
In truth, the movie has some really good light moments. The one I loved as a kid is when Clark returns to the diner and beats up the same guy. The nerdy Clark pushes back his glasses, awkwardly pumps his arms into the air and says to the shocked observer, "I've been working out." The funniest line I found this time is when Ursa learns that Lois is Superman's girlfriend and says to her, "What an undemanding male this Superman must be."
The best thing about Superman II is the love story of Lois and Kal-El. It comes to a head when they try to get back to normal. Margot Kidder has her best scene where she explains to Clark her frustration of not knowing how to deal with the knowledge of Superman's secret identity. "Have you any idea what it's like... to have you come in here every day, and not be able to talk normally to you, or show how I feel about you, or speak to anybody else about you... Hell, I don't even know what to CALL you!" It is a great emotional dilemma to be explored, but then Clark kisses her and she goes back to her annoying self. Everything but the love story needed a serious trim.

Did you enjoy Eric's review?
+
4
-
1
You may only thumbs up or thumbs down a review once.
Photos © Copyright Warner Bros. Pictures (1981)