Movie Review
Sunset Boulevard
"A HOLLYWOOD STORY: Sensational...Daring...Unforgettable...Sunset Blvd."
(0)
Reviewed on:
August 4th, 2001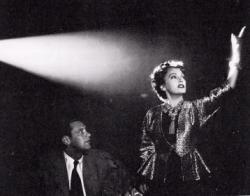 William Holden and Gloria Swanson in Sunset Boulevard.
This film more than any other sums up the grandeur and decay of the silent movie era. This is Hollywood's classic tragedy and Norma Desmond its Lady Macbeth, made all the more ironic because she is played by real life faded silent movie queen Gloria Swanson.
William Holden is the struggling screenwriter who pulls into Norma's driveway on Sunset Boulevard to avoid having his car repossessed. Here, in the fading dusk, he comes upon a strange and macabre sight. The movie Queen is laying to rest her cherished pet chimpanzee with all the solemnity of a real funeral. Her only companion is Max, her valet and first husband, played to perfection by Erich von Stroheim.
Sunset Boulevard is chock-full of great lines.
"We had faces then."
"I am big it's the pictures that got small."
And of course, "I'm ready for my close-up Mr. DeMille."
Directed by the incredible Billy Wilder and filmed in glorious black and white, Sunset Boulevard is pure melodrama. Gloria Swanson has simply created the greatest original screen character in movie history for all of us... "Wonderful people out there in the dark."
Did you enjoy Patrick's review?
+
22
-
1
You may only thumbs up or thumbs down a review once.
Reviewed on:
August 4th, 2002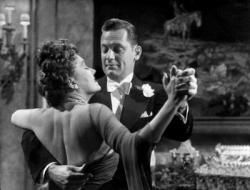 Gloria Swanson and William Holden in Sunset Boulevard.
Well, let me point out that Patrick contradicts himself. First he notes that the lead "is played by real life faded silent movie queen Gloria Swanson." Then later in the review credits her as creating "the greatest original screen character in movie history." Hello, how original and creative is it to have a faded silent movie star play a faded silent movie star?
That said, the movie is a wonderful, yet sad look into the private life of a movie star who is "still proudly waving to a parade that has long since passed." High melodrama with Gloria Swanson hamming it up every chance she gets.
Did you enjoy Eric's review?
+
7
-
12
You may only thumbs up or thumbs down a review once.
Reviewed on:
June 16th, 2010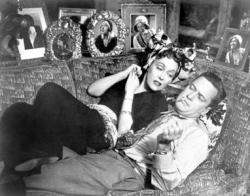 Gloria Swanson and William Holden in Sunset Boulevard.
I don't generally like making lists of my favorite movies because that list changes frequently. If pressed I'd rather make a list of favorites by genre, but even that isn't something I particularly enjoy doing. Sunset Boulevard though, is one movie that will eternally be on any favorite movie list I ever make. It is quite simply one of the greatest movies ever made.
This is melodrama and yes Gloria Swanson's performance would be easy to dismiss as hammy. She would almost be comical if she weren't so tragic. Everything about her is so dramatic. She struts and gyrates her way through the movie; her arms and hands moving like serpents. Her eyes have a life of their own as they emote to the back row. Underneath her diva persona though, there lives an incredibly damaged and delicate human being whose sanity is hanging by a piece of celluloid.
Holden has the much less showy role, but he is the perfect foil for Swanson. Where Norma lives in the past, Joe is very of the time. He's witty, sarcastic, disillusioned and mercenary. Sure, he's fond of Norma, but throughout the movie he uses her just as much as she uses him. His from beyond the grave narration is just one of many great elements in this film.
Despite the stellar leads, you have to give Billy Wilder most of the credit for this magnificent movie. The script, which he co-wrote, is chock full of memorable lines. Norma's delivery makes her lines the most quoted, but Joe is given some great ones as well.
"There's nothing tragic about being 50, not unless you try to be 25."
"She was still sleepwalking along the giddy heights of a lost career."
"Oh, wake up, Norma, you'd be killing yourself to an empty house. The audience left twenty years ago."
"So they were turning after all, those cameras. Life, which can be strangely merciful, had taken pity on Norma Desmond. The dream she had clung to so desperately had enfolded her."
The script won the Oscar for Best Screenplay and never was an award more deserved. Rarely has humor and tragedy been so well intertwined.
Along with the screenplay, Billy Wilder directed this movie to perfection with the aid of some brilliant black and white cinematography. You mention the sense of decay Patrick and you're right, it permeates every aspect of the story. As Joe says in voice-over, "The whole place seemed to have been stricken with a kind of creeping paralysis - out of beat with the rest of the world, crumbling apart in slow motion."
I think the reason this movie remains a perennial favorite of mine is that I get different things out of it on different viewings. Sometimes the humor, both in Swanson's over-the-top performance and Holden's dry sarcastic delivery shines through. Other times I can become caught up in the tragedy of Norma's fall. Still other times I revel in all of the Hollywood in-jokes and self references. Always though, I am entertained.
Did you enjoy Scott's review?
+
21
-
0
You may only thumbs up or thumbs down a review once.
Photos © Copyright Paramount Pictures (1950)