Movie Review
Steel Magnolias
"Sometimes laughter is a matter of life and death."
(3)
Reviewed on:
July 5th, 2012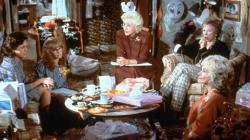 Sally Field, Daryl Hannah, Olympia Dukakis, Shirley MacLaine and Dolly Parton in Steel Magnolias.
Steel Magnolias is a classic tearjerker starring an amazing cast of women. It was based on a play by Robert Harling and features some memorably witty dialogue. It's about the bond between a group of women living in Louisiana. Many of the scenes take place at a local beauty parlor. These women bicker, laugh and emotionally support each other through good times and bad. Like all great tearjerkers there is a tragic death at the end of the story.
Sally Field plays M'Lynn Eatenton, the mother of bride-to-be Shelby (Julia Roberts). At the local beauty parlor run by Truvy Jones (Dolly Parton) they meet new employee Annelle Dupuy (Daryl Hannah) and run into old friends Clairee Belcher (Olympia Dukakis) and Ouiser Boudreaux (Shirley MacLaine). It is Shelby's wedding day and she is getting her hair done for the big ceremony.
With a foreshadowing of the tragedy to come, the diabetic Shelby has an attack of hypoglycemia while at the beauty parlor. Her mother forces some orange juice down her daughter's throat, "Drink the juice Shelby!" which saves Shelby but embarrasses her at the same time. Shelby gets married and then gets pregnant against her doctor's advice. She has a son but things quickly turn tragic and the tears start to flow.
This movie features some superb acting. Sally Field has a great scene at the cemetery that was shot in one take. Steel Magnolias is also very funny. Dolly Parton as Truvy says, "Honey, time marches on and eventually you realize it is marchin' across your face." But it is Olympia Dukakis as Clairee that gets the best lines. Here are two of my favorites, "The only thing that separates us from the animals is our ability to accessorize." and "Well, you know what they say: if you don't have anything nice to say about anybody, come sit by me!"
I read an interesting bit of trivia concerning this movie. During the play's initial off-Broadway run, Bette Davis saw it and was interested in buying the film rights. She envisioned playing the Shirley MacLaine role with Katharine Hepburn in Olympia Dukakis's part and Elizabeth Taylor in the Dolly Parton role (this would have been quite surreal as Truvy says at one point, "When it comes to pain and suffering, she's right up there with Elizabeth Taylor.") Bette Davis was disappointed to learn that the rights holders intended to cast much younger women. Now that would have been a memorable movie.
Steel Magnolias is a true classic that tells a timeless and universal story. A remake is in the works with an all black cast. Still it is unlikely that this 1989 version will ever be equaled as it is just so damn good. It was instrumental in the launching of Julia Roberts' career and is easily a highpoint in the careers of all involved. These women, like the title suggests, are as tough as steel and yet as delicate as flowers.
Did you enjoy Patrick's review?
+
7
-
0
You may only thumbs up or thumbs down a review once.
Photos © Copyright TriStar Pictures (1989)