Movie Review
Star Wars: The Clone Wars
(0)
Reviewed on:
August 25th, 2008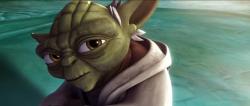 Yoda in Star Wars: The Clone Wars.
I really had high hopes for Star Wars: The Clone Wars. It bothered me not that it was in cartoon. After all, the last Star Wars movie was as much animated as it was live action.
This film takes place between Star Wars: Episode I The Phantom Menace (1999) and Star Wars: Episode II Attack of the Clones (2002) . As the movie opens, Anakin and Kenobi are on a far off planet, helping a Republic army battle a huge clone army. Anakin has his very own Padawan, Ahsoka. The key moment in this battle comes when the clone army approaches, with the protection of a force field. Their goal is to destroy the Republic's cannons. Anakin and Ahsoka sneak behind enemy lines to destroy the shield generator, by means last seen in a Scooby Doo episode. The approaching clones, defended by the force shield, close in on the helpless army, who lay in wait for the shield generator to be destroyed. Why didn't Kenobi just use those powerful cannons to blow up the bridge that the clones were crossing? Just a thought.
The real plot gets going when Anakin and Ahsoka are later sent to rescue Jabba the Hut's son. We are introduced us to a Sith Lady who has a light saber that resembles Darth Mauls. At stake is free passages through the outer rims, or some such area in space that the Huts control. When exactly did Jabba become so vastly important and threatening to the Jedi council? It would be like The United States bowing to Osama Bin Laden. Why should such a powerful force for good even consider negotiating with a mere hoodlum.
The Star Wars movies have set rules. This one breaks them when it fits the plot. At one point, Anakin flies over Ahsoka some one hundred feet below. She desperately needs his help, yet he cannot sense her presence? At another point in the movie Anakin and Ahsoka leave a planet's orbit, as Kenobi senses they have gone. Anakin cannot sense a Jedi he is so close to he could see, if he looked, but Kenobi can sense one from miles away?
The Clone Wars has plenty of action. From the large battle, to a rescue at an old monastery, to light saber duels, you will have plenty to keep you watching. Many familiar faces show up for small roles, like the droids, Mace Windu and Amidala. There is also some new characters, such as the Sith Lady and the most unique addition of Jabba's gay, southern accented brother.
With a new animated series starting this year, the Star Wars universe will be mined for a long time for science fiction, action filled entertainment. I am personally waiting for a Han Solo/Lando Calrissian movie. I just hope they take it a bit more serious than they did this one.
Did you enjoy Eric's review?
+
2
-
0
You may only thumbs up or thumbs down a review once.
Photos © Copyright Lucasfilm (2008)