Movie Review
Spartacus
"They trained him to kill for their pleasure. . .but they trained him a little too well. . ."
(0)
Reviewed on:
April 23rd, 2004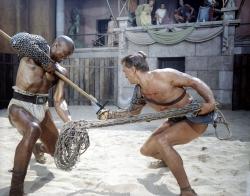 Woody Strode and Kirk Douglas in Spartacus.
Spartacus tells the story of a Greek slave forced to become a gladiator who then leads the most successful slave revolt in the history of Rome only to wind up as a crucified martyr. Set in the 1st Century B.C. (Julius Caesar is a young Roman nobleman) Spartacus is noteworthy for several things.
First, it features some very fine acting, something that is not always associated with this type of sword and sandal epic. Kirk Douglas is great in the lead role and he is given impeccable support from the likes of Laurence Olivier, Peter Ustinov, Charles Laughton, Jean Simmons and Tony Curtis.
Second, Spartacus offers Technicolor proof that the nineteen-sixties began the true evolution of movies from classic to modern. Released the same year as Hitchcock's Psycho (1960), Spartacus was one of the first big-budget Hollywood movies to show gore as entertainment. But then it was directed by a young Stanley Kubrik so that shouldn't come as much of a surprise. Although tame by today's standards it has its fair share of bloodshed. In one scene General Crassus (Olivier) kills a gladiator who has turned from the ring and tried to climb up to the spectators. There is a close-up of squirting blood that lands right on his face. Later in a battle scene a man's hand is chopped off with a sword, the stump is shown spurting blood. DeMille never showed history this graphically.
Third, this is one of the first movies to feature an intentionally and openly homoerotic scene between two male stars. Laurence Olivier is taking a bath with the help of his slave/houseboy Tony Curtis. At one point Olivier starts talking about how some men like oysters and some men like snails, and how it is only a matter of personal taste. He goes on to say that he likes both oysters and snails. It is fairly obvious what he really means.
Russell Crowe's Gladiator lifts several ideas directly from Spartacus but take my word for it, this is by far the better movie. Spartacus may not be as well-known as Ben-Hur or The Ten Commandments but it deserves to be.
Did you enjoy Patrick's review?
+
3
-
2
You may only thumbs up or thumbs down a review once.
Photos © Copyright Universal Pictures (1960)