Movie Review
Soul Food
"A story of the people who make us strong and the recipe that makes us a family."
(0)
Reviewed on:
November 23rd, 2012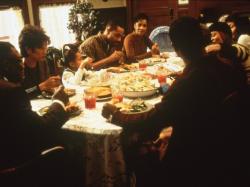 The cast of Soul Food gather together for a family dinner.
Soul Food is a wonderful family film that makes a great annual Thanksgiving Day watch. It features just one scene on Turkey Day but the emphasis on Sunday family dinners gives the movie the perfect holiday feel for a viewing at any large family gathering. It was written and directed by George Tillman Jr. based on his life growing up in an extended African American family in the Midwest.
The story is narrated by, and told through the eyes of, 11 year old Ahmad. He's Big Mama's oldest grandchild and they have a special bond, but then Big Mama has a special bond with everyone in the family. She's the glue that holds them all together. For 40 years she's kept the Sunday family dinner tradition alive at her home in a middle-class neighborhood in Chicago. Irma P. Hall plays the quintessential strong but loving black family matriarch. This is a serious version of the same character both Martin Lawrence and Tyler Perry have turned into cash-cow caricatures.
When Big Mama, a diabetic, has one of her legs amputated below the knee she suffers a stroke and slips into a coma. The family soon begins to fall apart without her steady hand to guide it. Young Ahmad takes it upon himself to try to bring them all back together. The movie is filled with humorous and heartwarming moments. The lecherous old Reverend that never misses a Sunday dinner provides some low brow humor, while Ahmad's scenes with Big Mama will bring a tear or two to your eyes. It also features many shots of delicious looking soul food dishes being served steaming hot.
The various family members are played by a talented group of actors. Big Mama's three grown daughters are Teri (Vanessa L. Williams), Maxine (Vivica A. Fox) and Bird (Nia Long). Teri, the oldest, is an uptight but very successful attorney. She is quick to pick up the check but even quicker to remind everyone that she is paying the bills. As she tells her sister Maxine, "As far as you're concerned, I'm an ATM. Automatically Teri's Money." Maxine is the maternal one who is destined to take Big Mama's place one day as the family matriarch. Ahmad is the oldest of her three children. Bird is the youngest of Big Mama's daughters, she works as a hair dresser and is a newlywed. Their three men, and a trouble-making cousin named Faith, round out the family.
Soul Food, without getting heavy-handed, shines a positive light on a modern black family. From the 1920s through the 1960s thousands of blacks migrated from the Southern states to Northern cities like Chicago and Detroit. For the first time they were able to more than double their incomes by moving a day's journey away and by switching from sharecropping to factory work. Soul Food tells of the second (and third) generation(s) of one such American family. It was a hit at the box office in 1997 and spawned a television series of the same title that aired on Showtime from 2000 to 2004.
While it's not a perfect movie, Soul Food has special sentimental value for me. It came out the year I met my husband and we've watched it together nearly every Thanksgiving for the past 15 years. If you've never seen it I highly recommend this heartwarming and amusing family movie. Who knows, perhaps it will become a part of your families' holiday tradition too.
Did you enjoy Patrick's review?
+
7
You may only thumbs up or thumbs down a review once.
Photos © Copyright Twentieth Century Fox Film Corporation (1997)