Movie Review
Son of the Mask
Who's next?
US Release Date: 02-18-2005
Directed by: Lawrence Guterman
Starring
▸
▾
Jamie Kennedy

,

as

Tim Avery
Alan Cumming

,

as

Loki
Ryan Falconer

,

as

Alvey Avery
Bob Hoskins

,

as

Odin
Traylor Howard

,

as

Tonya Avery
Ben Stein

,

as

Dr. Arthur Neuman
Kal Penn

as

Jorge

Reviewed on:
February 20th, 2005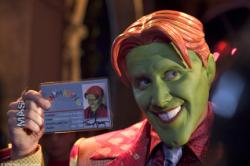 Jamie Kennedy in Son of the Mask.
I went into Son of the Mask with pretty low expectations. From the trailer, it was pretty easy to tell how juvenile and tired the jokes and plot would be. It therefore would not have required much from the makers of this movie to make it better than I was expecting, sadly however, it was not only as bad, but somehow managed to be even worse.
The original Mask helped launch Jim Carrey to super-stardom, its sequel will not do the same for its star; Jamie Kennedy. Kennedy, who is best known for his role as video-store geek, Randy, in the Scream movies, just doesn't have the speed or charisma of Carrey, although even Jim Carrey couldn't have done anything with this script as it was written. Kennedy is reduced to mainly reacting to the 'zaniness' around him as the mask exerts its power over his dog and newborn baby, both of whom are so animated via CGI effects, that the entire movie might as well have been a cartoon.
For anyone who might still be interested, the plot goes something like this. Otis the dog discovers the mask and delivers it to his owner Tim (Kennedy). Tim is an aspiring cartoonist and his wife wants to start a family. Tim is reluctant, but after a night with his wife while he's wearing the mask, his wife is soon pregnant. The baby is imbued with all of the mask's powers and Otis is extremely jealous. Eventually, the dog puts on the mask and it's a battle between the now mainly animated dog and the almost completely animated baby. Meanwhile, Loki, the creator of the mask, (played by a slumming it Alan Cumming) is searching for it, urged on by an even more slumming it, Bob Hoskins as Odin.
At one point during the animated slapstick that's supposed to pass as humor, the baby watches the old classic WB cartoon wherein a guy down on his luck finds a singing frog, who won't sing when anyone else is around. Which means that for about the 45 seconds that the cartoon is on the screen, the movie is actually funny. Apart from that moment, it's stupid, inane and groan inducing.
Not too long ago, I naively predicted that Alone in the Dark was the worst movie of 2005. I should never have doubted the ability for Hollywood to produce trash. If this movie doesn't exceed Alone in the Dark for pure awfulness, it at least matches it.

Reviewed on:
June 4th, 2005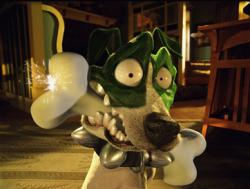 Son of the Mask
Son of the Mask is not as bad as Scott would have you believe. Sure the jokes are juvenile, but who do you think this movie was made for? My nine year old laughed throughout most of the movie. I liked it a bit less than my son did, but was still able to get something out of the father in over his head angle, "I got fired today but Alvey pooped."
Scott mentioned Hoskins and Cummings slumming it. At least they do a decent job. Jamie Kennedy, on the other hand, should never get a lead role again. He does not have the charm or presence to carry a film.
Adults may get a few moments of pleasure watching this one with their kids but do not expect any of the originality that is in The Mask. Jim Carrey did a pulse pounding jazz number with Cameron Diaz. In Son of the Mask, Kennedy does a montage hip hop rap country song that, like much of the movie, falls completely flat.
Photos © Copyright New Line Cinema (2005)