Movie Review
Shakespeare in Love
Love is the only inspiration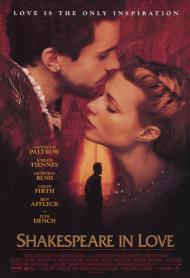 US Release Date: 12-11-1998
Directed by: John Madden
Starring
▸
▾
Joseph Fiennes

,

as

Will Shakespeare
Gwyneth Paltrow

,

as

Viola De Lesseps
Judi Dench

,

as

Queen Elizabeth
Geoffrey Rush

,

as

Philip Henslowe
Tom Wilkinson

,

as

Hugh Fennyman
Colin Firth

,

as

Lord Wessex
Imelda Staunton

,

as

Nurse
Ben Affleck

,

as

Ned Alleyn
Martin Clunes

,

as

Richard Burbage
Simon Callow

,

as

Tilney - Master of the Revels
Rupert Everett

as

Christopher Marlowe

Reviewed on:
August 26th, 2011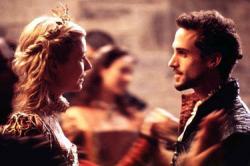 Gwyenth Paltrow and Joseph Fiennes in Shakespeare in Love
Shakespeare in Love's 1998 Best Picture win over Saving Private Ryan is widely considered to be one of the most stunning upsets in Oscar history. It's often cited as an example of strong arm Oscar campaigning by the Weinstein brothers adversely affecting the award's season. Personally, I think it was one time that the Oscar voters got it right. I've rewatched this movie many times and enjoy it every time, while I still find Saving Private Ryan to be overrated.
Joseph Fiennes stars as a young Will Shakespeare. When the story starts, he is suffering from writer's block and seeking a muse, which he finds in the form of Viola De Lesseps (Paltrow). Viola is the daughter of a very wealthy merchant and is betrothed by her father to Lord Wessex (Firth). It is Viola's burning desire to be an actor, but since women weren't allowed on the stage at that time, she disguises herself as a man and wins the role of Romeo in the first ever production of Romeo and Juliet, which Shakespeare is writing as the movie progresses, with many scenes directly influenced by his relationship with Viola. With her impending nuptials and given that Shakespeare is already married, it doesn't take a historian of the period to guess that the film isn't going to have an overly happy ending, but it is still a rich and satisfying one.
You don't have to be a fan of Shakespeare to enjoy this movie, but it will certainly add to the experience. Many of the lines are taken straight from his plays with the idea being that he overheard them and remembered them to use in his work. Lines and scenes not only from Romeo and Juliet, but also from his later work. It will also help if you know who Christopher Marlowe and John Webster are and a little bit about the Elizabethan era. But at the same time, having said that, you can still enjoy the romance and the comedy without ever having heard of Shakespeare.
The cast is all around brilliant. Although he was overshadowed at awards' time by Paltrow and Dench, Fiennes does a great job in the lead. I'm actually surprised his career didn't take off after this part, but he's remained in the shadow of his brother Ralph. Both Paltrow and Dench won the Oscar for their parts. Paltrow does a good job and Dench makes a good aging Queen Elizabeth, but probably - as good as she is - didn't deserve the award simply because of how little screen time she has. The rest of the supporting cast is equally good and is a who's who of English character actors, with Ben Affleck making a small appearance to add a bit of American star power as a favor to the Weinsteins.
As good as the cast is and as good as the production values are, it is the script where this movie really shines, as you might expect when Tom Stoppard is the writer. The noted playwright - who scored an early success with another Shakespeare inspired comedy in the form of Rosencrantz and Guilderstern are Dead - fills the film with memorable lines and humor that ranges from the broad to the witty.
Historical romantic comedies are a pretty exclusive genre. And ones as smartly done as this one are even rarer. I for one, applaud the academy and their decision for rewarding it so strongly.
Reviewed on:
November 1st, 2012

Judi Dench as Queen Elizabeth I in Shakespeare in Love.
Shakespeare in Love is funny, romantic and beautifully filmed. The cast is excellent. I have no qualms about its winning the Best Picture Oscar (like Scott, I thing Saving Private Ryan is overrated). It is interesting to note, however, that with seven wins (out of an impressive thirteen nominations) it holds the distinction of being the movie (in the entire history of the Academy Awards) that brought home the most gold statuettes without winning the Best Director Oscar.
I have always had an unfair aversion to Gwyneth Paltrow. I have to admit that she is very good in this movie. She makes her mark in the long tradition of female movie stars that played women disguised as men. Something Greta Garbo, Katharine Hepburn and Barbra Streisand all famously did before her and Hilary Swank and Glenn Close have done since. Paltrow, as a boy, actually reminded me the most of Katharine Hepburn in Sylvia Scarlett. And this is a part Hepburn would have relished as a young woman. She often played aspiring actors and was famous for play acting scenes within her movies like she did in both Morning Glory and Stage Door. Something Paltrow does to great affect here.
Like Scott, I'm surprised Joseph Fiennes didn't go on to bigger and better roles. He pulls off the part of Will Shakespeare with ease and is also quite dreamy to boot with those big brown eyes. He and Paltrow have a palpable chemistry together. I especially enjoyed the way they play around a bit with sex roles during the staging of the plays. During rehearsals Will demonstrates a kiss on Viola, whom everyone else thinks is a boy, which is long and very passionate with plenty of tongue action. The slightly uncomfortable reactions from the other men are quite amusing.
There are several intentional anachronisms in the script. It clearly isn't trying for absolute historical accuracy. The one that always stands out for me is the fact that several times during the movie Lord Wessex refers to his tobacco plantations in Virginia. While it's true that the term Virginia had already been commonly used to refer to nearly the entire eastern section of the New World, it would be several decades after this movie takes place (1593) before any tobacco was being grown on plantations in Virginia.
The script is brilliantly witty, and as Scott wrote, it is filled with quotes from and references to William Shakespeare and other famous playwrights of the Elizabethan Age. Judi Dench makes a formidable Queen Elizabeth. My favorite line from her is when she says to Viola, after discovering Viola is a woman dressed as a man in order to act on the stage, "I know something of a woman in a man's profession. Yes, by God, I do know about that." Indeed she did.
Another bit of dialogue that stood out for me is spoken by the preacher while protesting outside the Rose Theater. "Licentiousness is made a show! Vanity and pride are likewise made a show! This is the very business of show!" This is just one of many times where the script cleverly implies where certain famous phrases originated. "The very business of show" is obviously meant as a precursor to the term "show business".
I don't think Shakespeare in Love is a perfect movie. It runs a bit long for a romantic comedy. It remains a better movie than Saving Private Ryan however.
Photos © Copyright Miramax (1998)
Related Review