Movie Review
Serving Sara
"The One Thing That Could Bring Them Together Is Revenge."
(0)
Reviewed on:
August 25th, 2002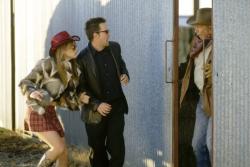 Elizabeth Hurley and Matthew Perry in Serving Sara.
The two stars that I give this movie are for the stars of the movie; Matthew Perry and Elizabeth Hurley. To put it quite simply, if you like these stars, you'll like this movie, otherwise you probably will be disappointed. It really is that clear cut.
The plot is pretty close to being a rip-off of the DeNiro/Grodin comedy, Midnight Run. Only instead of a private detective sent to track down a bail jumper, Matthew Perry plays a process server sent to serve divorce papers on Elizabeth Hurley. She in turn convinces him to help her serve divorce papers on her husband instead. It seems that which ever one them manages to serve the other first will get the best deal in the divorce. Some of the other plot points are directly inherited from Midnight Run as well. There's the other process server trying to do the same job. There's the dispatcher who is only shown in the office conversing with everyone by telephone, although this time he is played by Cedric the Entertainer.
Matthew Perry might be able to play a huge range of characters. He might be able to give an Academy Award winning performance. But no one will ever know, because he only ever takes parts that are, in reality, just different variations of his Chandler Bing character from the hit series Friends. About the only difference in this movie from Chandler is that he dresses better and gets to swear every now and then. Apart from that, if you know Chandler Bing, you know this character.
Elizabeth Hurley looks good, as always. Not that she is just a pretty face, just that other than that, she doesn't have a whole lot to do. I suppose we should be grateful then that she manages to look good, so well. All those years of modeling come in handy.
The humor is sophomoric at best. Examples of jokes are Matthew Perry being hit in the face. Matthew Perry putting his hand up a cow's ass (don't ask), and a running joke of Matthew Perry spitting wine after tasting it (his dream is to own a vineyard).
Likable enough actors in a weak movie, Serving Sara is a lightweight, diet comedy. Filled with artificial sweetener, and ultimately not satisfying enough.
Did you enjoy Scott's review?
+
0
-
0
You may only thumbs up or thumbs down a review once.
Photos © Copyright Paramount Pictures (2002)