Movie Review
Satan Met a Lady
Before the Maltese Falcon, Satan met a lady.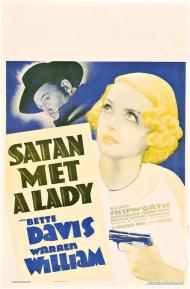 US Release Date: 07-22-1936
Directed by: William Dieterle
Starring
▸
▾
Bette Davis

,

as

Valerie Purvis
Warren William

,

as

Ted Shayne
Alison Skipworth

,

as

Madame Barabbas
Arthur Treacher

,

as

Anthony Travers
Marie Wilson

,

as

Miss Murgatroyd
Wini Shaw

,

as

Astrid Ames
Porter Hall

as

Ames
Reviewed on:
July 22nd, 2001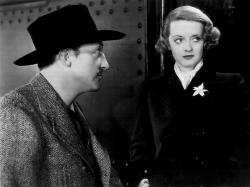 Warren William and Bette Davis in Satan Met a Lady.
Sandwiched halfway between the 1931 original and the definitive 1941 remake of The Maltese Falcon is this comedic version of the classic Dashiell Hammett novel. Instead of Bogie as the seedy sleuth we have Warren William, who always seemed to me to be a slightly sinister William Powell. The great Bette Davis makes the most of the Mary Astor role and the Sydney Greenstreet character has been changed to a woman played by Alison Skipworth.
Besides these and a few other minor changes the story is familiar. Instead of a bird the object of everyone's greed is a ram's horn. The mysterious and sultry Valerie Purvis (Davis) meets detective Ted Shayne (Warren William) on a train bound for San Francisco and asks his help locating a Madame Barabbas. The plot thickens when Shayne's partner is murdered and he realizes that all is not what it seems with the lovely young lady. Enter a tall Englishman and Madame Barabbas herself with a counter offer: to find Valerie and, more importantly, uncover a ram's horn encrusted with precious jewels.
As mentioned above Satan Met a Lady presents a more humorous take on the famous story. This probably accounts for why this version is the least remembered of the three. Still as lightweight mid-thirties escapism it works well enough. And Bette Davis is reason enough to watch. She was fresh off the success of her Oscar win for Dangerous but was still in a constant struggle with Warner Brothers to get decent parts in well-crafted movies. Her hunger is palpable.
Worth a look if you come across it late one night on Turner Classic Movies, although the 1941 John Huston version will remain unscathed by the competition.
Photos © Copyright Warner Bros. (1936)
Related Review