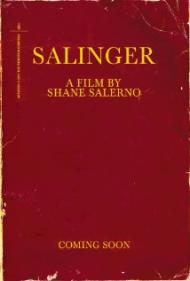 US Release Date: 09-05-2013
Directed by: Shane Salerno
Starring
▸
▾
Philip Seymour Hoffman

,

as

Himself
Edward Norton

,

as

Himself
John Cusack

,

as

Himself
Martin Sheen

,

as

Himself
Tom Wolfe

,

as

Himself
Gore Vidal

,

as

Himself
Stephen Adly Guirgis

,

as

Himself
Judd Apatow

,

as

Himself
A. Scott Berg

,

as

Himself
Danny DeVito

,

as

Himself
E.L. Doctorow

,

as

Himself
Elizabeth Frank

,

as

Herself
John Guare

,

as

Himself
David Milch

,

as

Himself
J.D. Salinger

as

Himself

Reviewed on:
September 10th, 2013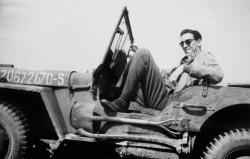 Author J.D. Salinger
Salinger is a documentary that covers the life and career of author J.D. Salinger, most famous for his novel, The Catcher in the Rye. It covers the major highlights of the story of the reclusive author's life, without ever really getting beneath the surface. It features a series of talking heads, many of whom never met the man, expressing their opinions of Salinger in reverential tones and with swelling music. It remains an interesting watch only because its subject was an interesting literary figure, at least for the first half of his life.
The film covers the whole of Salinger's life, although it often breezes over the details. Born and raised in New York City to an affluent family, Salinger attended private schools and a military academy. He enlisted in the army during WWII, landing on the beaches at Normandy and remaining in the army all the way through VE-Day, seeing over 200 days of combat and helping to liberate at least one concentration camp. According to this film, it was these years in the war that were the most formative. He suffered a brief nervous breakdown near the end of the war and many of his stories concerned veterans of the war.
Even during the war years, Salinger continued to write short stories and managed to have several of them published, but not by the New Yorker magazine, which this film states was the Holy Grail to him. It wasn't until after the war that he accomplished this feat and he became the literary toast of the town for awhile. This, his most fertile period, lead to the eventual publication of his first and to date only novel, The Catcher in the Rye.
Salinger would continue to write and publish stories for another decade, but by the early 1960s, he was living far outside the spotlight in a small town in New Hampshire and shunning nearly all publicity. Eventually he would stop publishing all together, despite continuing to write. The film makes several comparisons between he and Howard Hughes, but they don't seem very accurate. Salinger was still social within a small group of friends, although none of them are interviewed directly. He also continued to have romantic affairs throughout his life and was married three times, including for the final 22 years of his life. He shunned the spotlight and company of others, but without, seemingly, the crippling phobias of Hughes's later life.
While the film retains its reverential tone throughout, the closest it comes to painting a negative picture of the man is in his relationship with women. He definitely had a preference for younger women that was creepy at its mildest and disturbing at its worst. While 30 he had a supposedly sexless relationship with a 14 year old girl that did eventually lead to a brief sexual affair when she turned of age, as related by the woman in the film. While in his 50s he had an affair with author Joyce Maynard who was just 18. Their affair was made famous by the auction of his letters to her and a tell-all book she later published. The woman he was married to at the time of his death was 40 years his junior, not having been born until 8 years after The Catcher in the Rye was published. His first wife and mother of his children was reportedly neglected and their marriage ended bitterly.
The impact of his work is shown on his fans, many of whom are fanatical about him, traveling many miles in an attempt to visit him at his home. One such fan who is interviewed, comes across as a sad stalker. Equally guilty of stalking are the press who literally waited in bushes and parked cars to snap photos of him. And of course mention is made of several famous murders where the killer was obsessed with Salinger's novel, although no attempt is made to delve too deeply into the psychology of them.
While its subject is fascinating, especially if you're a fan, the method of telling his story isn't particularly well done. The film runs quite long at 2 hours. It relies too often on rather cheesy recreations while treating Salinger with too much reverence, which is emphasized by the swelling soundtrack. It's also quite disappointing, although I'm sure a matter of copyright, that not one line of Salinger's fiction is ever read or shown during the film.
Fans of Salinger's work will find things to enjoy here, but if to you, The Catcher in the Rye is just something you had to read in high school, it's unlikely you'll be entertained.
Reviewed on:
September 10th, 2013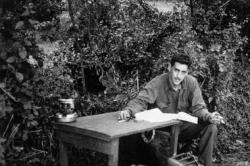 The only known photograph of J. D. Salinger writing The Catcher in the Rye in Salinger.
Yeah Scott, fascinating subject but poor execution. This documentary runs too long, reuses the same photos over and over and never really gets under its subject's skin. And don't get me started on the cheesy staged recreations that seem like an episode from some cheap television show. Salinger tries to separate Jerry Salinger the man from J.D. Salinger the writer but never really succeeds at showing us a clear picture of either one.
The interviews with the various women in his life provide the most insightful look at the man. Clearly he had a thing for very young women (or girls). But this makes sense when you look at his work. He seemed always to write about adolescence. He spoke in a voice they understood as an outsider looking in, which is how all teenagers feel isn't it? He was fascinated with those transformative years between childhood and adulthood. Whether through Holden Caulfield or the Glass family Salinger never really grew up on the page. In this way he reminds me a bit of Michael Jackson. Norman Mailer once famously called him, "The greatest mind ever to stay in prep school."
Despite tons of interest from Hollywood Salinger refused to allow a movie to be made of his iconic novel. Billy Wilder and Steven Spielberg both attempted unsuccessfully to purchase the rights. And, in the WTF category, comedian Jerry Lewis tried for years to get his hands on the role of Holden Caulfield. In 1999 Joyce Maynard stated the obvious when she said, "The only person who might ever have played Holden Caulfield would have been J. D. Salinger."
Perhaps worst of all Salinger acts as a publicity machine plugging the upcoming release of several books by the reclusive author set to begin publishing in 2015 - exactly half a century since his last published work. Here with swelling orchestration these upcoming titles are announced with all the reverence of the second coming of Christ. Yes Salinger was a compelling figure and a brilliant literary mind but enough is enough.

Reviewed on:
February 13th, 2014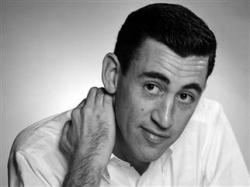 J. D. Salinger
J. D. Salinger was a man and only a man. His entire fame is wrapped up in two things; "The Catcher in the Rye" and his need for privacy. This film tries to define him by his experiences during World War II and the women he loved.
Those things likely affected him deeply. He had a break down at the end of the war after a long military service. He wrote to and was infatuated with a girl who married Charlie Chaplin. He liberated a concentration camp. He helped roundup Nazi's after the war. He married a German girl and divorced her a month after arriving home.
He wrote and published several stories after the war. Many were very dark and often featured young girls and suicide. Clearly this film is making the point that the war changed Salinger. One of his short stories was made into a movie and Salinger hated it. "Slight Rebellion off Madison" was written in 1941 but was not published until 1946. It features the character Holden Caulfield.
Caulfield was an extension of Salinger and represents his cynicism toward life. In 1951, "The Catcher in the Rye" was published and Salinger became almost instantly famous. Clearly many people also saw themselves in Holden Caulfield. Early in the film someone makes the statement, "Like a whole generation, I thought he was writing about me."
Salinger moved away from public life. He wanted his cake and to eat it to. Creating art and making it public is an invitation to the public. If you do not want attention, you should not produce a product for public entertainment. It is like a movie star who wants people to see their films without expecting anyone to become personally fascinated by them. He continued to write and publish but nothing reached the level of, "The Catcher in the Rye."
This documentary fawns over Salinger, building him up to mythological proportions. One woman here even states, "His work was ordained by God." Sure, more than 60 years after it was first published; "The Catcher in the Rye" still sells a quarter of a million copies a year. He was just a man folks, a man whose book spoke to so many. The best way to describe Salinger's legacy is from his most famous work. "What really knocks me out is a book that, when you're all done reading it, you wish the author that wrote it was a terrific friend of yours and you could call him up on the phone whenever you felt like it. That doesn't happen much, though."
Photos © Copyright The Weinstein Company (2013)