Movie Review
River of No Return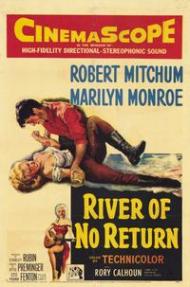 US Release Date: 04-30-1954
Directed by: Otto Preminger
Starring
▸
▾
Robert Mitchum

,

as

Matt Calder
Marilyn Monroe

,

as

Kay Weston
Rory Calhoun

,

as

Harry Weston
Tommy Rettig

,

as

Mark Calder
Murvyn Vye

,

as

Dave Colby
Douglas Spencer

as

Sam Benson


Reviewed on:
February 6th, 2005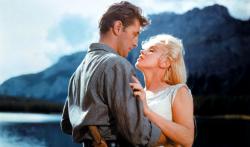 Robert Mitchum and Marilyn Monroe in River of No Return.
Although it seemed she always played the same role, Monroe occasionally ventured into different genres. With River Of No Return you find her in her one and only western.
Monroe plays a saloon singer who finds herself alone with a single father, Mitchum, and his son after her boyfriend beats and robs the father. The three must then raft down a river to avoid blood thirsty Indians and get to Carson City where her boyfriend has headed. Along the way, they learn a bit about each other. He attempts to rape her. He wrestles a mountain lion, and they fall in love.
The movie only works when the scenes filmed on location are used. It is always very obvious when they are on a stage. It is very distracting. The location shots have some great scenery and Monroe and Mitchum going down a river is like Hepburn and Bogie in The African Queen, only better looking.
Monroe has definitely done better work. She is not very convincing in the dramatic scenes. She sings a few numbers and has a symbolic pair of red shoes. Otherwise, she is just playing a variation of her bimbo character cursed because of her good looks. In the movie, the son asks her what she means when she says that she is no lady? Monroe replies, "See me in 10 years. I'll try to tell you."
The scene where Mitchum attempts to rape Monroe is odd. He apologizes to her later and all seems to be fine. Perhaps working as a saloon singer has made her complacent to such acts. One of the last scenes is Monroe sitting on a piano surrounded by several dozen cowboys. She is wearing a short skirt and there are no other women in sight.
The entire movie should have been filmed on location and the writing could have used some polishing. Although Mitchum plays a father in this movie, there is absolutely no connection between him and his son. They rarely speak to each other and it seemed that the son is really only in the movie for a plot device near the end of the movie.
Reviewed on:
March 28th, 2012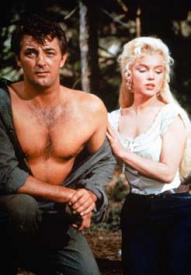 Robert Mitchum and Marilyn Monroe in River of No Return.
Eric, you are too hard on River of No Return. First of all, with the exception of some of the obvious rear projection river raft scenes, it was pretty much filmed entirely on location in Canada. Although stunt doubles were used for the stars in the more dangerous scenes that were filmed in long shots. It was filmed in Technicolor and Cinemascope, which enhances the breathtaking scenery featured in nearly every scene. Add in the powerful combination of Mitchum and Monroe (in their only on-screen team-up) and you have a memorable motion picture that rises above the B-Western plot.
Eric's correct that this was Marilyn's only period Western, however both Bus Stop and The Misfits are set in the West and feature cowboys. MM is as photogenic as ever here but I agree this isn't her finest dramatic work by a long shot. The sleepy-eyed Mitchum is his usual tough-as-nails and too-cool-for-school self. Tommy Rettig of television's Lassie fame as Mitchum's son, and Rory Calhoun as Monroe's no good boyfriend are the only other actors with sizable parts in the movie.
One reason the script isn't so great is because 20th Century Fox originally planned River of No Return as a low budget programmer. But by the end of 1953 Marilyn Monroe had starred in Niagara, Gentlemen Prefer Blondes and How to Marry a Millionaire in quick succession and was suddenly the hottest blonde bombshell in the business. This caused the studio to increase the budget and prestige of this movie but unfortunately they didn't improve the script.
Apparently neither Monroe nor the director, Otto Preminger, wanted to make this movie but they were both contractually obligated. I'm sure neither one regretted it when River of No Return became a big hit at the box office, further cementing Marilyn as one of the biggest female stars of the decade. As for the director, he bought his way out of his contract and became an independent filmmaker for the duration of his career.
Once Monroe, Mitchum and the boy set off down the river the action never lags. Preminger keeps this adventure story moving at a breakneck pace. Yes, you can tell when the stars are on an actual raft on a real river and when they are in a studio faking it, but for the most part this is a well-made picture featuring decent mid-1950s special effects. Sure the script is generic but with two such memorable stars and plenty of gorgeous scenery to drape it on, River of No Return is never dull.
Reviewed on:
June 21st, 2012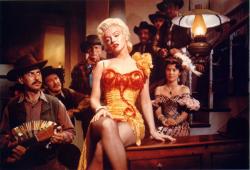 Marilyn Monore in River of No Return.
I agree Patrick. I think Eric is too hard on this movie. Sure, it's not a classic, but at less than 90 minutes it contains enough action so that I was never bored. Plus, Monroe looks so good here that I think I could happily just stare at her for that long.
It's true that this isn't Monroe's finest dramatic performance, but she's not horrible. Granted, the script doesn't exactly give her many opportunities, but she does alright. While it's true that her character gets to sing a few songs, for some strange reason the filmmakers decided to dub her voice. She'd already proven that she could sing in Gentlemen Prefer Blondes, but they didn't think that she could handle the few unchallenging saloon songs here? Monroe would say in later interviews that this was her least favorite of her movies, but that probably had more to do with her stormy relationship with director Otto Preminger than it does with the finished film.
I don't think that Mitchum's character actually tries to rape Monroe's. She's being extra nice to him just prior to that moment and he wants to test why she's behaving that way and see just how far she'll go. Does he take it too far? Yes, but I don't think that he would have actually raped her. Don't forget that his son was only yards away during that scene.
After reading your review Eric, I was expecting the studio shot, rear projection scenes to be much worse than they actually were. It's true that they're obvious, but it wasn't as if you could really expect the studio to put its two stars on a raft in the middle of some rapids. Nor did they have CGI available to make it look as if they had. Basically, they did the best they could with what they had at the time and it works well enough.
The Cinemascope shows off the scenery quite well. There's the hills, valleys and curves of the landscape and that's just with the camera on Monroe. The wilderness looks good too.
While this will never be my favorite Marilyn Monroe film. I did end up enjoying it much more than I thought I would. It's definitely worth a watch if you've never seen it.
Photos © Copyright 20th Century Fox (1954)