Movie Review
Risky Business
"There's a time for playing it safe and a time for Risky Business."
(0)
Reviewed on:
June 14th, 2012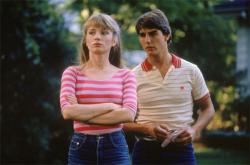 Rebecca De Mornay before she became a nanny and Tom Cruise before he jumped the couch, in Risky Business
Risky Business is remembered today mostly for the scene of Tom Cruise dancing in his under wear to "Old Time Rock and Roll". When it first came out in theaters I recall the line, "What the Fuck." making quite an impression as well. In the long run, this will be remembered most as the film that made Tom Cruise a star.
Joel is an average upper middle class high school senior with two things weighing heavy on his mind, grades and sex. His parents expect him to make it into an Ivy League school, yet during one scene we discover that he is perhaps above average in his grades but he is hardly the valedictorian. Of his four close friends, at least one is sexually active, while the other two are vague on their sexual knowledge.
This first part of the film is a realistic portrayal of teenage boys. School is an important part of their life and some have sexual experiences, while others do not. This all changes when Lana, in the form of Rebecca De Mornay doing an obligatory 1980s nude scene, enters the picture. Her character is the most important for the story but she also takes the plot in a direction that no longer resembles anything real.
After an awkward encounter with a black drag queen, he gives Joel, Lana's phone number. "It's what you want. It's what every white boy off the lake wants." she assures him. Lana shows up at Joel's house in a scene that seems right out of a teen boys fantasy. She walks right into his house, he lifts her dress and the wind blows the patio doors open. The scene is symbolic perhaps, but also a bit porno cheesy.
The next morning she robs Joel and runs off. After getting into trouble with her pimp, she ends up back at Joel's house where they eventually come up with a plan. She invites some of her whore friends over while he invites his rich, horny class mates to use their services.
At this point all sense of reality has left the building. Lana and all of her prostitute friends are clean, upscale looking women for hire. None of Joel's friends leak his whore house business to anyone who would call the police. The neighbors are never shown objecting to the dozens of cars parked along the street and all the comings and goings from Joel's house.
As is a common sequence in many teen films, Joel must clean up before his parents get home. This means getting his father's Porsche fished out of Lake Michigan and detailed like new. He has to buy back his parents furniture from the pimp as well as put everything back in place. Again, he never seems concerned that his neighbors might mention to his parents that something happened while they were gone.
Joel celebrating his moment of freedom by dancing around his house is one that any young person can relate to, as is him feeling that he has to lose his virginity to keep up with his friends. Risky Business connects with the audience the first third of the movie, then becomes a teenage boys sexual fantasy. As a teenager I liked the last two thirds better, but now I enjoy the beginning much more.
Did you enjoy Eric's review?
+
3
-
0
You may only thumbs up or thumbs down a review once.
Photos © Copyright Warner Bros. Pictures (1983)