Movie Review
The Rich Are Always with Us
Witty, Naughty and Gay . . a spectacular story of how the other half lives - and loves - and lies.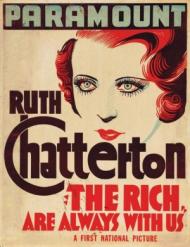 US Release Date: 05-15-1932
Directed by: Alfred E. Green
Starring
▸
▾
Ruth Chatterton

,

as

Caroline Grannard
George Brent

,

as

Julian Tierney
Bette Davis

,

as

Malbro Barclay
John Miljan

as

Greg Grannard
Reviewed on:
March 20th, 2007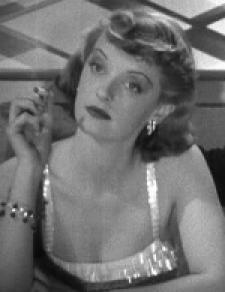 The inimitable Bette Davis.
The Rich Are Always with Us is a fairly obscure early 30's bedroom drama starring Ruth Chatterton as a New York socialite that happens to be the richest woman in the world. What plot there is concerns her undeserved loyalty to her philandering husband, while being pursued by a struggling author, who is himself being relentlessly pursued by another wealthy woman.
It's easy to see the appeal this movie would have had to depression era audiences. It provided a peek inside the world of the rich; fancy automobiles, grand drawing rooms, women wearing flawless gowns and jewels, men in top hat and tails. At a time when a long distance call to Paris, France would have cost more than most Americans made in a week, Caroline extravagantly tells Julian that she wants to stay on the line even if it costs ten thousand dollars a minute.
The witty dialogue and the sophisticated worldly style and mannerisms on display are fun to watch. Bette Davis plays Malbro. She is Caroline's best friend but is blatantly in love with Julian. He has eyes only for Caroline, while she remains blindly true to her cheating husband. Malbro asks Caroline how she can make Julian love her. Caroline's advice, "Oh Malbro, I'll tell you what to do. You pursue him to the point where he either shoots you or proposes. If he shoots you your troubles are over, if he proposes they're just beginning."
People knew how to speak then. The dialogue flows effortlessly. If you watch it, listen to the way Bette Davis delivers this line to Caroline, "Darling would you mind very much if Julian married me till you were ready for him? We could go to Europe on our honeymoon and I'd deliver him to you in Paris." Exquisite diction and phrasing.
Some of the dialogue is clearly pre-code. Caroline jokingly tells Julian that he should be grateful to her ex-husband. "Didn't he give you the best years of his wife?", she asks. Another thing that became more common after the code was the portrayal of the rich as corrupt. Here the rich are portrayed as benevolent types. In one scene Caroline hosts a charity casino to raise money for crippled children.
The climax provides an unexpected shock that I won't give away, but it must have been the 1930's equivalent to a jump out of your seat moment. It is surprisingly graphic.
One particular bit of business used here was famously recycled by Bette a decade later. George Brent lights two cigarettes and hands one to Ruth Chatterton. Paul Henreid did it with Bette much more memorably in the classic Now, Voyager. This movie was the second of eleven movies Bette would make with Brent. He was her most frequent costar.
I've had nothing but nice things to say about The Rich Are Always with Us so why then did I give it just 2 ½ stars? I'll tell you. It lacks star power. Bette Davis has to carry the load for the entire cast and her role is a supporting one. She looks positively glamorous with platinum blonde hair and bee stung lips. The movie comes to life whenever she is on screen. All I'll say about Ruth Chatterton is she was no Gloria Swanson or Norma Shearer. George Brent had the looks and speaking voice of a leading man but was completely forgettable. He lacked gravitas.
It was tougher being a movie star in the era of black & white. The Stars of the Silver Screen. Few black & white movies are remembered today without the presence of one of them. This movie is a perfect example why. It is remembered only for early Bette Davis and there isn't enough of her to make it truly memorable.
Photos © Copyright Warner Bros. (1932)