Movie Review
Resident Evil: Apocalypse
"My name is Alice and I remember everything."
(0)
Reviewed on:
September 9th, 2004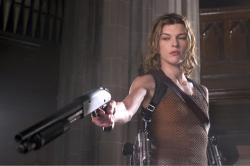 Milla Jovovich as Alice in Resident Evil: Apocalypse.
Movies based on video games are rarely a success. Something about the episodic level structure of a game refuses to lend itself well to a traditional three-act movie. While it's enjoyable in a game to battle hordes of undead monsters in unrealistic proportions, in a movie you need character development and motivations. However, it must be said that of all the video game to movie adaptations, Resident Evil: Apocalypse is one of the most successful.
Taking up directly where the original left off, the story begins with the release of the T-Virus from an underground scientific facility run by the all-powerful Umbrella Corporation, beneath Raccoon City. When the virus becomes unstoppable, the corporation seals off the city, trapping its residents inside with hordes of zombies infected with the virus.
As with all zombie movies, soon there is a motley crew of survivors battling for survival. This group is lead by Alice (Jovovich), one of two survivors from the first film. With augmented powers courtesy of Umbrella, Alice wastes no time in kicking zombie ass. Along for the ride are an ex-female police officer who bears more than a little resemblance to Lara Croft, a special forces operative, a civilian, a newscaster, and the daughter of one of Umbrella's top scientists. The group's one hope for survival comes when the daughter's father contacts them with the promise of escape so long as they keep his daughter from harm.
With the sudden glut of zombie movies lately, it would take something special for a new one to stand out. And while this one doesn't really break new ground, it wisely focuses primarily on the action, and keeps the story moving along at a quick pace. The cast members are all pretty generic, apart from Alice, and the sudden inevitable loss of some of them, doesn't come as a surprise. After 28 Days Later and the more recent Shaun of the Dead, Resident Evil: Apocalypse seems outdated, being more reminiscent of an 80s action movie with Jovovich in the Schwarzenegger role, than a modern horror movie.
Like those movies, the body count is high, although the blood and gore is kept fairly tame. There's nothing close to the laser-slicing device from the original Resident Evil, although the zombie dobermans do reappear.
As a mindless action film, this one satisfies, but disappoints as a horror film, with only a minimum amount of scares. Although fans of the video games and of the original movie will probably be happy, as they should be by the film's ending which leaves plenty of room for another sequel.
Did you enjoy Scott's review?
+
2
-
0
You may only thumbs up or thumbs down a review once.
Photos © Copyright Screen Gems (2004)