Movie Review
Resident Evil
"A secret experiment. A deadly virus. A fatal mistake."
(0)
Reviewed on:
September 11th, 2004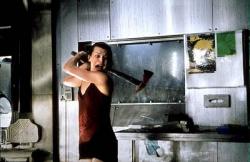 Milla Jovovich in Resident Evil.
I must state that I had never played, or for that matter heard of, the game Resident Evil before watching this movie. Perhaps it would have helped me to enjoy this movie more if I had, but I doubt it.
The plot is interesting for one reason. It is completely unoriginal. An aggressive woman leads a group of military people around a facility as they get stalked by monsters. One of the good guys turns out to be bad. One of the military persons is this really tough Latin chick. At the end of the movie, the big monster gets killed by opening these doors and having it fall out.
This might be an decent movie had not each and every plot point I just mentioned already exist in the movie Aliens. I think James Cameron and his writer should have gotten screen credits considering they stole nearly the entire movie from them.
With that noted, I have seen worse sci-fi horror movies. I have also seen better ones; Aliens is a perfect example. Resident Evil is a B-movie dressed to look A-list. Milla is hot and the effects are good, but the plot is so ripped off that it dulls most of the entertainment value.
Did you enjoy Eric's review?
+
0
-
0
You may only thumbs up or thumbs down a review once.
Reviewed on:
September 13th, 2004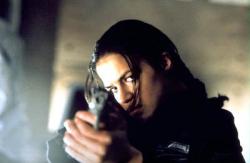 Michelle Rodriguez in Resident Evil.
I agree somewhat with Eric's assessment of this movie. There are definitely many strong similarities between Resident Evil and Aliens. I also agree that this is a B-movie. What I disagree with him about is how much this impairs the enjoyment of it. After all, it is so rare to find a completely original movie these days that it seems unfair to judge this one so harshly when so many other movies are doing the exact same thing, even if most aren't quite so blatant about it.
Eric briefly mentioned the best thing this movie has going for it. Milla Jovovich as Alice is hot, which is definitely not something they stole from Aliens, since I would never use that word to describe Sigourney Weaver's Ripley. As the slightly enigmatic amnesiac Alice, she presents the only character of interest in the movie, especially when compared to the rest of the cast who are all playing such completely generic parts.
There are also several moments of violent thrills. I found the opening scene when the entire staff of the underground complex is killed to contain a few scary moments, such as the crowd in the elevator. Milla's first appearance, as she wakes up dazed and confused is filmed in a stylish and creepy manner. And of course there's the infamous laser hallway scene.
This is a B-movie and it is definitely derivative of Aliens, but if you don't spend the entire movie comparing the two, there are some cheap thrills to be had with this one.
Did you enjoy Scott's review?
+
0
-
0
You may only thumbs up or thumbs down a review once.
Photos © Copyright Screen Gems (2002)