Movie Review
Reflections in a Golden Eye
"In the loosest sense he is her husband. . .and in the loosest way she is his wife!"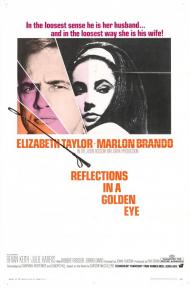 US Release Date: 10/13/1967
Reviewed on:
August 28th, 2004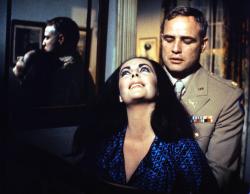 Elizabeth Taylor and Marlon Brando in Reflections in a Golden Eye.
Reflections in a Golden Eye is one of the most disappointing movies ever made. Directed by John Huston and produced by Ray Stark it is the only celluloid pairing of Marlon Brando and Elizabeth Taylor. Too bad it's one of the worst movies any of the four of them was ever connected to.
What little plot there is concerns a Major Penderton (Brando) and his neglected wife (Taylor). He's tormented by secret homosexual desires, she's a lusty woman desperate for the love and passion she doesn't get from her spouse. They live on a military base in the South during peacetime. Brando has an affected southern accent. Both he and Taylor were nearing the end of their physical movie star beauty.
The main problem is that nothing much really happens. A voyeuristic soldier (Robert Forster in his film debut) spies on Liz when he's not riding bareback naked in the nearby woods. Brando quietly lusts after him after a chance meeting in the forest. Meanwhile Liz is enjoying the attentions of another officer (Brian Keith) whose mentally unbalanced wife (Julie Harris) spends all of her time with their flamboyantly gay Asian houseboy.
The movie ends abruptly when the major barges into his wife's bedroom and shoots the soldier - the object of his shameful lust - who was hiding there ogling her. The camera pans quickly back and forth from the dead body to Liz to Brando and back again several times. Visually interesting, but so what?
I can only hope the novel on which it was based is more entertaining than this crap. I suppose for 1967 the subject matter was controversial; unfortunately the script manages the difficult task of being bizarre and boring at the same time. Brando took over the role that was originally planned for Monty Clift, who died shortly before filming began.
What a missed opportunity this movie was. What promised to be a groundbreaking teaming of two legendary stars with a legendary director turned out to be a cinematic embarrassment for all involved.
Did you enjoy Patrick's review?

+13
You may only thumbs up a review once.
Photos © Copyright Warner Brothers/Seven Arts (1967)