Movie Review
A Private Function
Vicious, Delicious and Tasteless.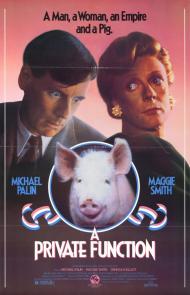 US Release Date: 03-11-1985
Directed by: Malcolm Mowbray
Starring
▸
▾
Michael Palin

,

as

Gilbert Chilvers
Maggie Smith

,

as

Joyce Chilvers
Denholm Elliott

,

as

Dr. Charles Swaby
Richard Griffiths

,

as

Henry Allardyce the Accountant
Tony Haygarth

,

as

Leonard Sutcliff the Farmer
John Normington

,

as

Frank Lockwood the Solicitor
Bill Paterson

,

as

Morris Wormold the Meat Inspector
Liz Smith

,

as

Joyce's Mother
Alison Steadman

,

as

Mrs. Allardyce
Jim Carter

,

as

Inspector Noble
Pete Postlethwaite

as

Douglas J. Nuttol the Butcher

Reviewed on:
April 26th, 2013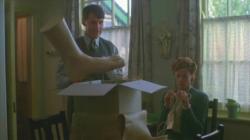 Michael Palin and Maggie Smith in A Private Function.
Although, thanks to Fawlty Towers (which still regularly tops polls of the greatest sitcom of all time) and his numerous supporting and cameo appearances in films, John Cleese is the most internationally famous member of the comedy troupe Monty Python, it is his fellow member Michael Palin who has grown into the role of National Treasure in his home country of Great Britain. Apart from appearances in fellow Python's films, such as A Fish Called Wanda and Brazil, Palin's career has remained fairly rooted in England, where he is now just as famous for his many travelogues as he ever was for his comedy.
A Private Function is similar to its star in that it is also very English. It's a gentle comedy set in 1947 and is very much in the style of the Ealing Studio Comedies of the period. Palin stars as Gilbert, a mild mannered chiropodist. The setting is a small Northern town during the week leading up to the wedding of then Princess Elizabeth and Philip. With food rationing austerity still in full effect, the town's leading citizens have purchased a pig on the black market to celebrate the wedding, but things go awry when Gilbert, pushed to the edge by hunger, frustration, and a social climbing wife, steals the pig for himself.
Maggie Smith plays Palin's wife and as she has done in many films, steals her scenes. She is particularly effective near the climax when she finally gets her wish and the town's leading citizens visit her home, but when things go wrong, she gets drunk. Equally good is Liz Smith (no relation), who plays Maggie's mother who always manages to scrounge food and is often seen eating. Both Smiths won a BAFTA for their performance in this film.
Filling out the other parts are such recognizable names as Denholm Elliott, Richard Griffiths and Pete Postlethwaite. Elliott plays the town doctor, a pompous ass who looks down upon a mere chiropodist, but finds a new sense of respect for Maggie Smith by the film's end. Griffiths is a soppy accountant who, like Gilbert, finds himself besotted with the pig and doesn't want it killed. Postlethwaite is the gruff, lower class butcher, a man not above a little bit of black market and chicanery to put his fellow butchers out of business.
The script is by noted playwright Alan Bennett (The Madness of King George, The History Boys). Bennett was a teenager in 1947 and used his memories of those days to inform the characters and setting. His script is amusing and the characters are very well drawn. Although there are a couple of very funny scenes, this is a much gentler, comedy-of-manners, style of humor than the Python comedies.
Again like Palin, this film was much more successful in its home country where it won several awards. It only received a very limited release in the USA and is known today only to Anglophiles and devotees of Monty Python who will watch any movie that features one of its members. This is a pity because, while it's not a great film, it is a very good one and well worth a watch no matter which side of the Atlantic you live.
Reviewed on:
May 31st, 2013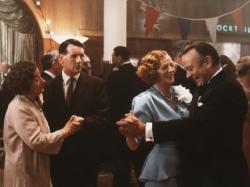 Liz Smith, Michael Palin, Maggie Smith, and Denholm Elliott in A Private Function.
Of all the non-Monty Python films, starring a member of Monty Python, A Private Function is the least Python-esque. At least of the films I've seen. As Scott wrote, this is a much gentler humor. It's an old-fashioned comedy that lacks the surreal quality of Monty Python. Although it does get pretty silly at times it maintains a sense of realism missing in the Python oeuvre.
Michael Palin, for the most part, is content to let his supporting cast shine. They get most of the laughs while he provides the central heart of the story. Not that he isn't funny, especially when attempting -unsuccessfully- to kill the pig, but he is the most sympathetic resident of the village.
The script is quite funny. I cracked up in the scene where Joyce's mother answers the front door and immediately starts repeating, "No pig here, no pig here" after her daughter specifically instructed her not to mention to anyone the fact that they have a pig. Joyce just smiles and tells everyone her mother is 74 as a way of attempting to blame her behavior on senility. The scene where Maggie Smith, as Joyce, gets drunk is hilarious. At one point the town doctor asks her, without a trace of irony, if there is any history of mental illness in her family.
The setting of a small English town shortly after WWII is vividly realized. It adds to the movie's innocent charm. This movie celebrates the wedding of Princess Elizabeth to Prince Philip. A marital union that endures still and has lasted some 65 years. The real selling point, though, is the terrific cast. Scott mentioned most of them. I was pleasantly surprised to see one of my favorite actors from Downton Abbey as a young man. Jim Carter plays Carson the butler on that addictive television series and here he plays Inspector Noble.
A Private Function is well worth watching whichever side of whatever ocean one resides.
Photos © Copyright Handmade Films (1985)