Movie Review
The Powerpuff Girls Movie
"Saving The World Before Bedtime!"
(0)
Reviewed on:
July 5th, 2002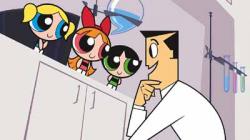 The Powerpuff Girls Movie
Have you ever noticed how every few years a cartoon comes along that captures the imagination of not only children, but certain grownups as well? Back in the 1980's you had Danger-mouse. During the 1990's you had The Rugrats. And currently you've got Spongebob Squarepants and The Powerpuff Girls; shows that are marketed at children, but also create a cult following amongst certain adults. A quick scan of the web will show you dozens of sites devoted to these shows created and maintained by people way past adolescence. There's even one, I kid you not, that calls itself The Church of Spongebob. The secret to shows that cross-over from simple cartoon to having a cult following, is the inclusion of jokes that work on two levels. One for the kids and one for adults. The Powerpuff Girls Movie does this perfectly.
For those unfamiliar with the show, it follows the adventures of thee little girls who were created in the lab of Professor Utonium. He mixed sugar, spice, and everything nice together to create three little girls. During the process however, his lab monkey Jojo knocked a vial of Chemical X into the mix thus creating three little girls who also happen to have amazing super-powers. The monkey was also contaminated by the brew and thus their arch-nemesis, the hyper-intelligent simian, Mojo Jojo, was created at the same time.
The movie tries to be as new-viewer friendly as possible. Instead of a completely new story, it starts from the beginning and shows the girl's origin and their first adventure as super-heroes. Which works well for people who have never seen the show at all, or for people like me who have only seen it a few times. Die-hard fans, who know every moment of the show, might be disappointed.
My only problem with this quirky little cartoon was that it really only had enough story for about an hour, yet stretches out to nearly an hour and a half thanks to some padding. The 'Tag' scene, and Mojo Jojo's minions running amok both go on about 5 minutes too long, just to name two.
One quick side note; the voice of Mojo Jojo sounded so familiar to me during the movie, but I couldn't place it. After the movie I was surprised to discover that it voiced by Roger Jackson, known to movie fans as the voice of the Ghost in the Scream Trilogy. "Hello, Bubbles. What's your favorite scary movie?"
Funny, light-hearted, with something for all ages, with a little trimming The Powerpuff Girls Movie could have been great.
Did you enjoy Scott's review?
+
96
-
0
You may only thumbs up or thumbs down a review once.
Reviewed on:
July 8th, 2002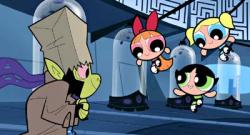 The Powerpuff Girls Movie
The Powerpuff Girl Movie is nothing more than a drawn out episode of the television show. It is nothing more and nothing less. If you like the show you will like the movie.
Scott wrote that this show has a cult adult following. I have never heard of that. I have never heard any adult ever refer to the Powerpuff Girls except if it involved their children watching it.
The Powerpuff Girls are feminist superhero propaganda aimed at our children. Feminist have always pushed the notion that women can do everything men can, so here are superhero girls that regularly beat up a male monkey. Prof. Utopian, their male guardian, fills the feminine role here as the girls father/mother figure. He is submissive to the dominating stronger female stars.
This movie should have been cut to fit into a half hour. That way it could have been a regular episode of the TV series and I would not have had to watch and review it.
Did you enjoy Eric's review?
+
0
-
93
You may only thumbs up or thumbs down a review once.
Photos © Copyright Warner Brothers (2002)