Movie Review
Possession
The Past Will Connect Them. The Passion Will Possess Them.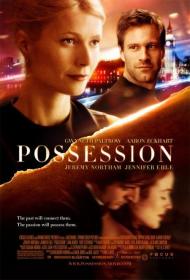 US Release Date: 08-16-2002
Directed by: Neil LaBute
Starring
▸
▾
Gwyneth Paltrow

,

as

Maud Bailey
Aaron Eckhart

,

as

Roland Michell
Jeremy Northam

,

as

Randolph Henry Ash
Jennifer Ehle

,

as

Christabel LaMotte
Lena Headey

,

as

Blanche Glover
Holly Aird

,

as

Ellen Ash
Toby Stephens

as

Fergus Wolfe

Reviewed on:
August 18th, 2002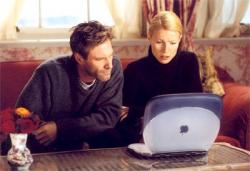 Aaron Eckhart and Gwyneth Paltrow in Possession.
The first thing I thought as I walked out of the theater after seeing this movie was, how nice, a movie for grown-ups. It's very nice for a change to see a movie that features no explosions, no guns, not a single car chase. In there place we are left with two love stories. One in the present and one in the past.
The movie begins with Aaron Eckhart as a young American Professor working in England on a fellowship. He is researching the 19th century poet Randolph Henry Ash. This movie is based upon a book and it has irked some reviewers who are familiar with the book that this character has been made an American when in the book he is English. I haven't read the book and I can tell you that it didn't bother me at all. Apart from the fact that for an English Professor he is very buff, he plays the part as decently as it is required.
He discovers a letter which leads him to believe that Ash was having an affair with another English poet of the times; the lesbian poet Christabel LaMotte. He follows this lead to the leading authority on LaMotte; Gwyneth Paltrow's character.
Gwyneth, who is practically English anyway, plays her typical English lass here. As usual, her accent is impeccable and she is sexy and repressed all at the same time.
Together these two professors began to investigate the two poets possible links and the two love stories unfold, one in flashback and one in the present.
The movie is slow paced and attempts to be poetic and it's easy to see how this story would have been better told on the printed page where more of the poetry could come through, but it still manages to tell a sweet love story without ever becoming cloying or overly done.
As the mystery of the poet's past love is unraveled, the two modern lovers discover that their lives too possess poetry and maybe we the audience do too.

Reviewed on:
August 21st, 2002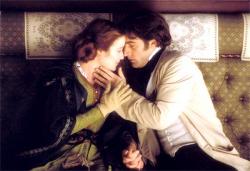 Jennifer Ehle and Jeremy Northam in Possession.
Scott worded it quite accurately when he wrote that this is a nice movie for grown ups. Not only is it that, but it is a nice movie for people who enjoy history, poetry and subtle wonders of life. Two love stories for the price of one.
Scott enjoys Paltrow as a Brit. I found her character to be the epitome of the British cliche; cold and emotionally distant. Her accent as well did not impress me. So often when Americans do English accents they sound too British. The English secretary in the Museum had less British diction than Paltrow.
I do agree with his opinion on Aaron Eckhart's English professor. He looks like a model, but has sworn off women? He obviously works out. He is physically wrong for the role of a celibate, english poetry reading bookworm. No guy this goodlooking could have sworn off women. However, Eckhart is a great actor. Ever since his impressive film debut in the disturbing In The Company Of Men he has done great work. Here, he does what he can with what he has to work with. There is never any exposition as to why he has sworn off women.
I would love to write something poetic and flowery about this movie as it is about poetry. Alas, I am not a poet and words of beauty escape me. All I can write is that this is a great love story to share with that special person in your life. Cliche? Yes. But that in itself does not make it any less true.
Photos © Copyright Focus Features (2002)