Movie Review
Platinum Blonde
She Was Gorgeous - He Was A Man . . . So, the other girl had to wait !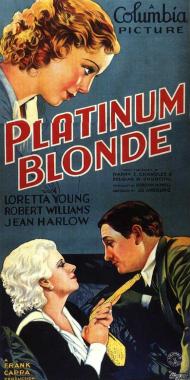 US Release Date: 10-31-1931
Directed by: Frank Capra
Starring
▸
▾
Loretta Young

,

as

Gallagher
Robert Williams

,

as

Stew Smith
Jean Harlow

,

as

Ann Schuyler
Halliwell Hobbes

,

as

Butler
Reginald Owen

,

as

Grayson
Edmund Breese

,

as

Conroy - the Editor
Don Dillaway

,

as

Michael Schuyler
Walter Catlett

,

as

Binji
Claud Allister

,

as

Dawson - the Valet
Louise Closser Hale

as

Mrs. Schuyler


Reviewed on:
August 27th, 2010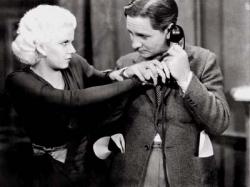 Robert Williams and Jean Harlow
Platinum Blonde was an early Capra and an early Harlow film. He had yet to create his classics and she had yet to perfect her screen persona of the tough chick. Although top billing goes to Loretta Young, the real star is Robert Williams. He appeared in a couple of silent films but in 1931 he was being groomed for stardom. In his fourth movie made in 1931, he carries this film.
Williams plays a reporter, Stew, sent to do a story on the son of a wealthy woman who broke a promise to a girl. Translation: He had sex with her and then did not marry her. At the mansion he meets the boy's sister, Ann. They fall in love and get married, much to the disapproval of her mother. A female reporter, Gallagher, who works with Stew, would have likewise preferred if the nuptials never took place as she secretly pines for him.
Stew is a cocky, middle class reporter. He soon finds himself uncomfortable with the wealthy lifestyle and Ann's friends. Stew finds himself turning to Gallagher, as they have far more in common. Stew's and Ann's differences come to a head when Ann and her family return home to find Stew throwing a party with his common friends.
Although this sounds like a love triangle, and it is, Platinum Blonde is foremost a comedy. This is due almost entirely because of Williams. He has the look of a supporting actor, but the charm of a leading man. He makes such simple lines sound much funnier than they deserve to be, "I am white, male and over 21. I've never been in jail... that is, not often." My favorite line of his is, "Yeah, I know those bluenoses. Their ancestors refused to come over on the Mayflower because they didn't want to rub elbows with the tourists... so they swam over!"
Harlow and Young are in thankless roles. Williams is the star and commands every scene he appears. Like James Cagney, he carried some inner energy with him that keeps your attention. He could have gone on to a great career but health care in 1931 had a long way to go. Robert Williams died of appendicitis just three days after Platinum Blonde was released.
Reviewed on:
May 25th, 2013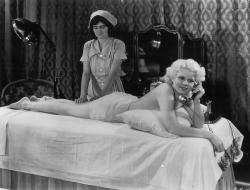 Jean Harlow in Platinum Blonde.
Given the title, I naturally expected this to be Harlow's movie, but as Eric wrote, it is Robert Williams who is the star. He's actually very good in the part and it's a shame he died so early in his career. Based on his work here, I'd say he had the potential to be a real star. Although I was distracted by how much he looked like Jeremy Renner from certain angles.
As Eric wrote, the plot is the oldest of stories, that of a love triangle. There's the sexy, voluptuous, and rich Ann, played by Harlow, who Stew falls hard for, while the quiet, demure Gallagher (Loretta Young) pines away in silence for him. One aspect of this film that really stands out is that Stew actually marries Ann, even though you know that he'll end up with Gallagher, which means that he'll have to get a divorce. If this film had been made after the Production Code was enforced, it's doubtful his relationship with Ann would ever have gotten so far along before he broke up with her.
While Harlow looks the part and shares a cute chemistry with Williams, this isn't her best work. Her normal persona is nowhere to be found. She's playing the refined society girl here and even does her best to put on a posh accent. She's also not given enough opportunities to be truly funny. As thin as her part is though, it's layered and nuanced compared to what Loretta Young is given to do. She's simply there to look beautiful and cast moon eyes at Stew.
The best comedy to be found in the film often has nothing to do with the love triangle. When the plot and the dialogue dips into screwball territory is when it really shines. Williams is able to deliver the rapid fire patter so important to the genre and deliver it well. His relationship with the reporter for the rival paper and the Schuyler lawyer and his mother-in-law are all worth some genuine laughs.
Despite feeling a little bit like a waste of its female leads, Platinum Blonde is still a very entertaining and quite often hilarious film. It's a personal and professional tragedy that Williams' career was cut so short.
Reviewed on:
June 7th, 2013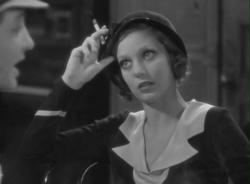 Loretta Young in Platinum Blonde.
As mentioned above, Platinum Blonde isn't a typical Frank Capra or Jean Harlow picture. Capra -who usually controlled every aspect of a picture's development- took over the project from its originally intended director, Eddie Buzzell. The script was nearly complete when Capra came aboard. Harlow, as Scott wrote, is playing against type as a member of the upper-class social set. Although her bread and butter was playing working class gals, for the most part she pulls off the charade.
As the billing suggests, Platinum Blonde was originally developed as a vehicle for Loretta Young, who was a bigger name at the time than either Harlow or Williams. In fact the original working title was Gallagher, after her character. After a preview screening the title was changed to The Gilded Cage. On the date of the last preview screening the title was changed for the final time to Platinum Blonde in order to not only capitalize on Harlow's growing fame, especially as a magazine cover girl, but to also take advantage of the peroxide craze that was sweeping Hollywood in the early '30s.
I agree completely with my brothers that Robert Williams is very good in this movie and could have gone on to a great career. He was like a slightly more handsome Lee Tracy. What a shame he died so tragically young. There is one scene in particular that stood out for me. Harlow and Williams playfully argue over whether or not he will wear his new sock garters, to the tune of "The Farmer in the Dale". It seems improvised and refreshingly natural for movie-acting from this time period. As for Harlow, her biggest challenge was learning to speak in a properly refined manner. It reportedly took 15 takes to get her to pronounce the word "library" rather than "liberry".
And speaking of the library, the Schuyler mansion is like a character unto itself. Watch the way Capra uses his camera to follow the inhabitants around this vast cavernous house with its many winding hallways. At one point Stew jokingly asks Ann, "What country is this library in? Miss Schuyler, how about car fare back to the front door, huh?" It is almost like a prison maze Stew is trapped in, or as they say more than once in the movie, it's an elaborate gilded cage from which Stew must escape.
Although today, thanks to the title, Platinum Blonde is remembered as one of Jean Harlow's signature pictures, it's really more historically important as the first movie on which Frank Capra and writer Robert Riskin collaborated. They would go on to work together on some of Capra's most celebrated movies like Lady for a Day (1933) (which Capra remade in 1961 as Pocketful of Miracles), It Happened One Night (1934), Mr. Deeds Goes to Town (1936), Lost Horizon (1937), You Can't Take It with You (1938) and Meet John Doe (1941).
Although Capra was later dismissive of this picture it has grown in stature over time. In addition to the shimmering presence of screen goddess Jean Harlow (and to a lesser extent the big-eyed beauty Loretta Young) it is worth watching today for the indelible central performance from the ill-fated Robert Williams.
Photos © Copyright Columbia Pictures (1931)