Movie Review
Pal Joey
"From Your Pal, Columbia! "
(16)
Reviewed on:
April 25th, 2007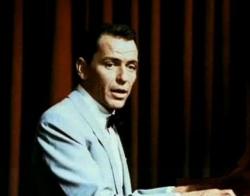 Frank Sinatra in Pal Joey.
Pal Joey was originally a Broadway play that starred Gene Kelly. When Kelly came to MGM it was supposed to be made into a film, and Kelly would reprise his stage role. Instead, the project sat around for some 10 years before Sinatra, always eager to play a gigolo, took over as the lead.
Sinatra stars as lady killer/night club singer, Joey Evans. As the movie opens he is being kicked out of town for messing with the Mayor's under aged daughter. He ends up in San Francisco singing in a dive on the wrong side of the tracks. He vows to turn over a new leaf, but before he knows it, he is back to flirting with every girl in the chorus and falling for one in particular, Novak.
To further complicate his life, a rich society lady, Vera, shows up one night at the club. Joey recognizes her from years before when she was a stripper. Joey lays the charm on her and they end up going to her yacht. Vera explains that her husband died three years ago. Joey then says, "Three years is a long time between drinks." Vera then slaps Joey, but they still end up enjoying a drink. I love old movie's euphemisms for sex. Before you know it, Joey is Vera's boy toy. He makes himself available for sex, whenever she wants it, and she agrees to put the money up for a nightclub, Chez Joey. Joey moves the entire staff from the dive to his new club, including Novak who is now competing with Vera for Joey's attention.
Frank Sinatra was at the very pinnacle of his 1950's "cool" phase. He works the hat and overcoat for effect better than Humphrey Bogart. He had just starred in High Society the previous year and had just released his popular album Songs For Swinging Lovers. In 1957, he was to the middle aged what Elvis Presley was to the teenagers.
Pal Joey was Hayworth's last movie for Columbia Pictures, after being with them for 20 years. Novak was Columbia's current sex symbol on the rise and their answer to Marilyn Monroe. Novak would have her time in the spotlight, but she never quite reached the stardom of Hayworth or Monroe.
The cast is great, but one of the best things about Pal Joey are the songs. I love that old swing/pop standard music and was surprised to find that I knew almost every song in the movie. Nearly every song is a classic standard. From My Funny Valentine to Bewitched, Bothered and Bewildered to The Lady is a Tramp to, my personal favorite, I Could Write a Book, I was singing along the entire movie. This soundtrack is Rodgers and Hart's best work.
The one drawback to Pal Joey is, one that always bugs me and my brothers, that of the ambiguous ending. Joey ends up with one of the girls but nothing is set in stone. She suggests marriage to him. He shrugs that off and then they walk off together. Normally I would assume that meant a happy ending, but Joey is played as such a gigolo the whole movie that I hardly feel that he will actually settle down.
Did you enjoy Eric's review?
+
8
You may only thumbs up or thumbs down a review once.
Reviewed on:
September 18th, 2013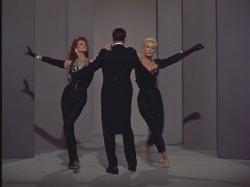 Rita Hayworth and Kim Novak dance around Frank Sinatra in Pal Joey.
Actually Eric, it was after the success of Cover Girl for Columbia Pictures in 1944 that Harry Cohn promised this movie to Gene Kelly, with Rita Hayworth in the role that Kim Novak would eventually play. By the time the movie was ready to go, a dozen years had passed and Kelly was now under contract to MGM so he lost the part to his old friend and frequent costar Frank Sinatra. Hayworth was now deemed too old to play Linda English so she was cast as Vera Simpson instead (ironically, although she is playing "the older woman", Hayworth was actually three years younger than Sinatra).
Pal Joey had been a hit on the stage with Gene Kelly in 1940 but it was an even bigger hit in the 1952 Broadway revival. Several changes were made to the show in the transition from stage to screen. The setting was changed from Chicago to San Francisco, Joey went from being a nightclub hoofer to a singer, and the ending was changed so that Joey doesn't wind up alone as he did in the stage version.
As for the songs Eric mentioned, only "I Could Write a Book" and "Bewitched, Bothered and Bewildered" were written specifically for this show. "The Lady is a Tramp" and "My Funny Valentine" were recycled from Rodgers and Hart's 1937 Broadway musical Babes in Arms specifically for this movie version. Both Rita Hayworth's and Kim Novak's singing voices were dubbed, (although Hayworth was allowed to record the introductions to her songs) by Jo Ann Greer and Trudy Stevens, respectively. In the final dream sequence number Hayworth proves that although she was nearly 15 years older than her competition, she could still dance circles around Novak (see photo).
But Pal Joey belongs to Frank Sinatra. It is his signature role. Joey Evans is very much like how you would imagine Sinatra to have been in real life. He's uneducated, ambitious, and misogynistic. He calls women "mice" and treats them as if they were put on this planet for his pleasure alone. He is also the essence of "cool" and is immensely talented (after all he sings just like Frank Sinatra).
Sinatra gallantly took second billing to Hayworth even though he is clearly the star of the movie. He was quoted as saying, about being billed between his female costars, "That's a sandwich I don't mind being stuck in the middle of." In one scene with Hayworth Sinatra reportedly got an erection. If you watch carefully you can see Hayworth glance down and then smile while Sinatra holds his coat strategically placed to block the camera's view as he exits the scene.
Pal Joey's only real weakness is the ending. I agree with Eric that there is no way Joey and Linda will have a happy ending together. They should have stuck with the original ending. Joey deserves to be alone after the way he treats women as disposable/interchangeable items. Regardless, Pal Joey stands as the definitive musical role of Frank Sinatra's illustrious career.
Did you enjoy Patrick's review?
+
7
You may only thumbs up or thumbs down a review once.
Photos © Copyright Columbia Pictures (1957)