Movie Review
Other Men's Women
Love's Madness Against a Background of Grinding Steel and Surging Floods!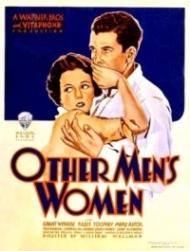 US Release Date: 01-17-1931
Directed by: William A. Wellman
Starring
▸
▾
Grant Withers

,

as

Bill White
Mary Astor

,

as

Lily Kulper
Regis Toomey

,

as

Jack Kulper
James Cagney

,

as

Ed 'Eddie' Bailey
Fred Kohler

,

as

Haley
J. Farrell MacDonald

,

as

Peg-Leg
Joan Blondell

,

as

Marie
Lillian Worth

,

as

Waitress
Walter Long

as

Mike 'Bix' / 'Roundhouse' Bixby

Reviewed on:
January 17th, 2012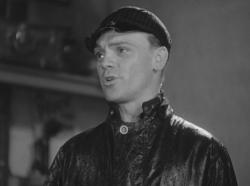 James Cagney in Other Men's Women.
Other Men's Women is a gritty little movie from Warner Brothers, released in early 1931. It was deftly helmed by the prolific William A. Wellman and is notable for being James Cagney's third movie appearance. Released just a few months before The Public Enemy made him a household name, Other Men's Women finds Cagney in a supporting role, with just a few scenes. In one he gets to do a little impromptu jig, briefly demonstrating the unique dance style he would later make famous.
The story concerns Bill and Jack, railroad workers and best friends. Steady Jack and his good wife Lily (Mary Astor) generously invite irresponsible ladies' man Bill into their home after he goes on one bender too many. Soon, however, Bill and his friend's wife develop romantic feelings for each other.
Out of loyalty to his friend, Bill abruptly leaves and Jack notices his wife acting strangely. Jack confronts Bill and they get in a fight while working on a train. Jack's an engineer and Bill a locomotive fireman. During the melee they lose control of the train and an accident ensues in which Jack is blinded. The melodramatic climax involves a flooded train trestle and a special effect that holds up reasonably well.
The realism of the picture is helped by the fact that many of the scenes were shot outdoors in a real train yard. Not surprisingly for an early talkie, the sound is not so great in some of the exterior scenes. The black & white cinematography is quite good and the setting vividly evoking. TCM has released a fairly pristine print in their new DVD collection of pre-Code movies called Forbidden Hollywood.
Cagney plays a coworker of Bill and Jack. He makes his entrance standing on top of a moving train. He then proceeds to enthusiastically describe a fight he witnessed to Bill. He gets another scene at a dance hall and then later has an integral moment on a train where he helps propel the plot along.
Joan Blondell is also along for the ride, at her usual wisecracking best. She plays a sassy gum chewing waitress at a tiny greasy spoon and Bill's erstwhile girlfriend. When a flirtatious customer, sitting with his pal, tells her he'll have "…a big slice of you on toast", without missing a beat she replies, "Listen baby, I'm A.P.O." "What does she mean, A.P.O.?" "Ain't Puttin' Out."
Mary Astor has the leading female role as Lily. Both she and Bill are noble in spirit. After discovering their feelings for each other they share a passionate kiss but both of them refuse to go any further in acting on their newfound love. She remains faithful to her husband, ceaselessly caring for him after he is blinded. All of which makes the ending that much more poignant.
The story is a bit overwrought and predictable, and neither Grant Withers nor Regis Toomey are great shakes as actors. Other Men's Women still packs an emotional punch however. The direction is first rate and the presence of three great stars (Cagney, Astor and Blondell) lifts this otherwise run of the mill production.

Reviewed on:
July 24th, 2014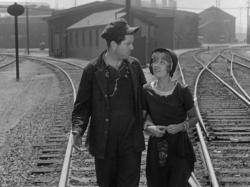 Grant Withers and Joan Blondell in Other Men's Women,/i>
This was a pre-code film but the sexual innuendoes are slight and, of course, very innocent by today's standards. The movie opens with the charming Bill flirting with a waitress he is clearly familiar with. When taking his order, she asks, "Bread or toast, or maybe you'd like a bun?" Playboy Bill comes back with, "No, had one last night." Badum!
Patrick mentioned Joan Blondell's APO line, while I liked the scene where she flirts with a depressed Bill over the diner counter. She lifts her skirt, showing Bill her legs, then she asks about his food order, "Is that all you're gonna eat?" and Bill responds, "I'm not hungry." His response causes Blondell to turn and look toward the camera in disbelief. Wink wink.
What was it about Warner Bros movies and abusing women? One of most iconic screen moments from the early 30s is when James Cagney shoved a grapefruit in Mae Clark's face in Public Enemy (1931). Here Joan Blondell gets slapped in the face by Grant Withers when playing drunk.
One of the reasons I respect old movies is that they filmed on location and did not have CGI special effects. I love and marvel at the precision of those silent film stunts, and Other Men's Women follows suit. As Patrick mentioned, Cagney first appears on screen standing atop a moving train. Cagney and Withers then have a conversation on top of that moving train, casually ducking to avoid being hit by a pipe without missing a beat of their talk. Later, there is a train wreck scene reminiscent of one from Buster Keaton's classic The General (1927).
William A. Wellman did a good job at directing this tight script and Cagney shows real screen charm. The highlight for me though is Grant Withers as Bill. Look at the first scene where he floats into the diner to flirt. He is a young man on top of the world. He has ladies in every town and his only concern seems to be how to avoid being committed to any one of them. I agree with Patrick, that he is not a great actor but he does all that is required, including making me like him.
Even after Bill falls for and kisses his best friend's wife, he leaves right away so it can go no further. He may be a lothario but he knows a line that should not be crossed when he sees one. Jack is the innocent victim but he gives up too easily for me to truly invest in him. Lily comes across as an unintentional temptress, innocently flirting with Bill when she cuts his hair. The final scene really demonstrates where the film is laying the blame and it is about as sexist as possible as well as typical for the times.
Other Men's Women is dated in technique as well as social morals but at less than 90 minutes, there is not a wasted moment. The sound was sometimes bad but the material is good enough to keep you paying attention. Well worth the watch!
Reviewed on:
November 14th, 2015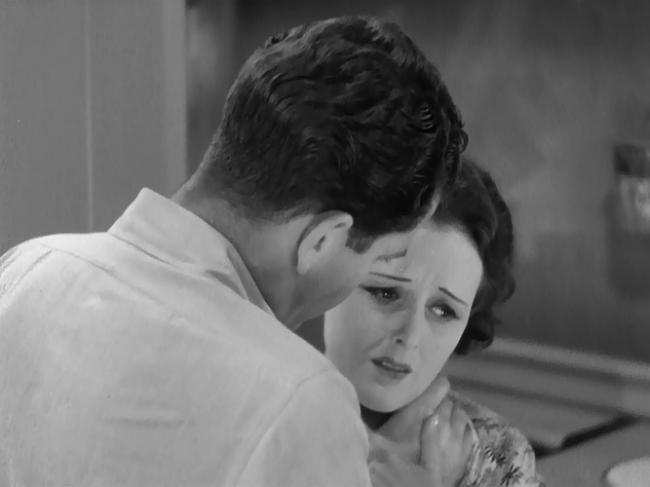 Grant Withers and Mary Astor in Other Men's Women.
I was slightly less enamored with this movie than my brothers. It's mildly entertaining, but is mostly just a forgettable little slice of melodrama with a few entertaining moments here or there. It does have the virtue Eric mentioned of a running time less than 90 minutes.
Mary Astor referred to this movie as a "piece of cheese" in her autobiography, but she also mentioned "some damn good actors - James Cagney, Joan Blondell - in small parts." Cagney didn't even bother to mention it in his own autobiography, happily skipping right over it. I can't say I blame him. The New York Times review from the times called it, "an unimportant little drama of the railroad yards." Again, I agree.
Maybe it's just with the benefit of hindsight and the knowledge that he would become such a big star, but Cagney's all too brief appearances are a highlight. He's such a little firecracker and bursting with energy. I like how he doesn't wait until he gets to the dance floor to start dancing, but dances his way onto it instead.
It's definitely no exaggeration that Joan Blondell makes the most of her small part. The sassy, wisecracking, persona that would make her a star is already on full display here. She's aided by this being a pre-code film, which allows her to say the A.P.O. line. Of all the character types to be affected by the Hayes Code, it was the "bad girl" who bore the brunt of the new rules, but there's no such problem like that here. Blondell is a bright little ray of light and every time she appears the movie is better for it.
I agree with Eric that Grant Withers plays the part of Bill well. He certainly handles the easygoing, drunk, moments with charm. If he has difficulty with the more dramatic moments, the blame must be shared equally between he and the script. I can't say I was feeling much emotion during final confrontation between Bill and Jack aboard the train. The melodrama, with the blinded husband, sacrificing himself nobly for his best friend, was just a little too over the top for me.
For fans of Cagney or Blondell who feel compelled to watch all of their movies, this might be worth the watch, but for anyone else, I say don't waste your time.
Photos © Copyright Warner Bros. Pictures (1931)